Bryanna Clark Grogan's Vegan Feast Kitchen/ 21st Century Table: The kitchen journal of a vegan food writer.. I'm on Facebook and Twitter (see links in sidebar at right).
Sunday, May 4, 2008
ALMOND CHAI BROWNIES WITH DOUBLE GINGER GELATO

I should be blogging a little more regularly from now on (except for being away for the week of May 12th). Due to some family obligations, I decided to stop publishing my quarterly vegan cooking newsletter, the Vegan Feast, after five years. I'm kinda sad, because it was a great experience, I met some wonderful people, learned alot, and ate really well, but something had to go!
Last night we took dinner over to a friend's house and I made a dessert I had been thinking about doing for a week. The brownies are a veganized, whole grain version of one I saw in a magazine, with a few other changes. I have made a number of other desserts with chai spices, and this sounded intriguing. I was a little worried that the brownies would be too dry (they were dryer than my other brownies, but not overly-so), so I decided to pair them with a really gingery version of my vegan gelato. It worked! All of the diners gave the dessert a thumbs-up! Give it a try!
Printable Recipe
BRYANNA'S VEGAN ALMOND-CHAI BROWNIES (WHOLE GRAIN, SF, can be GF)
These were inspired by a recipe in Cooking Light magazine. They aren't dark brownies-- if they were too chocolate-y, the chai spices would get lost in the chocolate!
They are delicious served with the Ginger Gelato (recipe below).
GLUTEN-FREE NOTE: I think this recipe would work well, maybe even better, with a gluten-free flour mix.
1/4 cup plant-based milk
2 chai tea bags
(I used rooibos chai teabags-- see photo below)
1/4 cup (1 1/2 oz.) organic, dairy-free semisweet chocolate chips or chopped chocolate (Fairtrade, if possible)
1/4 cup vegan butter (see my
palm oil-free Buttah
) or 3 tablespoons oil
1/2 cup water
2 tablespoons flaxseeds
Dry Mix:
1 tablespoon Ener-G or Orgran egg replacer powder
1 1/2 cups whole wheat pastry flour or GF flour mix
1 cup organic unbleached sugar
1/2 cup unsweetened organic cocoa (I use fair trade Camino brand)
1/3 cup packed brown sugar
1 teaspoon baking powder
1/2 teaspoon salt
Additional:
1/2 cup lightly toasted slivered almonds
Preheat oven to 350°F. Oil or spray a 9-inch square baking pan and line the bottom with baking parchment cut to fit.
Heat the milk in a very small saucepan (like a little butter melter) OR microwave in a heat-proof measuring cup at 50% power just to boiling.
Remove from heat. Add the tea bags, pressing down into the milk. Cover and let stand 15 minutes. Strain milk mixture through a tea-strainer into a measuring cup, pressing the teabags with the back of a spoon. If it doesn't measure 1/4 cup, add more milk until it does.
Pour into a medium microwave-safe bowl. Add the chocolate and Earth Balance or oil to milk/chai mixture. Microwave at high power for 20 seconds or until the chocolate is melted. Stir or whisk until smooth. Cool slightly.
In a blender, combine the water and flaxseeds at high speed until the mixture is "gloppy" like egg whites and you can only see flecks of flaxseed. Add the egg replacer powder and blend until it thickens a bit. Scoop this into the chocolate mixture with a spatula. Fold it into the chocolate mixture until it is well-mixed, but fluffy.
Combine the Dry Mix ingredients together with a whisk in a medium bowl. Add the Dry Mix to the chocolate/flaxseed mixture, along with the toasted almonds, stirring just until combined. It will be thick.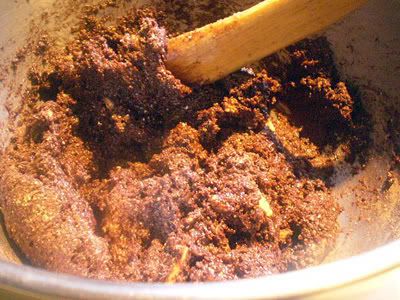 Spread evenly into the prepared pan-- I had to use wet fingers to spread it out. Bake for 30 minutes. Cool 10 minutes in the pan on a rack. Cut into 20 pieces, and loosen the edges. Cool before eating. Remove from the pan to a serving plate. Keep covered after they cool.
Servings: 20
Yield: 20 brownies

Nutrition Facts
Nutrition (per brownie):
140.1 calories; 29% calories from fat; 4.9g total fat; 0.0mg cholesterol; 76.7mg sodium; 134.0mg potassium; 24.1g carbohydrates; 2.5g fiber; 13.8g sugar; 21.5g net carbs; 2.5g protein; 2.7 points.
The gelato in my little Donvier hand-crank ice cream maker ("No salt or ice needed; freezer bowl and paddle do the work"). UPDATE: Now I also have a Cuisinart Pure Indulgence 2 qt. Automatic ice cream machine.
Printable Recipe
BRYANNA'S VEGAN DOUBLE GINGER GELATO WITH AGAVE (Can be Soy-Free)
Servings: 8
Yield: 1 quart
Adapted from a recipe in my book "Nonna's Italian Kitchen". Tapioca starch makes this gelato smooth and custardy without the mouth-feel of a "frozen pudding".
This is a very ginger-y gelato. If you want to tone it down a bit (but, why?), omit the candied ginger.
NOTE ABOUT NUT ALLERGY: if allergic to nuts, use coconut milk beverage, or soy, hemp or rice milk, and
omit the cashews
and add 1/4 cup more milk of choice and 1/4 cup oil.
MIXTURE #1:
Ginger-Water:
1 cup water
1/4 cup grated peeled fresh ginger
Additions:
1/2 cup light agave nectar
1 teaspoon pure vanilla extract
MIXTURE #2:
1 3/4 cups creamy original-style plant-based milk
1/2 cup raw cashew pieces
1/2 cup unbleached organic granulated sugar
1 tablespoon tapioca starch (don't substitute other starches! See Cooking Tips below)
1/4 teaspoon salt
ADDITIONAL: (you can omit this if you want a milder ginger flavor)
1/2 cup chopped organic candied ginger
Mixture #1:
To make the Ginger-Water, simmer the water and ginger in a small saucepan, uncovered, for 5 minutes. Strain through a sieve. Measure. You should have 3/4 cup. If you have more, simmer again to reduce it to 3/4 cup. If you don't have enough, add water to make 3/4 cup. Pour it into a small mixing bowl.
Whisk in the agave nectar and vanilla. Set aside in the refrigerator.
Mixture #2:
Blend all of the Mixture #2 ingredients in the blender until VERY smooth and frothy (make sure that it doesn't feel grainy). Place this mixture in a heavy-bottomed medium saucepan and stir over medium-high heat until thickened.
OR (MICROWAVE OPTION) place the mixture in a large microwave-proof bowl and microwave on high power for 2 minutes; whisk; cook 2 minutes more; whisk; and cook 1 minute more.
Whisk Mixture #1 into cooked Mixture #2. Chill the gelato mixture thoroughly, and then freeze according to directions for your ice cream machine.
When the mixture is about 3/4 of the way frozen, add the candied ginger.
When the gelato is frozen, scoop it into a quart container, cover and freeze for several hours before serving.
Nutrition Facts
Nutrition (per 1/2 cup serving):
201.2 calories; 19% calories from fat; 4.5g total fat; 0.0mg cholesterol; 91.3mg sodium; 105.7mg potassium; 42.5g carbohydrates; 0.5g fiber; 29.5g sugar; 42.0g net carbs; 1.8g protein; 4.3 points.
Cooking Tips
TAPIOCA STARCH:
Easy to find in natural food stores, Asian grocery stores or the Asian section of large supermarkets.
Also available at http://www.bulkfoods.com/, amazon.com & .ca and many online Asian food purveyors.
Enjoy!
Posted by

Bryanna Clark Grogan
at 3:36 PM