Bryanna Clark Grogan's Vegan Feast Kitchen/ 21st Century Table: The kitchen journal of a vegan food writer.. I'm on Facebook and Twitter (see links in sidebar at right).
Friday, May 9, 2008
MY LAST POST UNTIL AFTER THE 18TH-- A VARIETY OF STUFF!

I'm off to Princeton, NJ and New York for a week, with my sis! I'll blog when I get back!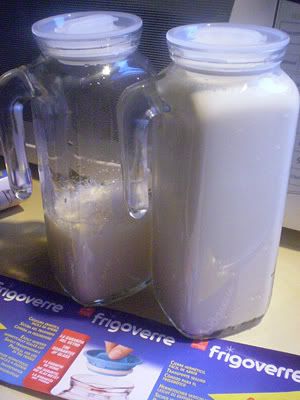 LOOKING FOR SOMETHING NON-PLASTIC IN WHICH TO STORE YOUR HOMEMADE SOYMILK? These are 1 qt./L Frigoverre glass storage jugs (made in Italy), and they were $4.99 each (Cnd) at London Drugs (UPDATE 2012-- they are now $5.99 and the make is Bormioli Rocco, but it's the same thing). Tight lid and easy to store; sturdy glass.
UPDATE 2014: These jugs are also available under the name "Amici" or "Quadro" (talk about confusing!). Here's a 2 qt. jug from Canadian Tire.
Online sources for various kinds of glass storage jugs/pitchers in the US:
A set of two 1 L jugs similar to the ones above, but with colorful lids at
amazon.com
, and also the
single one
with a white lid, but, oddly, they are more expensive than the Canadian ones above.
SWEET POTATOES ON MY MIND....
Here's a yummy, no-fat soup we had for lunch the other day:
BRYANNA'S SPICY BLACK BEAN AND SWEET POTATO SOUP (WW CORE PLAN COMPATIBLE)
The combination of black beans and sweet potatoes is always enticing, but especially so in this soup with Caribbean flavors.
3 cups cooked or canned (2/ 15 ounce cans) black beans, rinsed and drained
3 cup low-sodium vegetarian broth (don't use more-- trust me!) (I like Better Than Bouillon No-Chicken Vegan Broth Base)
1 tablespoon tomato paste
1/2 tablespoon red wine vinegar
1/2 tablespoon low-sodium soy sauce
1/2 teaspoon salt
1/2 teaspoon garlic granules OR 2 2 cloves garlic, crushed
1/4 teaspoon ground allspice
1/2 teaspoon dried thyme
1 bay leaf
1/2 pkg. (60 g) Yves Veggie Pizza Pepperoni (or any spicy vegan "sausage" or "deli slice"), cut into slivers
4 green onions, chopped
12-14 ounces sweet potato, peeled and diced
Mix together the beans, broth, tomato paste, vinegar, soy sauce, salt, garlic granules, allspice, and thyme in a blender or food processor. Puree coarsely. Pour into a medium-sized soup pot. (You can also do this right in the soup pot with an immersion/stick blender.)
Add the bay leaf, veggie pepperoni slivers, green onions, and sweet potato. Bring to a boil, stirring now and then. Reduce the heat, cover, and simmer for 30 minutes. Serve hot.
Servings: 4

Nutrition Facts
Nutrition (per serving):
273.1 calories; 2% calories from fat; 0.9g total fat; 0.0mg cholesterol; 513.8mg sodium; 842.1mg potassium; 50.6g carbohydrates; 14.1g fiber; 4.2g sugar; 36.5g net carbs; 17.5g protein; 4.7 points.
AND A TREAT: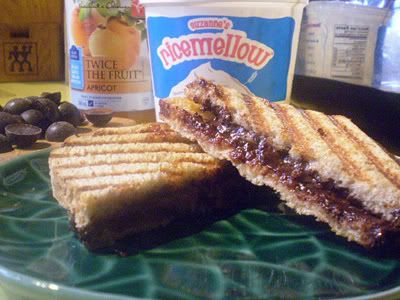 Chocolate panini.... some high-quality white bread, Ricemellow Creme (or you can use my homemade "Marshie Fluff", ; vegan, organic, fair trade chocolate; and low-sugar apricot jam. Yum!!
Enjoy!
Posted by

Bryanna Clark Grogan
at 4:39 PM