Bryanna Clark Grogan's Vegan Feast Kitchen/ 21st Century Table: The kitchen journal of a vegan food writer.. I'm on Facebook and Twitter (see links in sidebar at right).
Thursday, March 8, 2007
YUMMY, CREAMY PASTA IMPROVS

Wholewheat butterfly or bowtie pasta (farfalle) with lowfat Vegan Alfredo Sauce, veggie "chicken strips", peas, mushrooms, and Cheddar "Sheese" on top.
Sorry I haven't blogged for ages-- family business and catching up on other business got in the way. I haven't cooked anything terribly interesting this week, but I did make a couple of good improvisational quick pasta dishes for lunch, using what I had in the house. I didn't write them down as I cooked, but I have a pretty good eye and memory for what I cooked (I wrote them down later), if too much time doesn't pass, so I'm pretty sure these recipe should be accurate.
In the following recipe I used a vegan "cheese" from Scotland called
"Sheese
" as the topping. I have just been sent a box of Sheese-- many kinds, including some creamy spreads, which I don't think are available in North America yet! The "strong cheddar" is the only one we have tried yet, but we like it! Nice texture, punchy taste. No hydrogenized fats, either!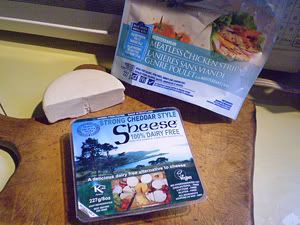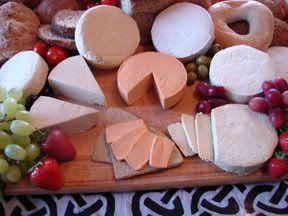 "Sheese" is available in the UK, and in many other countries; see where to buy.
(UPDATE 2015: Unfortunately, Sheese is not available in the USA anymore, and only available in Canada via Koyo Foods' Ontario catalogue.)
I used my low-fat vegan Alfredo sauce to moisten the pasta.
Printable Recipe
RECIPE #1:
BRYANNA'S ALFREDO MUSHROOM-"CHICKEN"-FARFALLE CASSEROLE (WW CORE PLAN COMPATIBLE)
Servings: 6
12 oz wholewheat farfalle
(bowtie or butterfly)
pasta
1 cup frozen baby peas, thawed
1 Tbs olive oil 2 cups sliced mushrooms
1 medium onion, chopped
4 cloves garlic, chopped
227 g (about 8 oz.) vegan "chicken strips"
(I used President's Choice, which is produced by Gardein, but you can use any brand you like; or you could use some reconstituted Soy Curls)
salt and freshly-grated pepper to taste
1 cup grated vegan cheese", a strong cheddar style (or any favorite strongly-flavored vegan "cheese")
Alfredo Sauce
1/2 cup water
1/4 cup corn flour
(or yellow cornmeal ground to a fine flour in a dry electric coffee/spice grinder)
2 cup nondairy milk
2 cloves garlic, peeled
1 tsp salt
1/4 cup
Go Veggie! vegan soy parmesan
or your favorite vegan parmesan sub
freshly ground black pepper to taste
Put the water for the pasta on to heat before starting the sauce. Preheat the oven to 350 ° F.
Make the sauce:
In a small saucepan or microwavable bowl, whisk together the water and the corn flour. If you are cooking the mixture in the pot on the stovetop, stir it constantly over high heat until very thick.
Microwave option:
microwave at full power for 20 seconds. Whisk. Repeat three times, or until very thick.
Mix the cooked corn mixture in the blender along with the remaining soy milk, garlic, and salt. Blend until very smooth, which may take a couple of full minutes. Add the soy parmesan and black pepper to taste. Blend briefly. Heat gently before adding to the pasta.
Cook the pasta until "al dente" in plenty of salted boiling water; drain in a colander and set aside mixed with the peas.
Sauté the mushrooms, onions and garlic in the oil in a large nonstick skillet until the onions soften. Add the veggie "chicken" strips and stir to heat.
Add the pasta, peas, and sauce to the pan and mix well. taste for salt and pepper. Scoop the mixture into an oiled 10" round casserole with a cover. Sprinkle the top with the grated Sheese. Cover and bake for 20 minutes. Serve hot.
Nutrition Facts
Nutrition (per serving):
424.8 calories; 16% calories from fat; 7.9g total fat; 0.0mg cholesterol; 664.4mg sodium; 556.6mg potassium; 61.8g carbohydrates; 6.0g fiber; 5.2g sugar; 55.9g net carbs; 24.7g protein; 8.4 points.
RECIPE #2:
This is a creamy pasta recipe, too (I seem to be in the mood for this!). I had ordered some
Porcini Mushroom Powder
by mail from
Pistol River Mushrooms
in Oregon-- only $24.95 US for a lb., which lasts a LONG time!!
It is made in Italy, smells and tastes divine! I want to experiment with using this product in my mushroom broth and in seitans.
Anyway, they sent me a little packet of dried portobello mushrooms as a gift, so I decided to try them in the following dish, which I made for lunch today.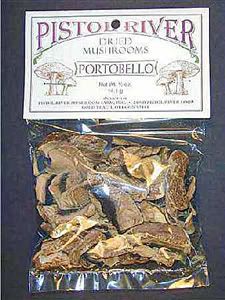 They are really delicious!
I also had some silken tofu from an open box that needed using, some reconstituted Soy Curl "crumbs" (the small bits left in the bottom of the box) in the freezer, and a little bit of wholewheat fusilli left in the box. This is what I came up with:
Printable Recipe
BRYANNA'S CREAMY MUSHROOM FUSILLI (WW CORE PLAN COMPATIBLE)
Servings: 2
NOTE: If you don't have any suitable dried mushrooms, use about 1 1/2 cups sliced fresh portobello mushrooms, and sauté them with the other veggies.
3 oz. fusilli pasta
("corkscrews")
, or other similar pasta
1/2 oz.
dried, sliced Portobello mushrooms
(or other favorite dried mushrooms)
, soaked in about 1 cup boiling water
1 cup reconstituted
Soy Curls
"crumbs"
(or finely-chopped veggie "chicken" strips of your choice, or Yves Veggie "Ground Round Chicken", which is only available in Canada)
1/2 Tbs olive oil
3 green onions, chopped
4 cloves garlic, chopped
1/2 a red bell pepper, seeded and diced
3/4 cup firm or extra-firm SILKEN tofu
OR medium firm tofu
3/4 cup mushroom soaking water
2 tsp. veggie broth powder or paste
salt and freshly-ground pepper to taste
Go Veggie! or EarthIsland/Follow Your heart vegan soy parmesan
, or your favorite parmesan sub to sprinkle on top
Soak the dried mushrooms in the boiling water and let sit for 10 minutes. then drain them and save the soaking water.
Cook the fusilli in a medium pot of salted boiling water until "al dente". Drain and set aside.
Meanwhile, sauté the onion, garlic and pepper over medium heat in the olive oil in a large nonstick skillet until they soften. Add the Soy Curl "crumbs" and stir to heat.
Mix the tofu and 3/4 cup mushroom soaking water with the broth powder in the blender until smooth.
Pour the tofu sauce, drained mushrooms, and cooked pasta into the skillet and stir until it is well-heated. taste for salt and pepper. Serve with vegan soy parmesan.
Nutrition Facts
Nutrition (per serving):
487 calories, 86 calories from fat, 9.8g total fat, 0mg cholesterol, 968.3mg sodium, 526.5mg potassium, 78.5g carbohydrates, 5.7g fiber, 4.8g sugar, 23.9g protein, 13.4 points.
Enjoy!

Posted by

Bryanna Clark Grogan
at 2:09 PM