Bryanna Clark Grogan's Vegan Feast Kitchen/ 21st Century Table: The kitchen journal of a vegan food writer.. I'm on Facebook and Twitter (see links in sidebar at right).
Thursday, March 1, 2007
HOMEMADE MUSHROOM BROTH, AND SOME THINGS I'VE BEEN WORKING ON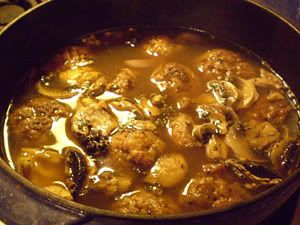 My "Neatball" Pho (a Vietnamese soup; see more pics below), minus the veggies, cooked in mushroom broth.
I use mushroom broth in some of my seitan recipes, and in recipes that call for a "meaty" broth.
One tasty broth, Superior Touch Better Than Bouillon Mushroom Base contains "cultured whey"! (You have to also look out for beef fat in some "vegetarian" bouillons.)
But here are some that ARE vegan:
My favorite is Star brand, which is an Italian brand, but it's hard to find in my neck of he woods. On the (brown) box it says "Porcini Dado", which means "porcini bouillon".
Here is a US online source
. Star is distributed in the USA by Ranieri Corp., 281 Metropolitan Ave, Brooklyn, NY 11211. Star products are distributed by Italpasta Ltd. In Canada. I can find the mushroom cubes in some Italian markets in Vancouver.
Here is a porcini
mushroom powder
(from Pistol River, OR), available online at a very reasonable price.
Amazon
also carries various brands.
You can make a rich-tasting broth using 1 cup of your favorite vegetarian bouillon with 1/2 Tbs. of the porcini powder mixed in!
Not recommended:
Harvest Sun
is a US organic brand, but I think it's far too salty and lacking mushroom flavor.
I tried
Pacific Foods Organic Mushroom Broth
in a carton and I wasn't impressed. It had a strong onion odor as soon as I opened the carton, and more onion flavor than mushroom.
It's too bad the organic mushroom broths I've tried do not make the grade in the kitchen!
WANT TO MAKE YOUR OWN? It's easy and delicious:
BRYANNA'S RICH MUSHROOM STOCK
1 Tbs olive oil
1 medium onion, chopped
4 large cloves garlic, chopped
12 cups g
ood vegetarian broth or bouillon
(a tasty one that is not too salty-- homemade or
commercial
)
2 oz. (2 1/2 cups) dried mushrooms
-- preferable boletus or porcini, or a
wild mushroom mix
, or shiitake
The kind I bought at Costco
Saute the onions and garlic in the Earth Balance or oil over medium-high heat in a large nonstick pot until they start to brown. Add the broth and dried mushrooms and bring to a boil. Turn down, cover and simmer 30 minutes.
Remove from heat and let the stock cool. Strain off the solids.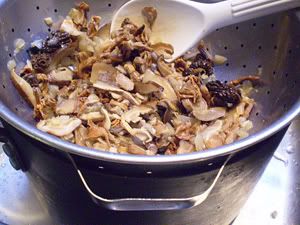 The mushrooms after cooking and straining
You can freeze the mushrooms to use in other dishes. The broth can be frozen in 2 cup or 1 cup freezer containers, or in ice cube trays (2 tbs. per cube). the cubes can then be stored in zipper-lock bags.
Yield: 11 cups

Nutrition Facts
Nutrition (per cup):
30.6 calories; 31% calories from fat; 1.1g total fat; 0.0mg cholesterol; 12.1mg sodium; 99.4mg potassium; 5.4g carbohydrates; 0.8g fiber; 1.6g sugar; 4.6g net carbs; 0.7g protein; 0.5 points.
Now here are some of the things I've been working on: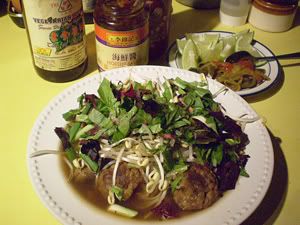 "Neatball" Pho (same as above, but with the veggies and accompaniments)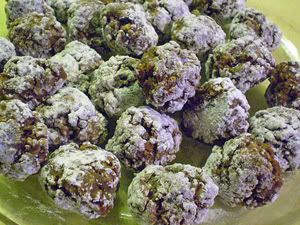 "Neatballs" ready for soup
(UPDATE Aug. 2019--
(UPDATE Aug. 2019-- neatball recipe post)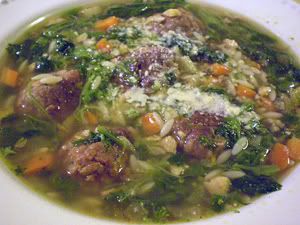 Vegan "Wedding Soup", and Italian soup that also utilizes my "Neatballs"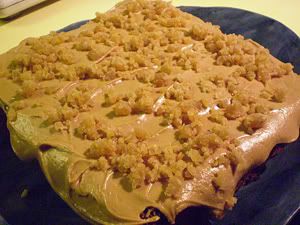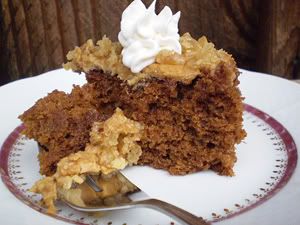 Triple Ginger-Espresso Cake
UPDATE: the recipe is in my new book, "World Vegan Feast".
Vegan Gianduia (a homemade chocolate-hazelnut spread similar to Nutella) Muffins
UPDATE: the recipe for the
Vegan Giandui
a
is in my new book, "World Vegan Feast".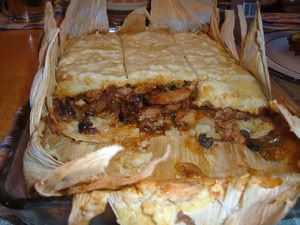 Authentic Tamale Pie, vegan-style
UPDATE: the recipe is in my new book, "World Vegan Feast".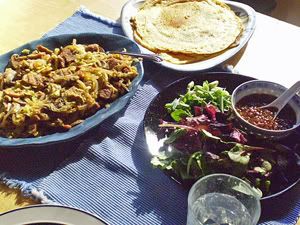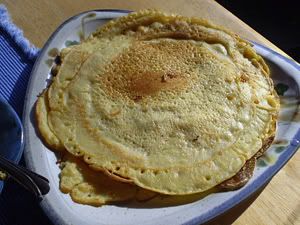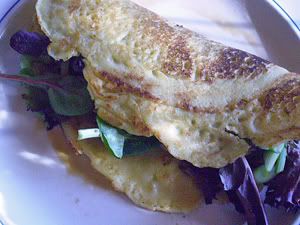 The three photos above are of my easy, vegan version of Vietnamese Bahn Xeo, also known as "Sizzling Crepes", "Sound Crepes", "Saigon Crepes", and "Happy Pancakes". UPDATE: the recipe is in my new book, "World Vegan Feast". I made my pancakes with split mung beans and brown rice flour for a heartier, healthier version than the usual white rice flour ones.
Enjoy!

Posted by

Bryanna Clark Grogan
at 12:03 PM