Bryanna Clark Grogan's Vegan Feast Kitchen/ 21st Century Table: The kitchen journal of a vegan food writer.. I'm on Facebook and Twitter (see links in sidebar at right).
Tuesday, March 13, 2007
MY KITCHEN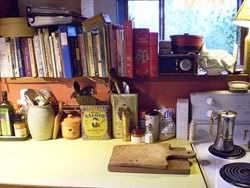 I had just tidied up the kitchen the other day and the light was nice, so I took some photos, going around my little U-shaped kitchen. It's not fancy, as those of you who have been to my house know, but I like it! The flash photos came out pretty bad, so I didn't use them. Unfortunately, you can't see the colors on the bottom cupboards, but they are like the cupboards on top-- sage green with Mediterranean blue borders. I wanted Mediterranean colors to make it seem warmer in the winter.
The U-shape is evidently a popular design for the home kitchens of professional chefs, because everything is at hand and you don't have to walk far. This little kitchen sees alot of cooking!
My main problem is storage space. I have a walk-in closet that doubles as extra pantry space, but it's getting pretty crazy (see photos at end of post)!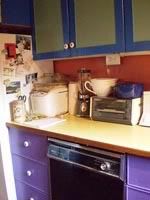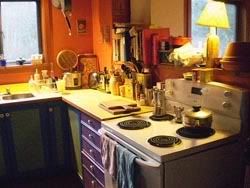 CONFESSION TIME-- PANTRY PICTURES: (YIKES!)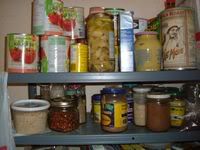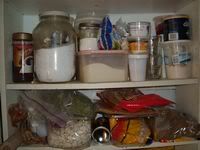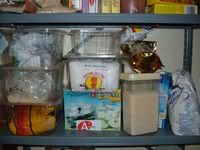 Cheers!