Bryanna Clark Grogan's Vegan Feast Kitchen/ 21st Century Table: The kitchen journal of a vegan food writer.. I'm on Facebook and Twitter (see links in sidebar at right).
Thursday, February 21, 2008
HOMEMADE VEGGIE BROTH POWDER, BIG-BATCH CARAMELIZED ONIONS (WITH OR WITHOUT OIL), AND VEGAN ONION SOUP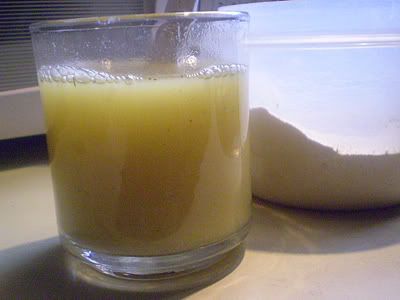 VEGETARIAN BROTH CUBES, POWDERS, ETC.:
Instant broth powders, pastes, and cubes seem to be very regional. Many of my subscribers and readers use brands that I have never heard of, or cannot get here in my area of Canada.
I have tried every vegetarian broth cube, powder and paste that I can find in my area-- without prejudice. By that I mean natural, not-so-natural, organic, not organic, etc...Broth powder has been problematic for me.

The product you use should contribute full flavor, not just saltiness. Unfortunately, many vegetarian broth powders do not deliver in the flavor department! And, sadly, the major organic brands are inadequate--too salty and not enough real flavor.

I really like Seitenbacher vegetarian broth powder, a German Brand which is widely distributed in the USA. (See more info below.)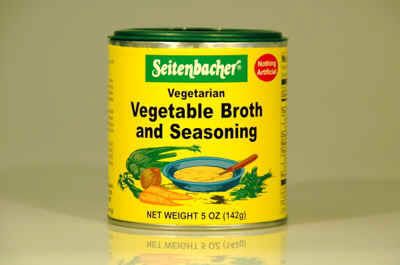 Brands of instant vegetarian broth, or bouillon, powders, pastes, and cubes seem to vary from region to region, even within North America. Many readers use brands that I have never heard of, or cannot get where I live in Western Canada. Fortunately, we can now order specific brands online if we can't convince our local grocer or health food store to carry the ones we like.
HERE ARE SOME THAT I LIKE:
#1
Seitenbacher
Vegetarian Vegetable Broth and Seasoning Powder, a German brand which is widely distributed in the USA and in Europe. It is the #1 choice for the recipes in this book. Unfortunately, I haven't been able to find it in Canada, but Canadians can order it from
veganessentials
and the shipping to Canada is very reasonable.
Seitenbacher is MSG-free and "All natural; Vegan; No Gelatine; No Dairy; No Meat; No Eggs; No Artificial Flavor Enhancer; Fat Free; Cholesterol Free; Gluten Free; No Oil".
(
Another good MSG-free broth powder is Massel-- see below.)
#2: One of my favorite
broth products--but not a powder: "Better than Bouillon" "
No Chicken Vegan Base
" (a paste) is delicious (and it's what I used in the soup above). Ask your health food store or grocery store to carry it. "Better than Bouillon" also has a
"No Beef Vegan Base"
, which is good, and a "
Vegetable Base
", which also comes in an organic variety, but, while it's good, I wasn't super-impressed with the Vegetable Base. (Unfortunately, their "Mushroom Base" contains dairy products.)
#3:
"Massel Vegetable Style Stock Powder", all vegan, MSG-free, palm oil-free and gluten-free, now available in the US and Canada from VeganEssentials.com, and also from

amazon.com

and many kosher outlets. There is Vegetable-Style, Chicken-Style and Beef-Style, all vegan. Massel broth powder contains no trans-fats, and has good flavor, without too much salt.
TIP: Broth cubes almost always contain palm oil.
#4: An excellent homemade alternative is

my own broth powder mix. It's easy and cheap to make and has excellent flavor--but you must use 2 teaspoons for each cup of water. SEE RECIPE BELOW.

For 1 cup of broth , use 1 cup water and add:
* 1 teaspoon Seitenbacher or Massel vegetarian broth/stock powder
* OR 1 teaspoon Superior Touch "Better than Bouillon" Vegan No-Chicken Base
*

OR 2 teaspoons Bryanna's Homemade Broth Powder (

see recipe below

)
Here's my homemade broth powder: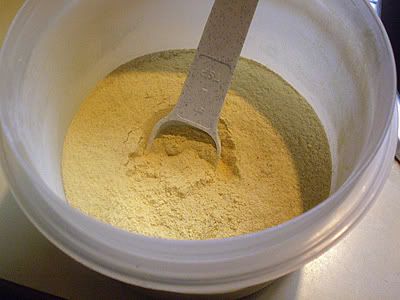 Printable Recipe
BRYANNA'S HOMEMADE VEGAN "CHICKEN-STYLE" BROTH POWDER
Yield: 1 1/4 cups or 30 cups of broth
I invented this broth powder when I was having trouble finding a natural broth powder here in Canada that actually tasted good! It's cheap and easy to make and has excellent flavor. You need to use twice as much of this homemade broth powder as Seitenbacher, but the sodium comes out about the same.
You can adjust the salt to suit your taste and dietary needs, but I wouldn't go lower than 1 Tablespoon.
1 1/3 cups nutritional yeast flakes
3 Tbs onion powder
7 1/2 tsp (2 1/2 Tbs) fine sea salt
1 Tbs soy protein powder (OR rice protein powder, or chickpea flour, or soy milk powder)
1 Tbs organic unbleached granulated sugar
2 1/2 tsp. garlic granules or powder
1 tsp dried thyme
1 tsp finely crumbled dried sage (NOT powdered)
1 tsp paprika
1/2 tsp turmeric
Blend in a dry blender or food processor until powdery. Store in a dry, airtight container .
Use 2 level teaspoons per cup of boiling water.
Nutrition Facts
Nutrition (per 2 tsp. serving): 28.4 calories; 10% calories from fat; 0.4g total fat; 0.0mg cholesterol; 475.3mg sodium; 163.9mg potassium; 3.6g carbohydrates; 2.0g fiber; 0.7g sugar; 1.6g net carbs; 4.1g protein; 0.2 points.
**********************
The next thing I want to share is something I posted in my newsletter, The Vegan Feast, a few years ago, but I wanted to try a fat-free version. It a big-batch, slow-cooker version of caramelized onions, which are so useful for making many dishes tasty (lots of umami!) It worked, but I think it was tastier with some olive oil. I also think, without the oil, you should use a sweet onion.
CAUTION: This gets pretty odiforous while it's cooking, so I plugged the slow-cooker in (overnight) on my front porch!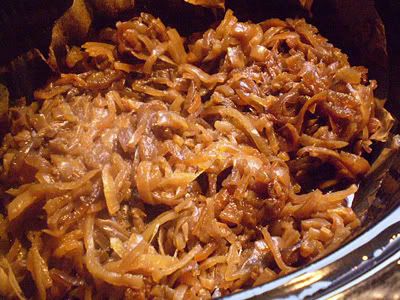 Printable Recipe
SLOW-COOKER CARAMELIZED ONIONS
I must confess that, although I love caramelized onions (and they are a component of one of my favorite soups, onion soup), I didn't make them that often because of the time required stirring them so that they don't burn! Well, here's an easy, effortless way to make them, and you can make a whole lot of them if you have a large slow-cooker, and freeze small containers of it!
Though many recipes say to use sweet onions, Vidalia onions, etc., I just used plain ol' yellow onions with the oil version and they turned very sweet! However, as I mentioned above, I think the fat-free version would be better with a sweet onion.
I used a 6 qt. oval Rival "SmartPot" Crockpot (this is the newer version). Peel and slice 6 large onions. Slice about 1/4" thick. To keep your pot clean, line the bottom (with some about 2" up the sides, particularly in the corners) with cooking parchment, cut into an oval shape.
THE OIL VERSION: Lay the onion slices on top and then drizzle with 2-3 Tbs. olive oil. Cover the pot and cook on LOW for 8 hours (I did this overnight).
THE FAT-FREE VERSION: Mix the onion slices with 1-2 Tbs. brown sugar. Place them on the parchment. Cover the pot and cook on LOW for 8 hours (I did this overnight).
Either way, they keep (in zip-lock bags)in the fridge for about a week, or freeze them if you don't use them up.
Now here is a vegan onion soup that you can make quickly if you have a batch of slow-cooker caramelized onions in your fridge or freezer. You can make it fat-free or not, as you like!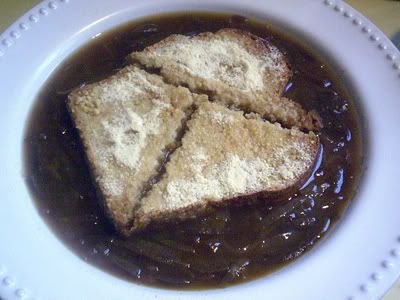 Printable Recipe (includes Slow-Cooker Caramelized Onion recipe)
BRYANNA'S VEGAN ONION SOUP MADE WITH SLOW-COOKER CARAMELIZED ONIONS
Serves 6
Yes, you can make an excellent onion soup without beef stock. This recipe, spiked with wine, is very easy to make and makes an excellent light supper. This is actually a Northern Italian version of French Onion Soup, adapted from a recipe in my book "Nonna's Italian Kitchen".
8 c. hot water
1 batch Slow-Cooker Caramelized Onions (with or without oil; see above)
enough good vegetarian bouillon powder or cubes for 6 cups broth (see text at beginning of post)
4 tsp. Marmite yeast extract
2-3 tsp. soy sauce
1 tsp. salt
2/3 c. Marsala (or dry sherry, Madeira or Sauterne)
freshly-ground white pepper to taste
To Serve:
6 thick slices rustic Italian or French-style bread, toasted
(or a good light wholegrain bread, which is what I used this time)
Galaxy Vegan Parmesan substitute (you could also add some shredded white vegan cheeze that melts, if you like)
In a large heavy pot, mix the onion, the water, bouillon, Marmite, soy sauce, and salt. Cover and simmer for 30 minutes. Add the wine and simmer uncovered for about 5 minutes. Taste for seasoning and add the white pepper to taste.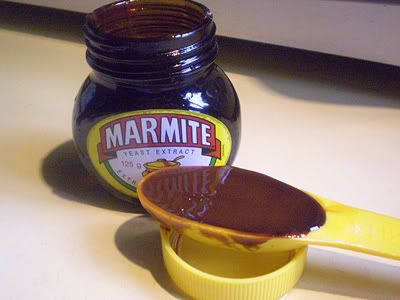 Toast as many pieces of bread as you need (cut rather thick). Spread with a bit of Earth Balance and sprinkle liberally with soy Parmesan (and other vegan cheeze, if you like). Place a piece of the toast (cut decoratively, if you like) in each serving of soup.
Serve piping hot.
Enoy!

Posted by

Bryanna Clark Grogan
at 11:47 AM