Bryanna Clark Grogan's Vegan Feast Kitchen/ 21st Century Table: The kitchen journal of a vegan food writer.. I'm on Facebook and Twitter (see links in sidebar at right).
Thursday, February 14, 2008
"GROWN-UP" NANAIMO BARS-- A SWEET TREAT FOR MY VALENTINE, AND A COUPLE OF QUICK MEALS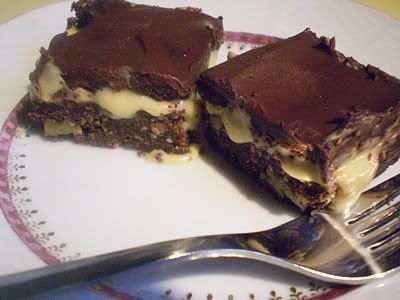 Never heard of a "Nanaimo Bar"? Well, you kind of have to be Canadian! Named after the city of Nanaimo in British Columbia, which is just one hour's drive south of us on Vancouver island, they are a wildly popular item in coffee bars and during the Christmas holidays. The first time this square was published under that name was in the early 1950's in the Vancouver Sun newspaper. I believe it was for a recipe contest.
I've always thought these were way too sweet, so I've been promising myself to make what I call a "grown-up" version-- vegan, of course, less sweet, with better ingredients, a little Kahlua, and a modern touch. Yesterday I worked on this as a Valentine's Day treat for my sweetie, and...success! The recipe will be in a new book coming out at the end of 2010.
Here are the Nutrition Facts:
Nutrition (per bar): 142.0 calories; 56% calories from fat; 9.0g total fat; 0.0mg cholesterol; 100.3mg sodium; 45.9mg potassium; 13.7g carbohydrates; 1.1g fiber; 6.2g sugar; 12.6g net carbs; 2.0g protein; 3.4 points.
I compared it with an ordinary Nanaimo bar and these have less sugar, less fat, NO cholesterol, and twice as much fiber and protein!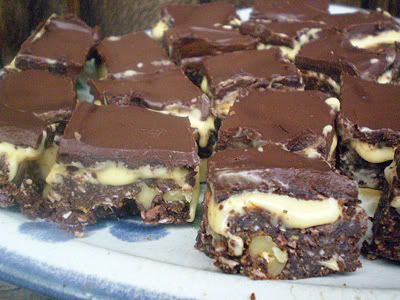 On a more practical level, I've been pretty busy with some deadlines, and some family stuff, so dinners have tended to be fast and simple. This is one quick meal we had on the spur of the moment: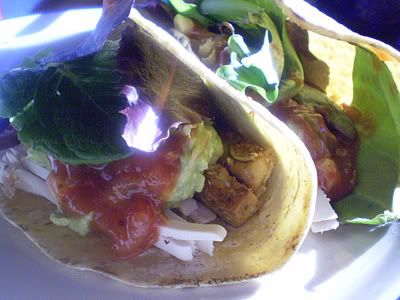 "Breast of Tofu" Soft Tacos
: corn tortillas heated quickly in a dry cast iron skillet, and filled with sliced pan-fried "Breast of Tofu" (which is in almost all of my books), organic baby greens, guacamole, vegan cheeze shreds (Galaxy Foods soy mozza singles, in this case), and salsa.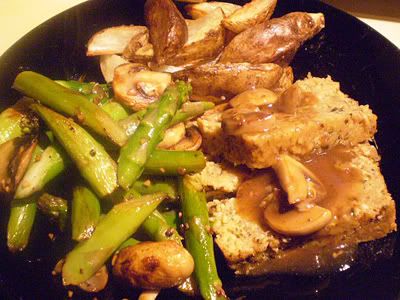 A plate of stir-fried asparagus and mushrooms with garlic, roast potatoes, and a zucchini "meatloaf" that I devised for the Fieldroast book I'm working on-- very yummy, like a "turkey" meatloaf!
Enjoy!

Posted by

Bryanna Clark Grogan
at 5:19 PM