Bryanna Clark Grogan's Vegan Feast Kitchen/ 21st Century Table: The kitchen journal of a vegan food writer.. I'm on Facebook and Twitter (see links in sidebar at right).
Wednesday, July 6, 2011
HEALTHFUL, EASY, INEXPENSIVE SOAKED BEAN AND WHOLE GRAIN RECIPES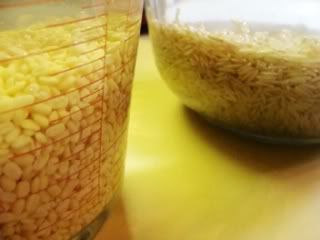 Urad dal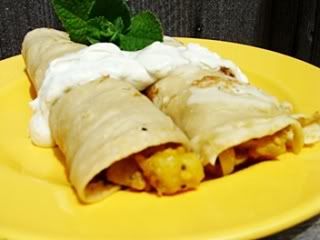 Brown Basmati Rice and Urad Dal Adai (Indian crepes) with Masala Potato filling and Lime Tofu Yogurt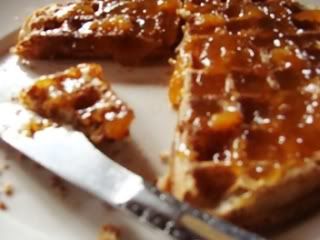 Rather fuzzy pic (sorry!) of white bean and oat waffles I developed for my book "The Fiber for Life Cookbook
"-- recipe here. (There's also a fancier version of this recipe at this blog post.)
For some reason, I've always been fascinated with recipes using plain beans and whole grains that are soaked and ground and used to make delicious, simple and healthful breakfast treats, breads and snacks. We need more recipes like this under our belts, so to speak, to get through hard financial times in good health and spirits. These two recipes come from very different cooking traditions (one ancient and the other more recent) that have used soaked beans and grains to advantage over the years-- Indian cuisine and Seventh Day Adventist cooking. This last weekend I had occasion to serve a recipe from each tradition.
My stepson and his girlfriend were visiting and Laurie mentioned that a buddy of his (in Vancouver) wanted him to try a dosa restaurant. Dosai are Indian crepes made from soaked grain (usually semolina or rice) and dried legumes. Sometime these crepes have different names, such as adai. He had never tasted them, so (being a fan of dosas) I thought I'd make some while they were here. And, as it happened, I already had some white beans soaking for waffles, so we had those for breakfast the following day, and the adai/dosai for brunch the next day.
I used to make this type of dosa years ago for my children for breakfast. They loved it and I still do!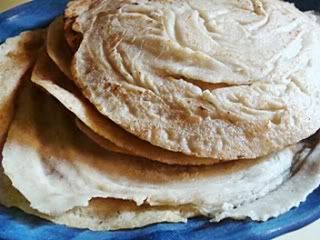 Finished
adai
Printable Recipe
BROWN RICE AND LENTIL ADAI (INDIAN DOSAS OR CREPES) (GF,SF)
Makes about 14
1 cup dal (I used urad dal
, but you can use a mixture of dals, or split moong dal , or even split yellow peas)
(Note: Urad dal is split, skinned Indian black lentils)
2 cups brown basmati rice
2 tsp salt
1 1/2 cups water
oil from a pump sprayer
Masala Potatoes (see recipe below)
Lime Tofu Yogurt (see note below)
Soak the dal in one bowl with plenty of water, and the rice in another bowl with plenty of water. Soak them until the evening.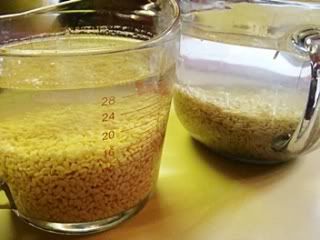 Before bedtime, drain the rice and the dal and place in a large blender or VitaMix
with the salt and water. Blend until smooth.
Now place the batter in a large bowl, cover with a clean tea towel and leave overnight at room temperature. This allows the batter to ferment. (This step is optional, but traditional—it gives the batter more flavor and adds some natural leavening.)
The batter should feel like a normal crepe batter—add more water if necessary.
(If it's too thick, it won't spread easily.)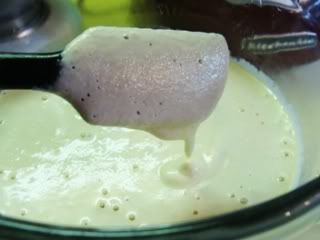 The day you are making the crepes, make or assemble your filling(s) and toppings before starting to cook the adai. Spray an 8 to 10" well-seasoned cast iron
or anodized aluminum
or nonstick skillet
well with oil from a pump sprayer and heat over high heat. When cold water sprinkled on the pan sizzles, scoop about 1/3 cup of batter into the center of the pan with a small ladle and then use the bottom of the ladle to go in circles and spread the batter out from the center. It's easier than you might think!
See the "action" pictures here from a similar recipe
(grain-free).
PS: If your batter doesn't spread easily, it may be too thick—cautiously stir in a little more water.
I turned the heat down just a notch or two from the "high" setting. Almost as soon as you have the batter spread, it will start looking a bit dry on top.
Carefully turn the adai and cook for a few seconds, then lay on a platter with a clean tea towel over them (you can fold them in half if you like).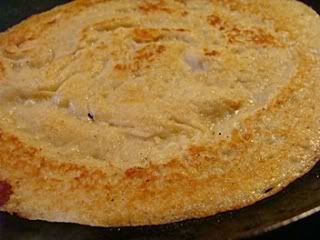 Place some filling (in this case Masala Potatoes, see recipe below) down the middle of each adai and roll up. Serve with the Lime Tofu Yogurt (see NOTE below) and any hot sauces and/or chutneys you like.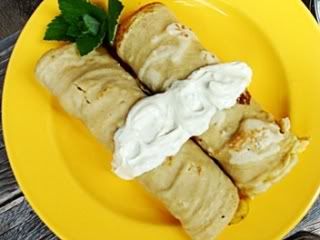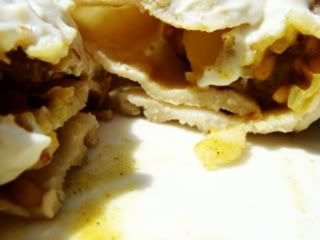 Nutrition Facts
Nutrition (per crepe without filling):
145.8 calories; 5% calories from fat; 0.9g total fat; 0.0mg cholesterol; 273.0mg sodium; 197.0mg potassium; 28.9g carbohydrates; 4.5g fiber; 1.4g sugar; 24.4g net carbs; 5.6g protein; 2.2 points
NOTE: For the Lime Tofu Yogurt,
use this recipe
, but use 3 tablespoons fresh lime juice and 1 tablespoon lemon juice (instead of 1/4 cup lemon juice) , plus the finely-grated zest of 1 medium organic lime.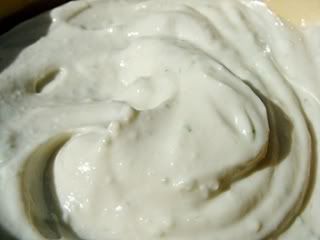 *************************************************************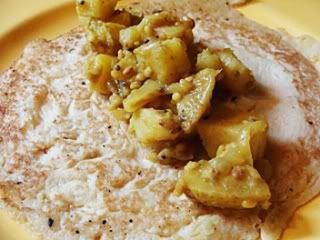 MASALA POTATOES
Serves 6-7
2 lbs. Yukon Gold potatoes, scrubbed and cut into 1/2" dice
2 tablespoons olive oil
1 teaspoon black mustard seeds
1 large onion, thinly sliced
7-8 curry leaves
(or bay leaves, if you can't find curry leaves)
1/4 teaspoon turmeric
2 teaspoons ground coriander
1/2 teaspoon cayenne pepper
1 teaspoon salt
3/4 cup water
4 teaspoons fresh lemon or lime juice
Steam the potato cubes until just tender OR (the way I prefer because it saves time and electricity), place the cubes in a microwave-safe casserole with 2 tablespoons water, cover and cook on high for about 8 minutes, or until tender.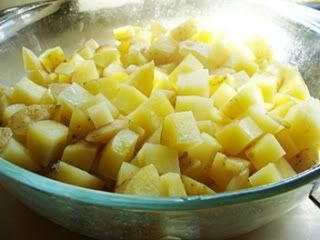 Heat the oil in a large well-seasoned
or nonstick skillet over medium-high heat. Add the mustard seeds. When they pop, add the onions, curry leaves, turmeric, coriander, cayenne and salt. Stir-fry, adding a small splash of water as needed to keep things moving, until the onions are nicely wilted.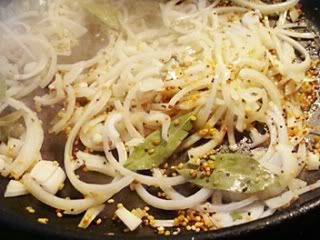 Add the potatoes and water, cover and cook on low heat for about 5 minutes. Add the lemon or lime juice and serve.

Enjoy!

Posted by

Bryanna Clark Grogan
at 2:54 PM


Labels: adai, basmati rice, beans, dal, dosa, dried legumes, legumes, masala potates, oats, potatoes, Tofu Yogurt, urad dal, white beans