Bryanna Clark Grogan's Vegan Feast Kitchen/ 21st Century Table: The kitchen journal of a vegan food writer.. I'm on Facebook and Twitter (see links in sidebar at right).
Thursday, November 4, 2010
PART 2 OF "LET'S TALK ABOUT ONIONS" (WITH AN ELEGANT RECIPE!)


Continuing the post about onions in general, and Caramelized Onions in particular (and the recent post on beans, too), I'm going to share a very special dish that I developed for a McDougall Celebrity Chef event in Santa Rosa, CA 2 years ago. I wanted to create a bean dish that was simple, yet elegant and delicious, and used seasonal foods, such as corn, kale, onions, and dried vegetables. What really makes the dish special is the dried mushrooms cooked with the beans!
The dish also contains instructions for cooking with and without fat (I used no fat in the McDougall workshop), gives options for different cooking methods for the beans, polenta and onions, and a method of speeding up stove-top Caramelized Onions that I adapted from a recipe for improving gas-grilled onions in
Cooks Illustrated
magazine. It looks long, but you don't have to make it all in one go. You can cook the components at different times, well ahead of time (and you can make more of each component to use in other dishes, if you like).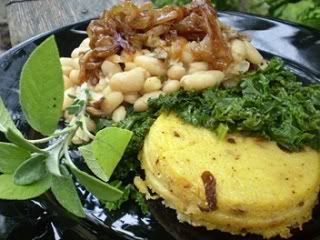 Printable Recipe
BRYANNA'S SUNDRIED-TOMATO POLENTA ROUNDS WITH BRAISED KALE, CARAMELIZED ONIONS, AND CANNELLINI BEANS WITH DRIED MUSHROOMS AND SAGE
Serves 6
This is adapted from a recipe I developed for a McDougall Celebrity Chef workshop. For that reason, I made the dish (onstage!) with no oil whatsoever and it was perfect. However, I have given options here for some judicious use of oil if you prefer.

The components for this dish can be made ahead of time and reheated before serving (except for the kale, but it can be prepared for cooking ahead of time). By the way, please don't substitute that ready-made polenta in a tube! It really is nowhere near as good as homemade, and so much more expensive!
BEANS: (You can make these ahead of time, even a day or two before.)
2 cups dried cannellini beans
(or white kidney beans
, butter beans or Great Northern beans
), soaked 8 or more hours in salted water (see this post) and drained
1/2 oz (1/2 cup) dried porcini mushrooms
CARAMELIZED ONIONS: (You can make these earlier in the day.)
4 large onions, thinly sliced
OPTIONAL: 1 tablespoon or so of brown sugar
POLENTA ROUNDS: (You can make this ahead of time, even a day or two before.)
1 1/4 cups yellow cornmeal or polenta
12 dried tomato halves
soaked in boiling water until softened, drained, patted dry and chopped
(OR use sundried tomato halves in oil and rinse the oil off under hot tap water and pat with a paper towel before chopping)
plenty of freshly-grated black pepper to taste
OPTIONAL: 2 tablespoons olive oil or Earth Balance
BRAISED KALE: (You can trim, wash, and slice the kale earlier in the day and refrigerate, but cook it just before serving)
1 large bunch fresh kale, washed, stripped off the stems, and thinly sliced
salt
OPTIONAL: 1 to 2 tablespoons olive oil or dark sesame oil
To cook the beans, you have several options: (I don't use a pressure cooker for the beans in this dish because it's harder to control the texture and shape retention of the beans.)
Option #1:
Mix all of the bean ingredients in a large pot and bring to a boil. Boil for a couple of minutes, then turn down to a simmer and cook 1 1/2 to 2 hours, or until tender but holding their shape. Remove the sprig of sage and discard. Option #2: place the ingredients in a large oven-safe pot
with a lid and bake at 350ºF. Check them after an hour and test for tenderness. Option #3: Place the ingredients in the insert of your slow-cooker
, using BOILING hot broth. Cover and cook on High for about 3 hours, or until tender but retaining their shape. If they are not done yet, check every 30 minutes or so.
Place the onions in a large microwave-safe bowl or casserole. Cover with the lid or with plastic wrap and microwave on High until the onions begin to soften and the tips turn slightly translucent, 6 to 8 minutes, stirring once halfway through cooking (be careful of the steam). Set aside. (An alternative might be to steam the onion, but make sure they are only partially softened as described above.)
Heat a large heavy nonstick skillet over high heat. Add the optional olive oil or Earth Balance, if using. Add all of the pre-cooked thinly-sliced onions and sprinkle liberally with salt. (The salt draws out the liquid, causing the onions to soften more easily as they cook.)
Start steam-frying them (see Cooking Tips below) over high heat and, after they wilt, turn down to medium-high. As soon as the natural sugar in the onions starts to brown on the bottom and edges of the pan, add a little liquid and scrape up the brown bits, mixing them into the liquids and around into the cooking onions—you probably won't need to do this if you use the oil or earth Balance. (Some people like to add a little brown sugar at this point-- it's up to you!) Keep doing this until the onions are soft and brown, being careful not to scorch them.
This can take about 20 minutes and you don't have to stir continually, but you have to be around and keep an eye on them! I do simple chores in the kitchen while I do this.
Cooking the Polenta-- you have several choices. (Whichever way you are cooking the polenta, mix the cornmeal with COLD water and salt. Don't mix hot water with dry cornmeal, or it will clump up.)
For the Double-Boiler Method,
mix the cornmeal, water and salt in the top of a double boiler. Set the bottom of the double boiler to boil with water in it. Place the top of the double boiler over high heat and, bring to a boil quickly, stirring almost constantly with a whisk or wooden spoon, to prevent sticking and clumping. IMMEDIATELY it boils, place it over the bottom part of the double boiler, over the simmering water. Let simmer 20 minutes, partially covered, and stirring now and then, until the mush is creamy and smooth (for soft), or very thick and not gritty anymore (for firm).
For the Pressure-Cooker Method,
mix the polenta, cold water, and salt in a heat-proof or stainless steel bowl or casserole that will fit into your pressure cooker. Cover with foil. Fold a long piece of heavy foil into a 2"-wide length and use that to lift the casserole/bowl in and out of the cooker. Place the casserole/bowl on a rack over 1-2" of water in the bottom for your cooker. Bring to pressure over high heat, then turn down just enough to maintain this pressure, and cook 10 minutes. Remove from heat and let rest 5 minutes, then quick-release the pressure under cold running water. Stir the polenta.
For the Microwave Method,
whisk the polenta, water, and salt together in a large microwave-safe bowl or casserole. Cover and cook on High for 5 minutes. Whisk the mixture. Re-cover and cook on High 3 minutes. Whisk again. Re-cover and cook again for 3 minutes more. Let stand 1 minute. (Taste the polenta and make sure that it doesn't have that rather unpleasant bitter taste of undercooked cornmeal. If it does, let it cook a little longer.)
To make the Polenta/Sun-Dried Tomato mixture:
Mix the chopped sundried tomatoes into the hot polenta, and add plenty of freshly-ground black pepper. Add the olive oil or Earth Balance, if you like. Immediately spread the hot polenta into a cooking-parchment-lined 9 x 13" baking pan and smooth it out evenly. Refrigerate until firm.
When you are ready to assemble the dish:
Cook the kale,
by mixing the kale and broth in a large covered pot. Bring to a boil, then turn down to medium and cook until the kale is tender, about 10 minutes. Drain off any excess liquid. toss with the oil, if you like. Season with salt to taste and keep warm.
Make the Polenta Rounds:
Cut the now-firm polenta into 6 rounds with a 4" cutter (or use a small plate as a guide). (There will be some scraps of polenta left over-- I brown them and eat them for breakfast with some leftover gravy!)
Either grill or broil them 3 to 4" from the heat source until speckled with browned spots; brown them over high to medium-high heat in a nonstick skillet; or place them on a nonstick cookie sheet and bake them at 450 °F for 10-15 minutes.
Warm the beans and onions, if you have made them ahead of time.
Place a hot Polenta Round on a plate, top with 1/6th of the kale, then with some of the beans, and, finally, with 1/6th of the Browned Onions. You can layer them casually on an angle, or stack them more formally as they might do in a restaurant. Serve immediately.
© Bryanna Clark Grogan 2008
You will often see the term "steam-fry" in my recipes. Here is a description of what it is and how to do it.
"Steam-fry" simply means sautéing without fat. To do this, use a heavy skillet or stir-fry pan (use non-stick, hard anodized aluminum, or cast iron), or a well-seasoned wok,sprayed lightly with oil from a pump sprayer, or with cooking spray.
Heat the pan over high heat, add the chopped onions or other vegetables, and one or two tablespoons of liquid (water, low-sodium vegetarian broth, or wine), depending on the amount of vegetables. Do not crowd the pan, or your vegetables will "stew". Cook over high heat until the liquid starts to evaporate, stirring with a spatula or wooden spoon. Keep stirring until the vegetables are done to your liking, adding JUST ENOUGH liquid to keep the vegetables from sticking to the bottom of the pan.
You can brown onions (but not caramelize them) perfectly by this method. As soon as the natural sugar in the onions starts to brown on the bottom and edges of the pan, add a little liquid and scrape up the brown bits, mixing them into the liquids and around into the cooking onions. Keep doing this until the onions are soft and brown, being careful not to scorch them.
TO "STEAM-FRY" IN THE MICROWAVE, use a glass dish, such as a round 10" Pyrex casserole dish or pie plate. Spray with oil from a pump sprayer or cooking spray. Add ther chopped onions, garlic, carrots, celery, or whatever vegetables you want to sautè. Cover the dish with a glas lid or microwavable plate, and microwave 5 minutes, or however long it takes to soften them. This method is convenient because you don't have to watch the vegetables- you can be preparing the rest of the recipe while they cook. Just add the softened vegetables to the recipe.
Enjoy!



Posted by

Bryanna Clark Grogan
at 6:10 PM