Bryanna Clark Grogan's Vegan Feast Kitchen/ 21st Century Table: The kitchen journal of a vegan food writer.. I'm on Facebook and Twitter (see links in sidebar at right).
Monday, November 29, 2010
A SIMPLE RECIPE MY MOM USED TO MAKE; A TIP FOR SPEEDING UP BROWN RICE; KITCHEN PHOTOS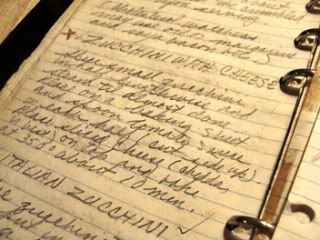 Recipe from my old 1970's cooking notebook
In
this post
, I talked about my old cooking notebooks, particularly the one from 1973. Well, it inspired a hankering for a very simple zucchini recipe that my mother used to make frequently. It's so simple that it isn't really a recipe! I didn't make it for years because it requires cheddar cheese and when I first became a vegan there was nothing decent in the vegan cheese department! Even now, vegan "cheddar" is usually pretty bland. I think the best one is
Sheese
. I didn't have any in the house to make this recipe and was stuck with Tofutti Slices, but it still brought back memories! Next time I'll use
Sheese Strong Cheddar
. (Sheese
Smoked Cheddar
and
Cheshire
are actually my preferences, but they don't sell them in our local HF store.)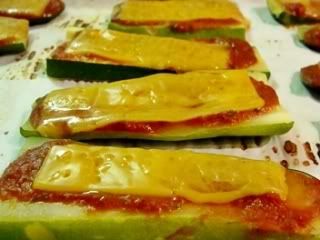 ANYWAY, TO MAKE THIS,
simply
take some small zucchini (4-6 inches long), wash, trim, and cut them in half lengthwise, steam them until almost tender, and then lay them out cut-side-up on a cookie sheet. Slather on some tasty tomato sauce and top with vegan cheese (see remarks above). Bake at 350 degrees F for 10 minutes. That's it! We gobbled this down as kids! (Yes, it was the 50's and 60's, but we were California kids with a half-Italian father-- grew up on zucchini and greens!)
I think I'll update this, not only with vegan cheddar, but with roasting the zucchini with a bit of olive oil instead of steaming it-- since you have to turn on the oven anyway.
OH, AND I WANTED TO GIVE YOU A TIP FOR CUTTING DOWN THE TIME WHEN MAKING BROWN RICE.
I've done this for years
.
Before you leave the house in morning, or as you go about your morning business, place your brown rice (any kind), measured water, and salt, or whatever you add to it, in your cooking pot. Cover and let it sit and soak while you do your thing all day. When you get home, cook as usual, but it will only take 20 minutes instead of 45!
KITCHEN PICS:
We got a new stove the other day and I decided to take some pictures of my tiny kitchen. It works for me, though-- everything I use often is at hand. (Though we have a big freezer outside and a pantry/closet for alot of our food. I keep some of the serving dishes and bowls, etc., that I don't use often in the dining area.)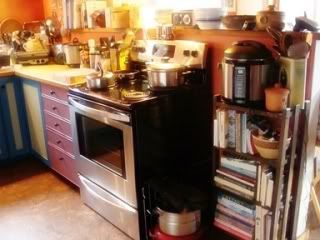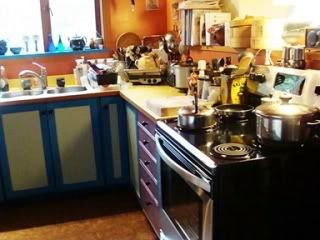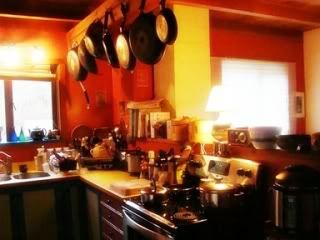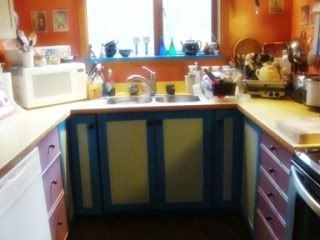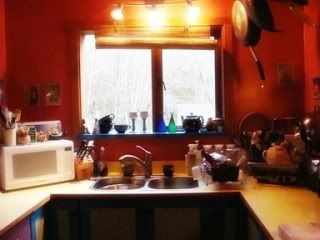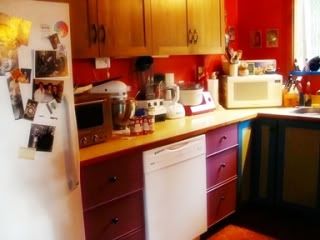 Cheers!

Posted by

Bryanna Clark Grogan
at 4:06 PM