Bryanna Clark Grogan's Vegan Feast Kitchen/ 21st Century Table: The kitchen journal of a vegan food writer.. I'm on Facebook and Twitter (see links in sidebar at right).
Thursday, February 11, 2010
KUNG HEY FAH CHOY, SWEETHEART!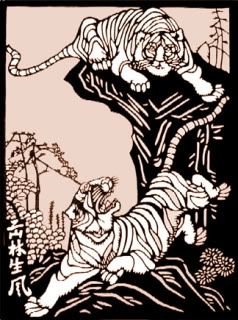 Yes, the Lunar New Year (which we usually think of as "Chinese New Year")-- this year the Year of the Metal Tiger (DH's year), and it falls on Valentine's Day. I thought it might be fun to combine the two together, so, on Saturday, I'm hosting one of our vegan dinner parties, with five vegan couples all contributing to the dinner. It also happens to be one of our group's birthday (not mine!).
I'm going to be cooking quite a bit in the next 2 days (and housecleaning!), but check back for a post about the party. This is going to be a rather short blog post today, as it's getting late. We had a power outage today (wind storm!) and I haven't been able to get online all afternoon and evening until now.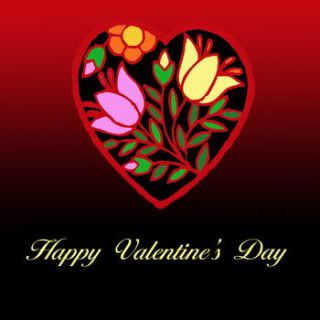 Just in case you like my idea, here's some research I did for the party: Valentine's Day harkens back to the Ides of February in ancient Rome-- the Feast of Lupercalia. Young men chose small papers, on which were written young women's names, out of a large urn. The chosen couples would be sweethearts or erotic partners (depending on your source!) for the coming year. Since the early Church could not seem to eradicate this custom, it chose to Christianize by making it the feast day of the apocryphal St. Valentine. (Some Valentine's Day customs also recall those of the old Irish and English festivals of Brigid's Day/Candlemas or Beltane/May Day.)
In all of these European cultures, great stock was put on various aphrodisiac foods, and almonds were one of those. It's convenient for our purposes on this double holiday that almonds are much used in Asian cuisines!
On Lunar New Year's Eve there is a huge family feast for as many members of the family as possible. The children get to stay awake all night, because the Chinese believe that the longer the children stay awake, the longer their parents will live! (Better not let that get around!)
The color red is associated with both holidays, which is also very convenient for us (for decorating purposes). Red is a good luck color in Asia, so you see red everywhere. The table for the feast is set with a red cloth and red candles.
And, surprise, surprise-- it is traditionally a vegetarian feast, on the first day, anyway (the celebration lasts for several days). No meat is served because harm would have to be caused to obtain meat and this would be bad luck.
While the grown-ups enjoy a long meal, the children play games and ask riddles. They usually also receive gifts of "lucky money" (lai see) wrapped in red paper envelopes. The giving of gold-wrapped chocolate "coins" is a modern-day custom, but one that serves our mixed holiday well, as chocolate is a well-known Valentine commodity (with purported aphrodisiac qualities).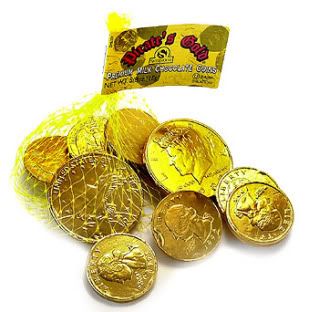 Fireworks are a big part of the celebration in China, but they're illegal here, so we'll have to make do with sparklers!
My stepson Sean is in Beijing right now, visiting an old friend of his who has a filming business there. Here he is posing with ALOT of fireworks: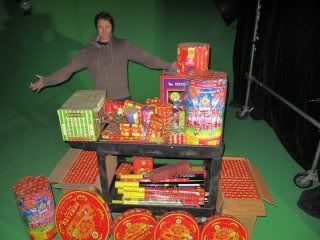 The belief is that whatever happens on New Year's day will influence the rest of the year, so everyone is very careful to say and do the right things, to think good thoughts and speak kind words. Visitors are offered gifts of sweets and fruit. The house is cleaned thoroughly and lots of food made ahead. Red and orange scrolls with Chinese characters conveying messages of good health, good, luck, long life, prosperity, and happiness, and flowers and pyramids of fruit decorate the houses. Oranges, kumquats and apples are the usual fruit, since apples are symbols of good luck and apples and oranges are both round (another lucky symbol) and are red and orange— colors of joy! (Apples are often known as "forbidden fruit" in Western mythology, which would add the requisite frisson of eroticism to the mixed festivities.) Sweet things are for the sweetness of life; dumplings and stuffed foods represent wealth; long, uncut noodles are for longevity.
Lots room for creativity there!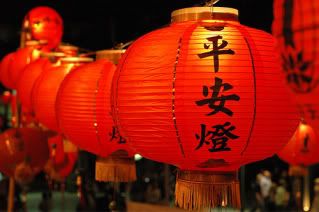 I had a tough time finding decorations in our small shopping area, but I managed to find some small paper lanterns, one big red and gold Chinese paper lantern, some of those little paper umbrellas, some sparklers, a paper dragon, and some gold-wrapped chocolate coins. I'm making some dark chocolate truffles with orange and ginger, and I found some red foil candy cups for them (they were all out of gold cups). These truffles will decorate an orange/ginger chocolate cake with chocolate/orange mousse filling and chocolate glaze.
So far, I know we have a yuba dish, a rice dish, an eggplant dish and a noodle dish coming. I'll make some plain rice, of course, and I have some
flowering tea
for a treat (
read about it here!
), but I'm still trying to decide on the other dishes (besides the cake and truffles). Gyoza (potstickers), I'm pretty sure.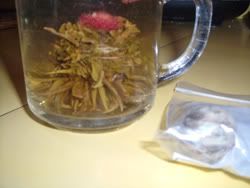 Flowering Tea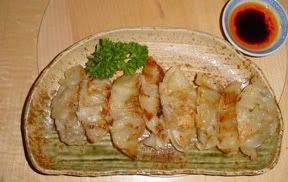 Gyoza
(potstickers)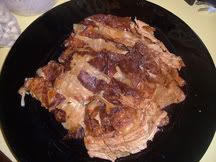 "Buddha's Chicken"
Maybe
"Buddha's Chicken" or "Buddha's Roast Duck"
; maybe Lion's Head (a braised dish of "meatballs" and cabbage). Other possibilities (it depends on what I have in the house!)are: Pineapple Sweet and Sour "Pork"; Chinese Mushroom/Rice "Sausage"; Stir-Fried Vegetarian "Duck" with Chili, Bell Pepper and Black Beans (all these recipes are from
my Chinese cookbook
). I should do something with almonds!
On several sites I read that fresh tofu and other white foods (except for rice, obviously) are not served during the New Year's festivities because white is considered unlucky for New Year, as the color signifies death and misfortune.So I was thinking that you could use marinated or baked or smoked tofu, or bean curd skin (yuba) in your vegetarian feast. But Eve+line commented:
"There is no such taboo about tofu or white colour food. In fact it's common to use tofu and other "white foods" (like radishes; scallops) in Chinese New Year dishes. However, we usually stir-fry or braise tofu with lots of other colourful foods so the white colour is not an issue at all.
In fact it is traditional for Singaporean Chinese to have "steamboat" during the Chinese New Year Eve, and the meal will feature lots of "white food" like tofu, enoki mushrooms and meat dumplings."
Perhaps it is different according to region-- I don't know. But I'm relieved that she wrote in about that!
I'll be back in a few days with a report, pics and recipes!
Kung Hey Fah Choy!

Posted by

Bryanna Clark Grogan
at 9:13 PM