Bryanna Clark Grogan's Vegan Feast Kitchen/ 21st Century Table: The kitchen journal of a vegan food writer.. I'm on Facebook and Twitter (see links in sidebar at right).
Sunday, February 1, 2009
VERSATILE VEGAN CHEDDARY SPREAD, GRILLED CHEEZE FILLING, AND CHEEZE SAUCE BASE, ALL-IN-1

I work on recipes so often that I often forget to make old favorites, but I've been making this one (from a book of mine circa 1999) alot these days as a low-fat snack. It's a spread that's super-easy to make, and it's great on toast (for breakfast!), in celery sticks (an old favorite), or just on crackers.
AND, I've just discovered that it is also delicious used as a filling for grilled (vegan) cheeze sandwiches-- why didn't I think of that before? This spread doesn't melt, but that doesn't matter, because it is already soft and creamy like melted cheese, so the grilling just heats it up. Yum!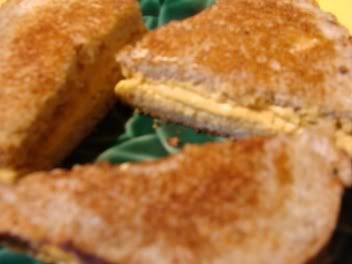 Another recent discovery-- if you thin it out with about 1/2 cup nondairy milk to 1 cup of the spread, it makes a great "Cheese Sauce". (Whisk it well until it's smooth. This can be heated.) We loved it on steamed broccoli.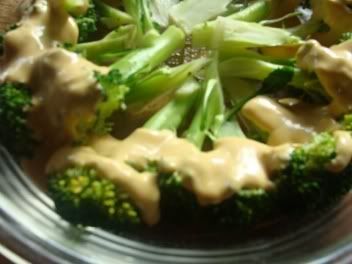 Give this recipe a whirl... it's definitely a "keeper"!
Printable Recipe

BRYANNA'S CHEDDARY SPREAD
Yield: 1 and 3/4 cups

UPDATE, Feb 2012: Last time I made this I added a twist from Betsy DiJulio's book, The Blooming Platter Cookbook.
She uses this genius ingredient in her homemade vegan cheeses-- beer! So I added a little beer to this recipe. It adds just the right amount of tangy fermented taste, which really adds to the over-all flavor of the spread, or dip. Thank you, Betsy! **
But, in order to do this and not have it turn out too liquid-y, you have to crumble the silken tofu into a nut bag or a large square of white cotton sheeting-sort of material and twist and squeeze the bag until you have 1/4 cup of liquid from the tofu squeezed out. Then proceed with the recipe, but add 1/4 cup of beer to the mixture. Simple!
Recipe adapted from from my book "
Soyfoods Cooking for a Positive Menopause
".
12.3 oz (1 box) extra-firm SILKEN tofu, crumbled
1/4 cup nutritional yeast flakes
2 tablespoons tahini
2 tablespoons lemon juice (fresh or organic bottled)
1 1/2 tablespoons miso
1 teaspoon onion powder
1 teaspoon paprika
(for a new flavor use all or half smoked paprika [pimenton])
3/4 teaspoon salt
1/4 teaspoon garlic granules or powder
1/4 teaspoon turmeric
1/4 teaspoon dry mustard powder
Mix all the ingredients in a food processor until VERY smooth.
Spoon into a covered container and refrigerate several hours to firm up. Keeps refrigerated about 1 week.
Nutrition Facts
Nutrition (per 2 tablespoons)
: 38.3 calories; 39% calories from fat; 1.8g total fat; 0.0mg cholesterol; 187.5mg sodium; 106.5mg potassium; 2.7g carbohydrates; 1.0g fiber; 0.5g sugar; 1.8g net carbs; 3.7g protein; 0.7 points.
Enjoy!

Posted by

Bryanna Clark Grogan
at 6:38 PM