Bryanna Clark Grogan's Vegan Feast Kitchen/ 21st Century Table: The kitchen journal of a vegan food writer.. I'm on Facebook and Twitter (see links in sidebar at right).
Wednesday, February 4, 2009
STIR-FRIED VEGAN "CHICKEN"AND BABY BOK CHOY; BAKED FELAFEL THAT DON'T TASTE LIKE SAWDUST! (both WW Core Plan Compatible)

I'm mixing the Far East with the Middle East today! It's almost a year since I did a
blog post on baby bok choy
-- they are so tempting this time of year! The flavor is much sweeter than in mature bok choy and I didn't want a sauce that would compete with or overpower that sweetness. So this stir-fry is a mild Cantonese-style dish. We ate the whole thing between the two of us!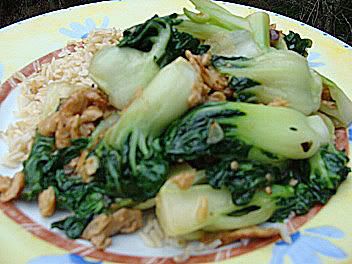 Printable Recipe
BRYANNA'S STIR-FRIED SOY CURLS® (OR OTHER CHICKEN SUB) AND BABY BOK CHOY (WW Core Plan Compatible)
Servings: 3
Baby bok choy are appealing and delicious, as well as nutritious, in this quick stir-fry. Serve with steamed brown basmati rice for a satisfying meal!
Have Ready:
1 lb baby bok choy, washed, drained and sliced in half lengthwise
(purchase the kind that are only 2-3"long for this recipe)
2 cups (2 oz. dry) drained, reconstituted
Soy Curls®
or other vegan chicken sub, in slices (see
here for info
on Soy Curls® and how to reconstitute)
Aromatics:
1 tablespoon
dark sesame oil
1 bunch green onions, trimmed and thinly-sliced
4 cloves garlic, chopped
Cooking Sauce:

(whisk together in a small bowl)
1/2 cup
vegetarian broth
1 tablespoon Vegetarian "Oyster Sauce" (
such as Lee Kum Kee "Vegetarian Stir-fry Sauce"-- see here for info and a homemade recipe)
1 tablespoon soy sauce
1 teaspoon
organic granulated sugar
Thickener:
1 tablespoon cornstarch (
organic
is available) mixed with
1/2 cup water
Heat the oil in a large
nonstick wok
or
skillet
. Add the Aromatics (chopped green onions and garlic) and stir-fry for a couple of minutes. Add the Soy Curls® or other sliced vegan chicken sub and stir-fry for a few more minutes over high heat.
Add the prepared bok choy and stir-fry until the bok choy starts to wilt. Add the Cooking Sauce and stir to coat all of the ingredients and to heat. Quickly add the Thickener and stir quickly. Remove from heat and serve immediately with hot rice.
Nutrition Facts
Nutrition (per serving):
169.1 calories; 43% calories from fat; 8.0g total fat; 0.0mg cholesterol; 449.6mg sodium; 500.0mg potassium; 14.9g carbohydrates; 4.5g fiber; 4.8g sugar; 10.4g net carbs; 10.3g protein; 3.2 points.
*********************************
NOW, ABOUT THAT LOW-FAT BAKED FELAFEL THAT DOESN'T TASTE LIKE SAWDUST......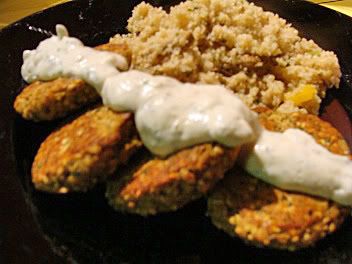 Printable Recipe
BRYANNA'S QUICK AND EASY LOW-FAT FELAFEL WITH CREAMY TOFU/TAHINI MINT SAUCE
This is a "cheat" recipe-- it uses a mix! But it's worth it if, like me, you rarely eat felafel because of the oil involved. There is an excellent felafel mix made by a Lebanese company, Cedar, that I like. However, if you can't find it, it seems that there are any number of Middle Eastern brands out there.
Use one that just soaks in water for an hour before cooking.
All you do with these mixes is add water and let it stand for an hour. Then you form the mix into patties and fry. The trouble is, I'd rather not fry if I don't have to! So, I found a way to enjoy these without the oil-- steaming them, and then oven-frying!
(Unfortunately, I don't have the nutritional analysis for these.
) The steaming cooks them thoroughly and makes them moist inside. Not quite as good as fried, but almost!
1 box or package of your favorite felafel (falafel) mix (
whatever brand you like-- I'm not crazy about the Fantastic Foods brand; I prefer the Cedar brand)
water (the amount instructed on the box or package)
Creamy Tofu/Tahini Mint Sauce:
2/3 cup (5.25 oz.)
firm
or
extra-firm
SILKEN tofu
1/4 cup lemon juice (fresh or
organic bottled
)
2 tablespoons
tahini
1/2 teaspoon crumbled
dried mint
(or 1 tablespoon fresh, chopped)
1/4 teaspoon salt
1 pinch sugar
Mix the felafel mix and water in a large bowl. Let stand for an hour (it can sit longer).
While the mixture stands, make the Sauce.
Mix the sauce ingredients until VERY smooth in a
blender
or
food processor
. Scoop the sauce into a serving bowl, cover, and refrigerate until serving time.
When the mixture has soaked for an hour or more:
Make small patties out of the mixture (these are easier to cook than balls).
Place the patties, not touching, on oiled steaming plates or baskets, with small holes in them, not grates. You can also use a
collapsible metal steamer
; a
Chinese stacking steamer pot in stainless steel
; or
Chinese bamboo stacking steamers
to use in a
wok
or
stirfry pan
. If using bamboo baskets, line them with
cooking parchment
cut to fit, or
parchment steamer liners
.
If you have no streaming apparatus,
place the patties on dinner plates lined with
cooking parchment
. The plate can be balanced on two chopsticks placed across the inside of a
wok
or
stir-fry pan
(or 4 chopsticks, "tic-tac-toe" style). (You'll have to steam one plate at a time.) Cover with a domed lid while steaming.
You can improvise a steamer using a large pot with a tight lid. An
electric skillet
with a
collapsible steamer basket
also makes a good steamer. The lid should be 1 to 2" above the food so that the steam can circulate around the food. The food should be supported at least 1" above the simmering water.
Steam the patties over barely boiling water, covered, for 10 minutes. You can do this ahead of time and then oven-fry them later, if you like.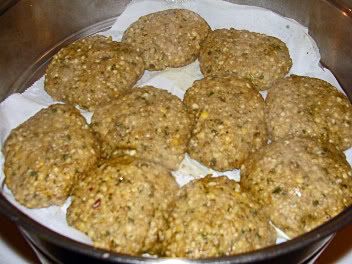 Let the patties cool until they are easier to handle. In the meantime, heat the oven to 500°F.
Place the patties on
dark cookie sheets
(they brown better than shiny ones) sprayed or brushed lightly with olive oil. Spray or brush the tops with olive oil, too. Bake for 5 minutes, or until the bottoms are crispy and golden-brown. Flip them over gently and bake for 3-5 minutes more, to brown the other side.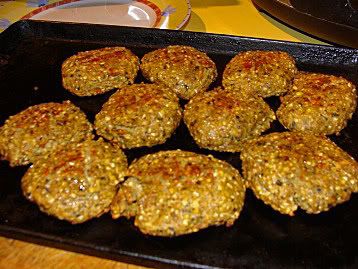 Serve immediately with the Sauce.
Enjoy!

Posted by

Bryanna Clark Grogan
at 4:11 PM


Labels: baby bok choy, baked felafel, bok choy, falafel, falafel mix, felafal, Soy Curls, stir-fry, Tofu/Tahini Mint Sauce, vegetarian stir-fry sauce, Veggie Chick'n, veggie chicken strips