Bryanna Clark Grogan's Vegan Feast Kitchen/ 21st Century Table: The kitchen journal of a vegan food writer.. I'm on Facebook and Twitter (see links in sidebar at right).
Monday, January 12, 2009
PEANUTTY NOODLES WITH KALE AND BUTTERNUT SQUASH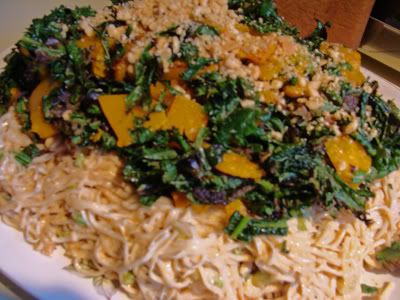 P

ardon the terrible photo-- I tried to clean it up, but it's still not very good! There wasn't much light!
Okay, this is NOT a low-fat recipe, but, hey, once in a while you have to have peanut sauce!
I want to apologize for not blogging much these last few weeks-- been a bit overwhelmed with things, including family stuff (all good!). I must confess that I have not been cooking anything very exciting. I hope that will change soon!
This recipe is adapted from one in
Bon Appetit
magazine, so it's a good example of using a recipe idea and utilizing what you have in the house or garden to make a new dish.
What inspired me to make it was finding some viable kale still growing in the garden after the snow melted! The original recipe called for zucchini, but I had butternut squash, which I think is a better color contrast anyway, and I like the melty richness of it. I thought the sauce needed a bit more zest, and made it accordingly, thinning it out a little more, as well.
The cooking method for the veggies was a bit strange-- grilling. I used my oven's broiler instead, with good results. My kale was nice and small and tender, so it was pretty good cooked that way. If the kale had been older, I think I would have stir-fried/braised it in a pan with some oil.
We all loved it, and I hope you will, too!
Printable Recipe
NOODLES WITH PEANUT SAUCE AND BROILED KALE AND BUTTERNUT SQUASH
Servings: 8
This was a big hit with DH and my friend Holly. If you prefer, you can have all the ingredients heated and serve the dish hot instead of at room temperature.
1 cup chunky peanut butter
2/3 cup water
1/4 cup packed brown sugar
3 Tbs unseasoned rice vinegar
2-3 Tbs soy sauce (to taste)
2 Tbs toasted sesame seeds
2 Tbs chopped peeled fresh ginger
3 cloves, garlic, peeled
1 Tbs Thai or Vietnamese hot chili sauce (no fish), such as Sriracha
12 oz dried udon noodles or egg-free (flour and water) Chinese noodles (gan mian or ji mian) or spaghettini
1 1/4 lbs butternut squash, peeled and cut into 1/4 inch thick slices, about 1" x1/2"
12 oz small, tender, green curly kale, stems removed, cut into wide slices
oil in a pump sprayer
1 bunch green onions, thinly sliced
1/2 cup chopped dry-roasted, unsalted peanuts
Blend the peanut butter, water, brown sugar, rice vinegar, soy sauce, sesame seeds, ginger, garlic, and chili sauce in blender or food processor until smooth, adding more water by tablespoonfuls if too thick. Set aside until ready to serve. This sauce can be made 1 day ahead, in which case cover and refrigerate; then bring to room temperature before serving.
Cook the noodles according to the package directions. Drain the noodles in a colander, running hot water over them. Set aside in the sink to drain..
Place the squash pieces in one layer on a large cookie sheet, spray lightly with oil, and sprinkle with salt and pepper. Broil about 3" under the heat source until the squash tender and slightly charred, on both sides. Add the kale on top of the squash, spray with oil, and sprinkle with salt. Broil briefly until the kale is tender and a little brown around edges. Watch it carefully-- it doesn't take long!
ALTERNATELY, you can stir-fry the kale in a bit of oil until tender.
Toss the drained cooked noodles, green onions, and peanut sauce in large bowl. Divide noodle mixture among 8 bowls. Top noodle mixture with squash and kale. Sprinkle each serving with chopped peanuts. (This is served at room temperature.)
Servings: 8

Nutrition Facts
Nutrition (per serving)
: 501.1 calories; 37% calories from fat; 22.6g total fat; 0.0mg cholesterol; 325.6mg sodium; 969.8mg potassium; 65.8g carbohydrates; 7.7g fiber; 11.8g sugar; 58.1g net carbs; 17.1g protein; 11.1 points.
Enjoy!

Posted by

Bryanna Clark Grogan
at 4:03 PM