Bryanna Clark Grogan's Vegan Feast Kitchen/ 21st Century Table: The kitchen journal of a vegan food writer.. I'm on Facebook and Twitter (see links in sidebar at right).
Monday, September 29, 2008
GIANT CARAMEL CINNAMON ROLLS (FROM NO-KNEAD DOUGH!)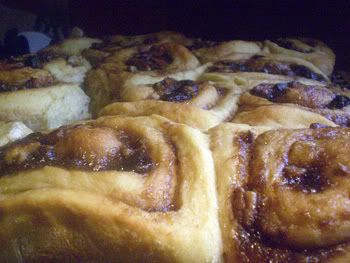 I haven't been doing much bread-baking lately, but I have wanted to adapt my low-fat vegan sweet bread dough to the
no-knead method
for some time. So, last week I made a batch, adapting it somewhat (as described in the recipe at the end of this post). I stirred it up (no kneading, of course), let it rise for 2 hours and then stashed it into the fridge for a couple of days. I then adapted another cinnamon roll recipe of mine, using what had been an applesauce-caramel-sticky-bun-goo as a filling, and making giant rolls. We loved them, so I want to share them with you. I'm sure you will find many uses for it!
This method means that you can whip up some dough--literally in 5 minutes!-- and have it in the fridge ready for a batch of some delectable treats at a moment's notice. This is great for holiday breads, too-- adapt it to your family or ethnic recipes.
As I mentioned in my
blog post
on no-knead crusty bread:
"The science behind it

-- Harold McGee author of "On Food and Cooking" (Scribner, 2004-- a book I have on my personal shelf!), says:
'It makes sense. The long, slow rise does over hours what intensive kneading does in minutes: it brings the gluten molecules into side-by-side alignment to maximize their opportunity to bind to each other and produce a strong, elastic network. The wetness of the dough is an important piece of this because the gluten molecules are more mobile in a high proportion of water, and so can move into alignment easier and faster than if the dough were stiff.'

As well, the long rise produces umami flavor compounds which give the bread outstanding flavor."
This dough is not really sweet, so it can be used for any soft bread, even savory versions.
Even though they contain some vegan buttery spread, these big puffy, sticky, gooey cinnamon rolls contain about HALF the fat and calories of a Cinnabon classic cinnamon roll, or a roll from a recipe such as the Giant Sticky Pecan Rolls on the Fleischmann's Yeast website!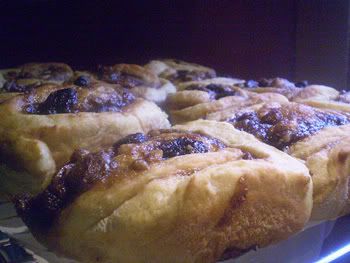 Printable Recipe
BRYANNA'S GIANT APPLE-CARAMEL CINNAMON ROLLS (FROM NO-KNEAD DOUGH)
Yield: 16 large rolls
The applesauce-brown sugar caramel is gooey and delicious, but not a total nutritional loss!
You can make 32 smaller rolls (or cut the large ones in half) for smaller portions.
The Nutrition Facts for 1 smaller roll are
: Nutrition (per serving): 181.7 calories; 26% calories from fat; 5.4g total fat; 0.0mg cholesterol; 173.5mg sodium; 145.1mg potassium; 31.7g carbohydrates; 1.3g fiber; 14.9g sugar; 30.4g net carbs; 3.1g protein; 3.8 points.
Apple-Caramel Filling:
1 1/4 cup unsweetened smooth applesauce
1 1/4 cup brown sugar
1/3 cup melted vegan buttery spread (try my
homemade palm-oil-free Buttah
)
1 teaspoon cinnamon
Remaining Ingredients:
1 recipe
Low-Fat, Vegan, No-Knead, Refrigerator Enriched Yeast Dough (recipe below)
, risen in the refrigerator at least 12 hours
(straight out of the fridge!
)
1 cup raisins
1/2 cup chopped pecans
To make the filling:
mix together the applesauce and brown sugar in a medium bowl. When well-combined, add the melted buttery spread and cinnamon and whisk until totally combined. Set aside in the refrigerator.
To form the rolls
:
Have ready an oiled baking pan (or pans). I have a large baking pan (with 2"-high sides-- NOT a cookie sheet!) measuring 16 x 11". If you don't have such a pan, you could use two 7x11" pans, or two 9" square pans.
Also have ready a WELL-FLOURED sheet of baking parchment OR a plastic or silicone pastry mat (or sheet) measuring 24 x 18" (or it can be larger). I have an old Tupperware one, but they have
some new ones now
. Many new versions and brands are available at kitchen stores, or online, such as
amazon.com
(or,
for Canadians
).
The parchment or mat is helpful because this dough is quite soft and sticky and the mat makes it easier to handle and roll up.
Scrape the dough, straight out of the refrigerator, onto the middle of the mat.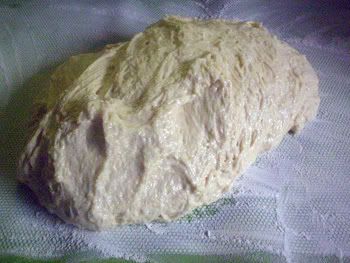 Sprinkle unbleached flour liberally over the dough. Pat the dough down into a rectangle shape. Now, use a rolling pin to roll the dough gently into a rectangle about 18 x 24". Have one long (24") edge facing you. (The corners might not be exactly square-- that's okay!).
IMPORTANT: While you are rolling, lift up the dough from time to time to make sure there is enough flour under it to keep it from sticking to the mat, and sift flour over the top to stop the rolling pin from sticking. Make sure the dough is rolled out to an even thickness. Work as quickly as possible, in order to keep the dough cold.
Spread the Apple-Caramel Filling evenly over the dough from short end to short end, leaving about 1" of dough empty on each long side. Sprinkle the Filling evenly with the raisins and pecans.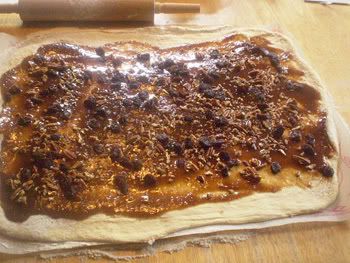 Using the mat or the parchment to help you, start rolling the long side closest to you away from you. Roll carefully and gently until you roll it almost to the other long side. If some of the Filling has gushed out and threatens to leak onto the clean edge of dough (which will make it hard to seal the dough), scrape it off with a spoon and set it aside in a small cup-- you can spread it on top of the buns later.
Pull the opposing long side up over the roll, pinching the dough together to seal, smoothing it as you go.
Now, using a very sharp serrated knife, and wiping it off cleanly between cuts, cut the dough into 16 rolls of an even width. Use a gentle sawing motion rather than cutting down sharply (which will squish the dough).
Carefully transfer the rolls, using a cake slice or pie server, to the prepared pans(s), placing them cut-side-up (the gooiest side facing up!). They can touch, but don't fit too tightly. If you have some left-over filling, spread it over or into some of the rolls that may not have as much filling as others.
Cover the pans loosely and let stand at room temperature for about 1 hour.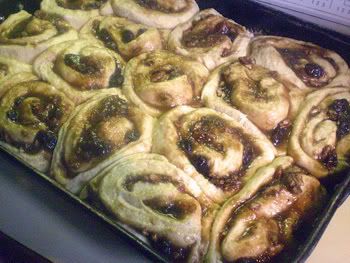 The buns risen and ready for the oven
.
Bake the rolls in a preheated 350°F oven for about 30 minutes, or until golden.
Loosen the rolls all along the sides of the pan(s) and allow to cool a bit with the pan(s) on a rack, until you can handle them. if you like, you can add a powdered sugar glaze, but we prefer them plain. Eat warm! They freeze well after cooling thoroughly.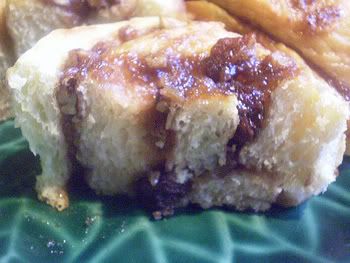 Nutrition Facts
Nutrition (per roll)
: 378.1 calories; 25% calories from fat; 10.7g total fat; 0.0mg cholesterol; 348.5mg sodium; 305.0mg potassium; 67.2g carbohydrates; 2.7g fiber; 33.1g sugar; 64.4g net carbs; 6.1g protein; 7.9 points.
THE DOUGH
: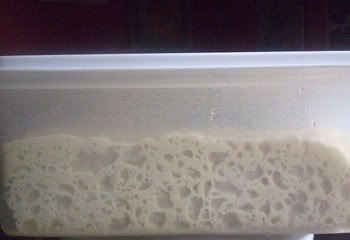 The dough after 2 days in the refrigerator
BRYANNA'S LOW-FAT, VEGAN, NO-KNEAD, REFRIGERATOR ENRICHED YEAST BREAD DOUGH
Servings: 32
Yield: Makes 2 loaves, 16 large rolls, or 32 small rolls
This is great basic dough for breads that usually call for eggs and butter-- it's light and moist (due to the mashed potatoes) and just slightly sweet. You can use it for sweet or savory breads that call for a soft, puffy dough. This is adapted from my Sweet No-Fat Yeast Dough recipe from my book "The Almost No-Fat Holiday Cookbook". I find that a little v
egan butter
makes the refrigerated dough a bit softer, but,
if you want to make it with no fat,
omit the vegan butter and use 1 cup of mashed potatoes. The long rising develops both the gluten (so that it's like a kneaded dough) and the flavor. The dough is sticky to work with, but when it's cold, it's not too hard to work.
2 cup warm nondairy milk (soymilk works really well in yeast breads)
1 pkg. (or 2 1/2 tsp.) dry active baking yeast OR 1 1/2 tsp. instant baking yeast
2/3 cup mashed potatoes (generous 5 oz. russet potatoes, cooked and mashed with no milk added) OR 2/3 c. instant organic mashed potato flakes mixed with 2/3 c. boiling water
1/3 cup melted vegan buttery spread (try my
palm-oil-free Buttah
)
1/2 cup wheat germ
1/4 cup maple syrup, agave syrup or brown rice syrup
1/4 cup light unbleached sugar
1 Tbs lemon juice
2 tsp salt
1/4 tsp turmeric
4 cup unbleached white flour (or you can use up to half wholewheat)
In a large mixing bowl combine the milk and yeast. When the yeast has dissolved, add the mashed potatoes (cooled down), melted vegan butter, wheat germ, syrup, sugar, lemon juice, salt, and turmeric. Mix in the flour with a wooden spoon. It will be a soft, rough dough. Cover the dough with plastic wrap, or place the bowl inside of a clean white plastic trash bag. Let rise at room temperature for at least 2 hours.
Now scrape the dough into a lightly-oiled closed container ( the rectangular box that organic baby greens come in works well but you might want to invest in a
dough rising bucket).
Cover tightly (but not air-tight) and refrigerate from 12 hours to 2 weeks in the refrigerator.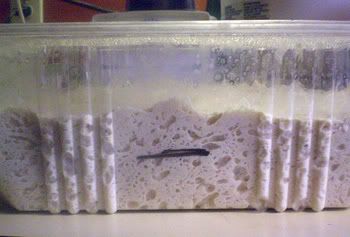 This photo shows how the dough doubled in the refrigerator.
Several hours before serving, shape the cold dough (right out of the refrigerator) into two loaves, or 16 large buns, or 32 small rolls, according to the recipe you are using. Cover and let rise at room temperature for 1 hour.
Bake at 350 degrees F for 20-45 minutes, depending upon the size and shape of the loaves or rolls. (Solid round or pan loaves may take as long as 45 minutes; long, braided, or ring loaves about 30 minutes; small rolls 20 minutes.) Cool on racks and decorate as directed in your recipe.
Nutrition Facts
Nutrition (per serving)
: 108.7 calories; 18% calories from fat; 2.3g total fat; 0.0mg cholesterol; 150.3mg sodium; 69.6mg potassium; 19.8g carbohydrates; 0.9g fiber; 5.2g sugar; 18.9g net carbs; 2.7g protein; 2.2 points.
Enjoy!

Posted by

Bryanna Clark Grogan
at 10:41 AM