Bryanna Clark Grogan's Vegan Feast Kitchen/ 21st Century Table: The kitchen journal of a vegan food writer.. I'm on Facebook and Twitter (see links in sidebar at right).
Friday, September 12, 2008
LOWFAT CHIPOTLE CREME TOPPING FOR CORN, AND FAT-FREE WHOLE GRAIN CREPES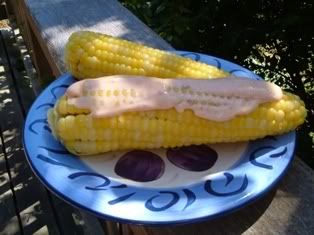 Fresh Denman Is. corn with Chipotle Creme instead of vegan butter
We are having a great corn season here on Denman Is., so sweet that I have been eating them plain. But sometimes you just HAVE to have something on your corn! In past years I've tried various lowfat toppings. Salsa is good, but I like something creamy. I devised the following a few years ago and it is quite yummy!
Printable Recipe
BRYANNA'S LOWFAT CHIPOTLE CREME
Yield: 3/4 cup
This is delicious on corn on the cob, but would make a good start for a dip, too.
1/2 cup extra-firm or firm
silken
tofu
1/4 cup low-fat vegan mayonnaise (my lowfat mayo recipe
here
; my Tofu Mayonnaise recipe
here
)
1 clove garlic, crushed
1/4 tsp salt
1/2 to 1 whole drained canned chile chipotle in adobo sauce
, seeded and chopped (depending on how hot you want it)
Puree the ingredients in a blender or with a stick/immersion blender. Refrigerate in a covered jar.

Nutrition Facts
Nutrition (per 2 tablespoons):
11.1 calories; 29% calories from fat; 0.4g total fat; 0.0mg cholesterol; 90.4mg sodium; 31.1mg potassium; 0.5g carbohydrates; 0.0g fiber; 0.2g sugar; 0.5g net carbs; 1.4g protein; 0.2 points.
Cooking Tip
A chipotle pepper is a smoked jalapeno; they are sold dried
or in cans in a tomato sauce (adobo or adobado), which is my preference.
************************************************************
When I was at the
McDougall Celebrity Weekend
in Santa Rosa in June, we were not supposed to use any added fat or oil, even pan-spray on the pans. I was planning to make no-fat crepes made with wholewheat pastry flour, chickpea flour and oat flour
(see recipe below)
. In the nonstick pans Mary provided, I made about 50 crepes for audience tasting, and then, in the workshop, I made several in front of the audience, with no mishaps. They were very impressed, and Chef Kevin Dunn told me he never would have tried that!
Here's the crepe recipe I made at the McDougall event: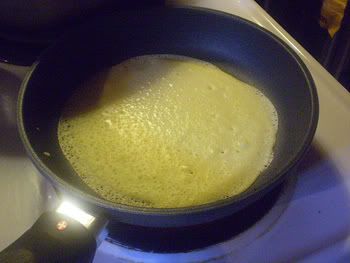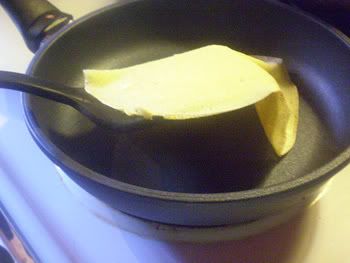 Printable Recipe
BRYANNA'S FAT-FREE WHOLE GRAIN CREPES (WW Core plan Compatible)
Makes 12
2 1/4 cups nondairy milk
3/4 cup whole wheat pastry flour (do not substitute ordinary whole wheat flour)
3/4 cup oat flour (or use 2/3 cup rolled oats, ground in a dry blender or electric coffee/spice mill)
3/4 cup extra-firm silken tofu
(can be reduced-fat)
1/3 cup chickpea flour (besan) or low-fat soy flour
1 1/2 tablespoons unbleached organic sugar
3/4 teaspoon salt
3/4 teaspoon baking powder
Process all of the ingredients ingredients in a food processor or a blender until very smooth. You do not need to "rest" the batter before cooking, as you do with egg crepes.
Heat a good nonstick 8" skillet (a shallow crepe skillet is the best, if you have one) over medium-high heat.
(You can use a spray of oil from a pump-spray bottle if you like.)
Use 3-4 tablespoons of batter per crepe (stirring the batter before you make each crepe), rolling and tilting the pan until it evenly covers the bottom. Cover the pan and cook for a few seconds, or until the top looks dry. Carefully loosen the crepe with a very thin silicone spatula and turn over carefully. (Or, if the crepes are to be filled and baked, you only need to cook them on one side.)
Stack the cooked crepes on a plate and cover them with a clean napkin.
Either serve the crepes right away, or let them cool and place in a rigid container (with pieces of cooking parchment in between each crepe), and refrigerate for up to 3 days, or freeze them for future use (thaw thoroughly before filling).
Nutrition Facts
Nutrition (per crepe)
: 85.5 calories; 14% calories from fat; 1.4g total fat; 0.0mg cholesterol; 157.7mg sodium; 171.1mg potassium; 14.4g carbohydrates; 1.8g fiber; 3.1g sugar; 12.6g net carbs; 4.7g protein; 1.5 points.
Enjoy!

Posted by

Bryanna Clark Grogan
at 2:21 PM