Bryanna Clark Grogan's Vegan Feast Kitchen/ 21st Century Table: The kitchen journal of a vegan food writer.. I'm on Facebook and Twitter (see links in sidebar at right).
Monday, July 7, 2008
HOME AT LAST! AND RECIPE FOR ORANGE BEANPOT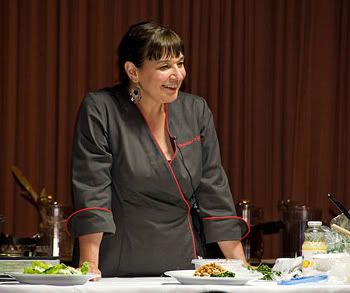 Enjoying an exchange with the audience at the McDougall Celebrity Chef Weekend in Santa Rosa last week. (Photo by Scott Hurlbert)
I'm finally catching up on things after arriving home. We had a great time in Santa Rosa, despite it being alot of work (9 1/2 hours prep one day). DH said he was growing a blister on his chopping hand!). John and Mary McDougall and their PA, Tiffany, were so kind and helpful, the staff at the Flamingo Hotel was fabulous (particularly the kitchen staff-- thank you especially to Maria and Marta!), and the participants were lovely. It is such a pleasure to cook for an eager and responsive audience.

I did two workshops:
"Brilliant Breakfasts"
Chai-Spiced Oat Crepes with Grilled Nectarines and Almond Ricotta update:
(update: recipe in my book "World Vegan Feast")


Italian Scrapple (Polenta, Bean and Kale Slices) with Brown Gravy (made with oat and chickpea flour)
(update: the recipes are in my book "World Vegan Feast" and also
here
)

Crispy White Bean and Oat Waffles with Banana and Strawberry Topping
(update: there's a version of this recipe
here
, but with cornmeal as well as oats)
and "The Elegant Bean"
Orange-Rosemary White Bean Pot
(recipe below)


Sundried Tomato Polenta Rounds with Braised Kale, Carmelized Onions, and White Beans with Dried Porcini Mushrooms
(update: recipe
here
)


Red Lentil, Bulgur, and Dried Fruit Salad Balls in Lettuce Cups, with Creamy Basil and Garlic Dressing
(update: recipe
here
)


Hummus, re-visited!
(update: recipe
here
)
We were fed SO well-- three fabulous buffets each day (all no-fat, McDougall-style), with big fresh salads, including bowls of vegetables, beans, etc., to add on top, and a variety of dressings. There were usually at least two entrees, plus side dishes and lots of fruit, and a great dessert every evening.
Unfortunately, we didn't have time to take in any of the other presenters, but every chef seemed to be a hit with this crowd. I enjoyed meeting chefs Kevin Dunn and Eric Tucker once again. DH and I both were so happy we had the opportunity to meet, and spend time with, Susan Voisin, of
fatfreevegan
. I felt like I "knew" her already from some correspondence and her blog, but, trust me, in person is the best. What a wonderful woman! She was very nervous, this being her first cooking presentation, to which I could relate, as I used to have panic attacks in the "old days". We were able to see the first little bit of her workshop before we left and she was doing great. DH said, "She's a natural!" The crowd was loving her already!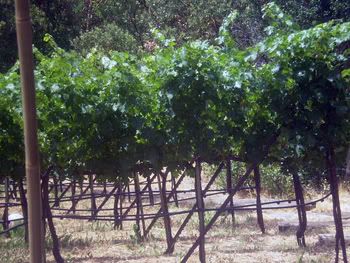 My brother's small home vineyard
After the event, we travelled to Northern Sonoma County to visit my brother Tim and his wife Louise, lazing around in the wine country and doing very little. The only way I can do this, usually, is to leave home and not be near a computer or my phone. We were very lucky to have breezy, comfortable weather the whole time. On the way home to our island, we spent a day in Vancouver and visited my cousin, his daughter and new grandaughter, and my youngest daughter and darling 4-year-old grandson.
Now I have to put my nose to the grindstone, but I feel nicely rested.
The following is one of the recipes I presented: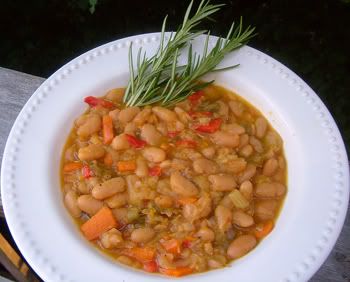 Printable Recipe
BRYANNA'S NO-FAT ORANGE-ROSEMARY WHITE BEANPOT (a slow-cooker recipe; WW Core Plan-Compatible)
Servings: 10
(Adapted from a recipe in my newsletter The Vegan Feast, which I am no longer producing.)
I was trying to think of interesting flavor combinations one day, and I had some oranges that needed using up, so I started thinking that orange and rosemary (which I have growing outside my door) are used with meat-- why not with beans? One of my favorite beans are white kidney or cannellini beans, which I thought would go well with this flavor combination. The result is absolutely delicious-- good enough for company!
750g (1.65 lbs.) dried
white kidney
or
cannellini bean
s (or Great Northern), soaked overnight in plenty of water and drained
1 large green pepper, seeded and sliced thinly
1 large red pepper, seeded and sliced thinly
2 large onions, thinly-sliced
1 cup diced celery with leaves
6 cloves garlic, sliced
6 cups HOT
chicken-style veggie broth
4 medium oranges, juice (makes about 1 cup juice) and grated zest (use
a zester
, if possible)
2 large carrots, scrubbed and cut into thin "fingers" about 3" long
4 sprigs fresh rosemary (4-5" long)
2 tsp salt
freshly-grated pepper to taste
In a large, heavy skillet (use
non-stick
,
hard-anodized aluminum
[aluminum does not leak into food when hard-anodized], or
cast iron
), or a well-seasoned
carbon steel wok
or
stir-fry pan
(also sometimes referred to as a"flat-bottomed wok").
(See my update on nonstick skillets and alternatives at this post, updated April 2012.)
Spray with oil from a
pump sprayer
if necessary. Steam-fry
(see Cooking Tips below)
the sliced peppers, onions, celery, and garlic. Stir-cook until the onion is tender, adding a splash of water as needed to keep the mixture from sticking. Do not brown the mixture.
(See Microwave Alternative in the Cooking Tips, too.)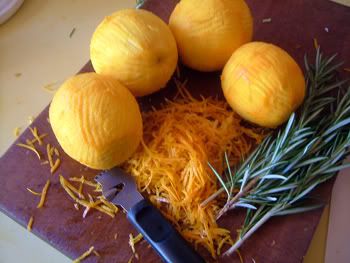 Add this to a large
(6 qt) slow-cooker,
along with the drained, soaked beans, the broth, juice and zest of the oranges
(yes, the zest of all 4 oranges-- this is important!)
, carrot "fingers", rosemary sprigs, and salt.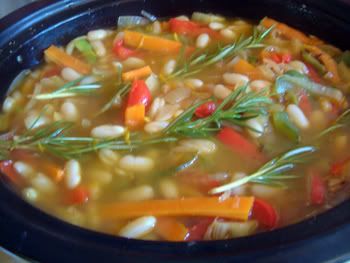 Cook on Low for 8-10 hours, or on High for 5-6 hours. Add freshly-ground black pepper to taste.
Nutrition Facts
Nutrition (per serving):
303.3 calories; 2% calories from fat; 0.9g total fat; 0.0mg cholesterol; 409.6mg sodium; 1628.6mg potassium; 58.1g carbohydrates; 14.3g fiber; 7.9g sugar; 43.7g net carbs; 18.9g protein; 5.3 points.

Recipe Source
Author: © Bryanna Clark Grogan 2008
Cooking Tips
HOW TO STEAM-FRY
You will often see the term "steam-fry" in my recipes. Here is a description of what it is and how to do it.
METHOD OF STEAM-FRYING:
"Steam-fry" simply means sauteing without fat. To do this, use a heavy skillet (use
non-stick
, hard-anodized aluminum [aluminum does not leak into food when hard-anodized], or cast iron), or a well-seasoned spun-steel wok or stir-fry pan, sprayed lightly with oil from a
pump sprayer
, or with cooking spray, if needed.
(See my update on nonstick skillets and alternatives at this post, updated April 2012.)
Heat the pan over high heat, add the chopped onions or other vegetables, and one or two tablespoons of liquid (water, low-sodium vegetarian broth, or wine), depending on the amount of vegetables. Do not crowd the pan, or your vegetables will "stew". Cook over high heat until the liquid starts to evaporate, stirring with a spatula or wooden spoon. Keep stirring until the vegetables are done to your liking, adding JUST ENOUGH liquid to keep the vegetables from sticking to the bottom of the pan.
You can brown onions perfectly by this method. As soon as the natural sugar in the onions starts to brown on the bottom and edges of the pan, add a little liquid and scrape up the brown bits, mixing them into the liquids and around into the cooking onions. Keep doing this until the onions are soft and brown, being careful not to scorch them.
TO "STEAM-FRY" IN THE MICROWAVE, use a glass dish, such as a round 10" Pyrex casserole dish or pie plate. Spray with oil from a pump sprayer or cooking spray. Add ther chopped onions, garlic, carrots, celery, or whatever vegetables you want to sautè. Cover the dish with a glas lid or microwavable plate, and microwave 5 minutes, or however long it takes to soften them. This method is convenient because you don't have to watch the vegetables- you can be preparing the rest of the recipe while they cook. Just add the softened vegetables to the recipe.
Enjoy!

Posted by

Bryanna Clark Grogan
at 4:46 PM


Labels: beans, cannellini beans, John Mcdougall, McDougall Celebrity Chef weekend, no-fat, orange, rosemary, Santa Rosa, slow cooker, steam-fry, Susan Voisin, white beans, white kidney beans