Bryanna Clark Grogan's Vegan Feast Kitchen/ 21st Century Table: The kitchen journal of a vegan food writer.. I'm on Facebook and Twitter (see links in sidebar at right).
Friday, December 22, 2006
UPDATE AND BEST WISHES

Just a note to say that we have no phone (and, thus, Internet) access (I'm writing from work again, but I won't be back for a week), and they're not giving us much hope for a speedy recovery. Apparently it's a two-man job, but they won't send another guy out. The local (very kind) technician said he might be able to do a temporary patch job if my DH helped, so we'll see.
UPDATE 5PM: We have phone and internet access again! The technician came late in the day and my husband just phoned and said it was patched up, so, barring any big windstorms, it should hold until he comes back. Sunday there is a forecast of winds up to 90k an hour, but that's less than the last big storm that hit.
In the meantime, I'm keeping busy making food ahead of the holiday and doing a little decorating. Yesterday I made two seitan "pork" roasts: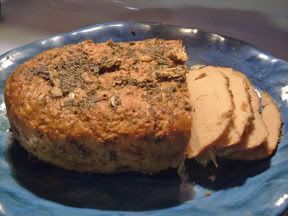 and two seitan "turkey" roasts :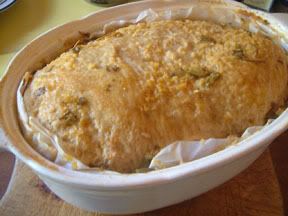 I also made some vegan Tourtière (a French-Canadian "meat" pie which DH, who comes from Quebec, MUST have every year on Christmas Eve):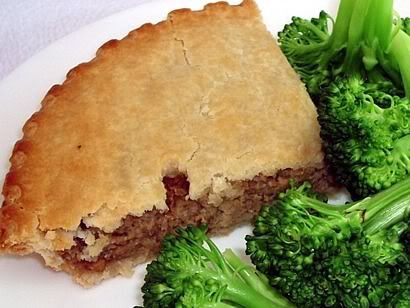 The recipe was in an article that I wrote for Vegetarian Times magazine in 1995-- but now I use a package of Yves "Ground Round" (vegan "hamburger" crumbles) instead of the ground seitan. The recipe, unfortunately is not available online, though you can access it
through your local libary
electronic magazine archives.
(NOTE: In the recipe on that site, the baking time inexplicably reads "SO"-- it should read "50-60 minutes, or until the pastry is done to your liking".)
You'll find other French-Canadian recipes there, and some background on the Réveillon (REV-e-yawn), or Christmas Eve, feasting and traditions. UPDATE: DEC. 2014:
See my new vegan Tourtière recipe here
!
HAPPY HOLIDAYS TO YOU ALL (and I'd love to hear about your vegan holiday feasting)!

Posted by

Bryanna Clark Grogan
at 3:27 PM