Bryanna Clark Grogan's Vegan Feast Kitchen/ 21st Century Table: The kitchen journal of a vegan food writer.. I'm on Facebook and Twitter (see links in sidebar at right).
Wednesday, December 27, 2006
CHRISTMAS FEASTING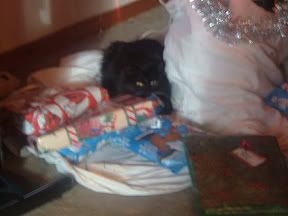 Tina in her favorite new spot!
We had a great time, ate too much (of course!), talked alot, and
the power stayed on
despite some high winds! Today (a beautiful, sunny, windy day) we're having miso soup for lunch, and something very light for dinner-- maybe another soup, like mushroom and barley!
Christmas Day was quiet with just the two of us for part of the day, and then my stepson Laurie came for a visit. For Christmas breakfast, I made some apple stuffed crepes (pictures didn't turn out, except for the following one)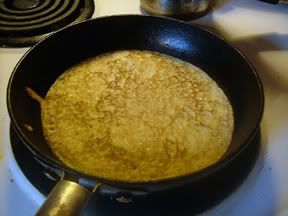 that I WAS planning on squirting decoratively with
Soyatoo soy whipped topping
, but it would not come out of the can! It worked that last time I bought it-- anyone else had this problem? (They also have a
"Rice Whip"
)I'm going to take it back. I wish we could get the "
Topping Cream
", which evidently you can whip yourself. I'm going to suggest it to my HFS.
Anyway, I made my tofu crepes
, but I used commercial soy eggnog instead of the regular soymilk. I had bought two kinds of storebought soynog for the first time-- Vitasoy and So Nice-- and didn't like either of them! I prefer my own version from my
soy cookbook.
So, I'm using up the rest of the commercial stuff in cooking. It worked well for the crepes, and I also made some
eggnog-streusal muffins. I'll post the muffin recipe in a day or two
.
We had dinner at my son's house-- not vegetarian, but I brought a
Fieldroast "Celebration Roast"
for us, which was very tasty!
Boxing day (December 26th) is traditionally our family day (makes it more flexible with all the respective inlaws!), so my two oldest daughters and their families, my mother, 3 vegan friends, my son and his wife (minus kids, as they were at their other parents'), and my stepson Laurie came to our house (my youngest daughter and her family and DH's son Sean were missing this year).
I served my seitan "turkey" and "pork roast" (rolled with fresh herbs and garlic), brown gravy, mashed potatoes, baked traditional bread stuffing, 5-spice cranberry sauce with almonds, spinach salad with roasted beets and oranges, pot pie with
Soy Curls
, vegetables and creme gravy, Brussel ssprouts stir-fried with red pepper and green onions, and my friend Fireweed's roasted root vegetable combo.
Below are photos (from various angles) of our feast: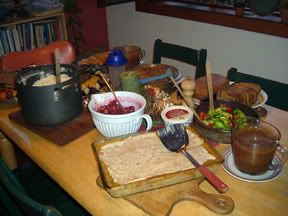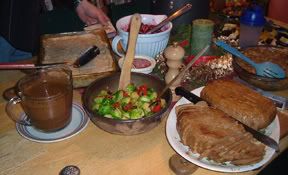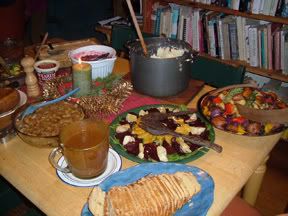 There were various non-vegan sweets there, but I made a couple for the vegans-- my
Pumpkin Tunnel Cake
, and Panforte (Update: recipe will be in
my new book,
coming out Aug 2011-- you can preorder it from amazon!), a delicious Italian dessert that is more like candy than a fruitcake. I veganized it (it's usually made with honey) and it will be in my next newsletter. Someone brought a bag of
Mrs. Mays Almond Crunch
, which I had never tasted before-- delish, and not too sweet! (Also no artificial colors or flavors; no additives or preservatives; GMO-free; vegan; wheat free !)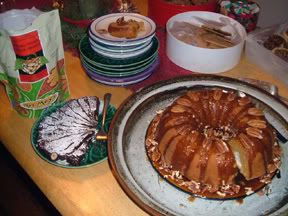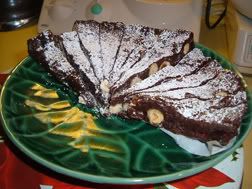 Panforte from World Vegan Feast
I'd love to hear about your vegan feast!
All the best!