Bryanna Clark Grogan's Vegan Feast Kitchen/ 21st Century Table: The kitchen journal of a vegan food writer.. I'm on Facebook and Twitter (see links in sidebar at right).
Monday, March 24, 2008
EASTER DINNER PICS, AND MORE PICS OF THE NO-KNEAD BREAD!

Our casual Easter buffet:
In the very front is the
Potato Kibbeh
; and just above that, in the red pot, is
Spicy Middle Eastern Pasta and Chickpea Casserole
; to the left of those is a loaf of my
No-Knead Bread
; and to the right, my
Hot Spinach Artichoke Dip
(it's the first recipe in the collection
posted here
).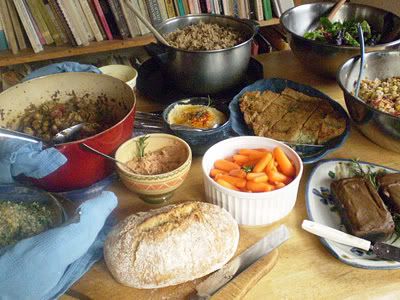 Moving along the table:
A loaf of
fresh bread
in front; with a bowl of
Sundried Tomato-Rosemary Spread
(this was an experiment-- just
Tofu Mayonnaise
blended with marinated sundried tomato pieces, garlic, and rosemary-- very good!); a bowl of
Hummous
with baby carrots; and a pot of
Hashwee
(
Lebanese Rice
) in the back.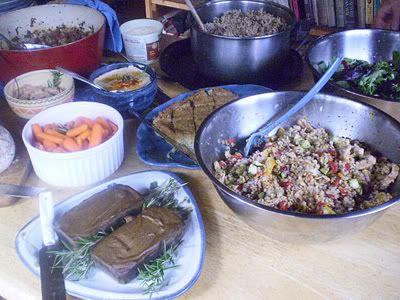 And lastly
, my
Herbed Veggie Pâté
(from my book "
The Fiber for Life Cookbook"
)
(there is a slightly more complicated and sophisticated Pâté recipe in my latest book "World Vegan Feast"
); and to the right of that,
Orange Bulgur Luncheon Salad
; and a
green salad
of baby organic greens, kiwis and strawberries.
My daughter Bethany brought the family's traditional
Italian Easter bread wreath
, and decadent
Jamaican Coffee Brownies with Pecans
(not vegan, but you could veganize it!), and Fiona brought a delicious syrup-laced
lemon cake
for our dessert.
We had our family Easter gathering on Saturday.
There were 17 of us-- I was the oldest (!!) and my granddaughter Cleo, age 6, was the youngest present. Three of my granddaughters were with their respective other parents, so not able to attend, and my youngest daughter and her partner and son were unable to come from Vancouver. But the rest were all there, including my foster son, Daiv and his partner Fiona, who drove up from Victoria for the day.
In my family, only my granddaughter Savannah is a vegetarian (my sister is a vegan, and her daughter is a vegetarian, but they were not at this event), so we tend to keep family get-together meals casual. Everything is vegetarian or vegan, but I don't do a lot of meat subs and that sort of thing. I save that for vegan gatherings. Everyone stuffed themselves, in any event, and, surprisingly, the younger kids loved the pâté and ate it in chunks, just by itself!
We had a great time-- noisy, as usual! I hope you did, too!
MORE ON THE BREAD:
BTW, I made 3 loaves of the new No-Knead Bread
from this post
, plus a focaccia (which disappeared in 2 minutes flat!) and it came out spectacularly! I used 3 different types of pans for the loaves, as the picture below will show. We only had about 1/3 of a loaf left over after the meal. I used a 4-day old dough and the bread had so much flavor! The bread stays moist for several days inside, I'm happy to say!
Rising the dough straight out of the refrigerator, in vessels that fit the shapes of the various pots I used: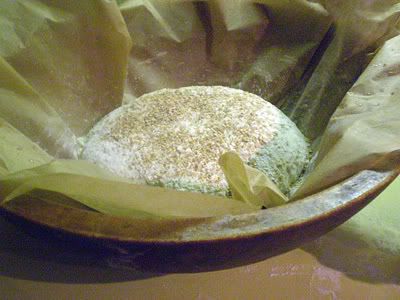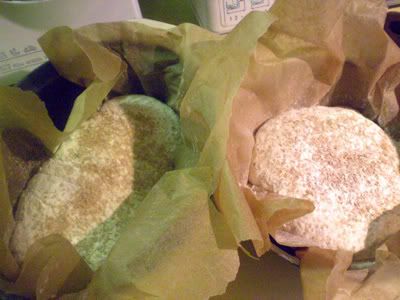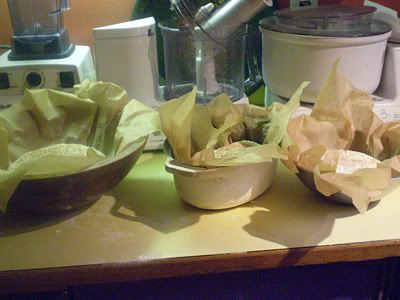 The pots I baked them in:

The baked breads: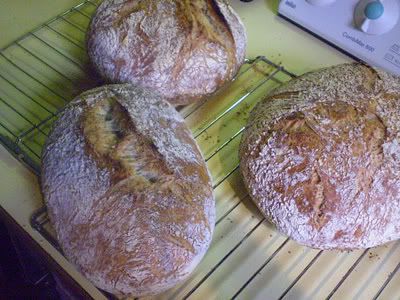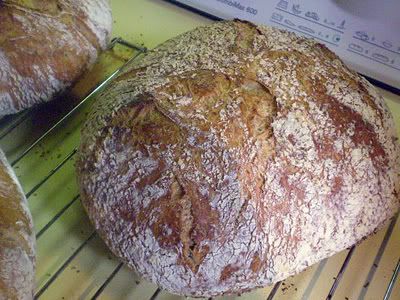 Posted by

Bryanna Clark Grogan
at 8:39 AM