Bryanna Clark Grogan's Vegan Feast Kitchen/ 21st Century Table: The kitchen journal of a vegan food writer.. I'm on Facebook and Twitter (see links in sidebar at right).
Thursday, February 22, 2007
CHINESE-STYLE VEGAN "BEEF" AND ASPARAGUS STIR-FRY WITH VEGETARIAN "OYSTER SAUCE" (HOMEMADE RECIPE INCLUDED)

This is a quick, fresh stir-fry that we have loved forever, it seems. A great way to use the fresh asparagus that is getting seasonally less expensive all the time.
If you have never used vegetarian "oyster sauce", this is a great place to start. If you can't find it (and I give you an online source at the end of the stir-fry recipe), I have posted a homemade sauce recipe below.
For the "beef" in this recipe, I used
Soy Curls
®, strips similar to TVP but made with the whole soybean. They are very tender. I usually use them for a chicken sub, but I decided to try them as a beef sub, and they worked really well. They are much less expensive than commercial vegetarian meatless strips, though you can use those if you wish.
Printable Recipes and Notes
BRYANNA'S CHINESE-STYLE VEGAN "BEEF" AND ASPARAGUS STIR-FRY WITH VEGETARIAN "OYSTER SAUCE"
This recipe is different from the one in my Chinese cookbook, "Authentic Chinese Cuisine for the Contemporary Kitchen". Serve immediately with brown basmati rice.
1/2 Tbs dark (Asian) sesame oil
1 Tbs dry sherry
about 1 lb vegan "beefy strips" (**see suggestions below)
3 cloves garlic, crushed
1 Tbs grated fresh ginger
1/2 Tbs cornstarch
1/2 Tbs oil
12 oz fresh thin asparagus, ends trimmed, cut into thirds on the diagonal
1/2 cup chicken-style vegetarian broth
3 Tbs vegetarian "oyster sauce"
(This is mushroom-based and there are a few brands available in large supermarkets and Asian stores. See Notes below recipe for brand names and a homemade version.)
Combine the sesame oil, sherry, ginger, garlic and cornstarch with the "beefy strips" in a non-metallic bowl. Set aside.
Heat a heavy skillet or stir-fry pan over high heat, add the 1/2 Tbs oil and swirl to coat. Add the "beef strips". Stir-fry until browned.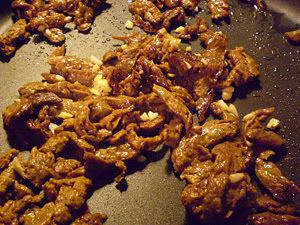 Browning the "beefy" Soy Curls®
Add the asparagus and 2 Tbs water. Cover and cook over high heat until the water evaporates, but don't let it stick. Stir. Add 2 Tbs more water, cover and let evaporate. Toss the mixture each time before adding water. You may have to do this 1 or 2 more times. Stop cooking when the asparagus is crisp-tender.
Pour the broth mixed with the "oyster sauce" into the pan, bring to the boil and boil rapidly for 1-2 mins. or until the sauce is slightly reduced, and the mixture is heated through and coated in the sauce.
Servings: 4
Nutrition Facts
Nutrition (per serving):
254.0 calories; 24% calories from fat; 6.6g total fat; 0.0mg cholesterol; 650.9mg sodium; 787.2mg potassium; 14.5g carbohydrates; 7.8g fiber; 3.1g sugar; 6.6g net carbs; 31.9g protein; 4.8 points.
VEGAN "BEEFY STRIPS"
Vegan "Beefy Strips" can be 2 1/2 pckgs. Yves Veggie "Beef Tenders", 2 pckgs. Lightlife Smart Menu "Beef Strips", 2 pckgs. Morningstar Farms Meal Starters "Steak Strips", or 1 2/3 pckgs. Presidents Choice Meatless "Beef Strips".
OR, you can use Soy Curls®
. Soy Curls® are made from the whole soybean. Though they are dry, keep them (double-bagged) in the freezer to keep them fresh.
For this recipe
,
use 5.3 oz. (a scant 4 cups) dry Soy Curls® reconstituted for about 15 minutes with a mixture of:
4 cups boiling water, 4 tsp. Marmite
(or other yeast extract paste)
, 4 Tbs. + 1 tsp soy sauce, 4 Tbs + 1 tsp ketchup, and 4 tsp gravy browner. Drain the Soy Curls® when they are tender, and use in the recipe.
"Beefy" Soy Curls® before stir-frying
Note on Vegetarian "Oyster" Sauce:
Lee Kum Kee Vegetarian Stir-fry Sauce (
a mushroom-based Chinese vegetarian oyster sauce substitute)
is widely available and worth stocking up on this sauce (it's very inexpensive) when you are in a large city that has Asian stores, if it isn't available in your area. I use it frequently to coat plain extra-firm tofu for use in stir-fries and fried dishes instead of chicken, and, of course, it's essential in some Chinese dishes. As well, it can add rich flavor to homemade seitan and other dishes. Another good brand I have found is Woh Hup Shiitake Mushroom Vegetarian Oyster Flavoured Sauce.
If you can't obtain the commercial sauce, I have invented a pretty darn good homemade version:
BRYANNA'S HOMEMADE CHINESE VEGETARIAN MUSHROOM "OYSTER" SAUCE (ALSO KNOWN AS "VEGETARIAN STIR-FRY SAUCE")
1 1/2 cups boiling water
6 Tbs ground dried Chinese mushroom
(*see note below)
6 Tbs Chinese brown (or yellow) bean paste (
**see note below for alternate names and substitute)
6 Tbs soy sauce
7 Tbs. brown sugar
1 Tbs cornstarch dissolved in 1 T. cold water
Blend all the ingredients EXCEPT the dissolved cornstarch in a blender (leave the plastic thing out of the center hole in the blender lid and cover with a folded towel, so that the hot liquid doesn't explode) until as smooth as possible. Pour into in a medium saucepan and heat to boiling over high heat. Add the dissolved cornstarch and stir until thickened. Cool and store in a covered jar or bottle in the refrigerator. Since it is quite salty and sweet, it should keep for several months.
NOTE:
You can, alternately, microwave the mixture, with the cornstarch, in a medium bowl and cook on HIGH for 1 minute, then whisk. Repeat until thickened.
NOTE ON DRIED MUSHROOMS:
For the dried mushrooms, you don't need expensive shiitakes-just use the inexpensive dried Chinese mushrooms that are easily available (sometimes called "dried Chinese Forest mushrooms" or just "dried Chinese black mushrooms") in most supermarkets and Asian groceries. Snap off the stems and discard them, then grind the mushrooms to a powder in a DRY blender or coffee/spice grinder (well-cleaned). But you can use dried shiitake mushrooms.
NOTE ON CHINESE BROWN BEAN PASTE:
This is a very common Chinese ingredient and should be available wherever Chinese foods are sold. It is also known as "brown bean sauce", "yellow bean paste or sauce', "soybean condiment", "Yuan Shai Shih" or "Mo Yuen Shih". If, however, you can't find it, substitute a mild brown miso (can be chickpea miso or even adzuki bean miso), mixed with a bit of water to make a softer mixture, sort of halfway between a sauce and a paste.
Yield: 18 liquid oz.
Nutrition Facts
Nutrition (per 0z.):
38.6 calories; 7% calories from fat; 0.4g total fat; 0.0mg cholesterol; 415.8mg sodium; 52.8mg potassium; 8.2g carbohydrates; 0.4g fiber; 5.8g sugar; 7.8g net carbs; 1.1g protein; 0.7 points.
Cooking Tips
1 oz. is about 2 T.
Enjoy!

Posted by

Bryanna Clark Grogan
at 11:36 AM