Bryanna Clark Grogan's Vegan Feast Kitchen/ 21st Century Table: The kitchen journal of a vegan food writer.. I'm on Facebook and Twitter (see links in sidebar at right).
Monday, February 12, 2007
VEGAN TRUFFLES FOR YOUR SWEETIE ON VALENTINE'S DAY!

UPDATE: HAPPY VALENTINE'S DAY 2011! At this new post, I've posted 2 new vegan truffle recipes, with variations, that do not contain margarine or vegan butter-- one is nut butter-based, and one contains silken tofu.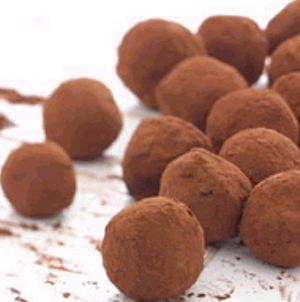 You gotta have chocolate on Valentine's Day, right? Well, we certainly do! As I've mentioned before, though, I'm not much of a candy maker. But, I discovered some years ago that truffles are actually not very hard to make, and make an impressive gift for your sweetheart! Believe me, if I can do it, you can do it!
Why are chocolate truffles called truffles, anyway?
These candies, based on ganache (which is generally chocolate mixed with cream to make a smooth mixture, but in this case, liqueur and
vegan butter
are used instead of cream), resemble the French mushroom-like fungus of the same name. And, like the original truffle, chocolate truffles also denote luxury and a sumptuous taste experience.
I make a basic dark chocolate truffle mixture with a few variations that we like-- coffee, orange, and raspberry-almond. I use appropriately-flavored liqueurs for deep flavor (and maybe a bit of buzz?)
If you don't use alcohol, you can substitute a flavored syrup used for special coffees and Italian sodas (like Monin or Torani.)

You can find organic, vegan (and often fair trade) sugar, powdered sugar, chocolate, and cocoa on many online vegan grocery sites, such as:
Vegan Store (Pangea)
healthy-eating.com
Vegan Essentials
Vegangoods.com
(A Different Daisy)
Cocoa Camino (organic, fair trade) has
chocolate chips
that are vegan. I use
Vivani
dark chocolate, or
Denman Island
dark chocolate, but
there are others
.
Dagob
a has a wide range for baking.
Newman's Own
has some vegan bars, all organic, fair trade. Check out some of the online vegan stores I mentioned above for other brands of vegan, organic chocolate and chocolate chips. There are more every year!
I use organic, fair trade Cocoa Camino unsweetened cocoa powder. Other organic cocoa powders (unsweetened) include:
Rapunzel
,
Ah!Laska
,
Fairly Traded cocoa
,
Now Foods Organic Cocoa Powder
,
Green and Black's
( a UK brand, but available in North America),
Organic Dutched and Natural Cocoa
.
BRYANNA'S VEGAN DARK CHOCOLATE TRUFFLES
makes about 2 dozen
12 oz. organic vegan semisweet chocolate
1/4 c. vegan butter, softened
(try my
homemade palm oil-free vegan Buttah
)
1/2 c. liqueur of choice (or flavored syrup for Italian coffees and sodas)
Unsweetened organic cocoa powder
blended with organic powdered (icing) sugar (equal amounts)
(Organic, vegan powdered sugars:
Hain
,
Rapadura
,
Wholesome Foods
,
Woodstock Farms
,
Nature's Flavors
,
Florida Crystals
.)
OR, instead, use ground, chopped, or slivered lightly-toasted nuts
(your choice-- could be almonds, walnuts, pecans, Brazil nuts, hazelnuts or filberts, macadamia nuts, coconut, etc.)
Break up the chocolate in very small pieces. Place in the top of a double boiler over barely simmering water. Cook until chocolate melts, stirring often. Transfer to a medium-sized bowl. With an electric mixer, beat in the Earth Balance. Gradually beat in the liqueur, beating constantly to keep the mixture creamy and smooth. Cover and refrigerate 1-2 hours, til firm. With hands, roll mixture into 1" balls. Roll balls in cocoa mixture or nuts, shaking off excess.
You can place them in little candy cups, if you like-- gold foil ones are nice.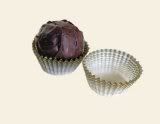 Equally divide between two pint freezer bags with zip-lock tops. Remove excess air and seal. Can Freeze up to 6 months.
Nutrition Facts
Nutrition (per truffle, rolled in cocoa/sugar mixture):
109.2 calories; 44% calories from fat; 6.2g total fat; 0.0mg cholesterol; 21.8mg sodium; 65.5mg potassium; 12.4g carbohydrates; 0.3g fiber; 1.3g sugar; 12.1g net carbs; 0.8g protein; 2.6 points.
NUTTY ORANGE TRUFFLES:
Use orange liqueur instead of coffee liqueur and add grated zest of 1 orange. Roll in chopped nuts. Hazelnuts are nice.

RASPBERRY ALMOND TRUFFLES:
Use raspberry-flavored liqueur (or syrup), and chopped or slivered lightly-toasted almonds for the coating.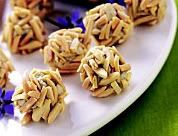 COFFEE OR ESPRESSO TRUFFLES
: Use Kahlua or other coffee-flavored liqueur (or syrup) and any nut of your choice.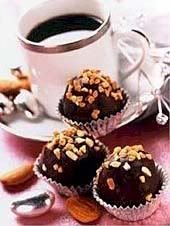 Posted by

Bryanna Clark Grogan
at 12:31 PM


Labels: almond, chocolate, cocoa, Kahlua, liqueur, orange, raspberry, truffles, Valentine's Day, vegan candy, vegan truffles