Bryanna Clark Grogan's Vegan Feast Kitchen/ 21st Century Table: The kitchen journal of a vegan food writer.. I'm on Facebook and Twitter (see links in sidebar at right).
Sunday, July 31, 2011
EASY, CREAMY, QUICK BERRY FROZEN "SOYGURT"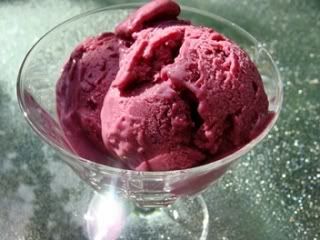 This version was made with a frozen 3-berry mixture.
I promised (on FB and Twitter) to post this recipe today, so here it is!
This frozen treat is so easy, nutritious, inexpensive, light, and not-too-sweet-- and at the same time, delicious and creamy. It's quick to make, too, because using frozen berries means you don't have to wait for the mixture to chill before freezing it! Just blend it up and pour it into your ice cream machine! Perfect for lazy days of summer. One of those inexpensive little manual ice cream makers with the metal insert that you freeze (like a Donvier
) works just fine with this, so you don't need an electric
one, though that works fine, too. You could also freeze the mixture in ice pop molds
.
The electric model I have is the Cuisinart Pure Indulgence™ 2 Qt. Frozen Yogurt-Sorbet & Ice Cream Maker
BRYANNA'S EASY BERRY FROZEN "SOYGURT"
Makes about 5 cups
This recipe is definitely a "keeper"!
1 lb. medium-firm tofu, drained and crumbled (or use 1 1/3 [12.3 oz.] boxes extra-firm silken tofu
)
3/4 cup light unbleached organic sugar
3 tablespoons fresh lemon juice
2 teaspoons pure vanilla extract
*2-3 tablespoons vodka, rum, brandy or orange, lemon or berry liqueur
*AND/OR 1 tablespoon Instant ClearJel
(see info about this below) OR 3/8 teaspoon Xanthan gum or Guar gum
(*These 2 ingredients are optional but recommended
[one or both] because they help prevent the mixture from freezing rock-hard, and the liquor also adds flavour.)
3 cups frozen berries (I used a 3-berry mix of raspberries, blueberries and Marion berries from Costco)
NOTE: If you don't have a heavy-duty blender (such as a VitaMix
)
that will puree the berry seeds so that you can't discern them, you'll have to first puree the frozen fruit in a blender or food processor and then press the mixture through a sieve to leave the seeds behind. (Using a manual mouli or food mill
with the finest holes might work too.) Set it aside in the refrigerator.
Place all of the ingredients EXCEPT the fruit in a blender and blend until VERY smooth. Add the frozen berries (either whole, or pureed--see Note above—depending on the strength of your blender) and blend well again until the mixture is smooth.
Quickly scrape the cold mixture into your ice cream machine and follow the directions for your machine. (We ate some of it straight out of the machine—if you close up the machine and just let the mixture sit for 1/2 an hour or so, it will further firm up.)
Scoop the frozen "soygurt" or what you have left!) into a 1-quart (or two 1-pint) freezer container, cover, and freeze for a couple of hours before serving.
Nutrition Facts (Analysed according to a yield of

5 cups/10 servings

; made with medium-firm tofu, soymilk; and Instant ClearJel
, but no liquor)
Nutrition (per 1/2 cup serving):
123.3 calories; 17% calories from fat; 2.6g total fat; 0.0mg cholesterol; 38.0mg sodium; 102.2mg potassium; 22.4g carbohydrates; 1.5g fiber; 19.4g sugar; 21.0g net carbs; 4.2g protein; 2.4 points.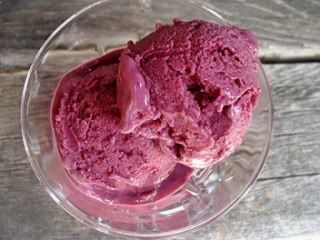 Cooking Tips
A while ago, I started playing with my gelato recipe from my book "Nonna's Italian Kitchen
". I wanted to make it richer-tasting, easier to make, and with more servings. One of the things I did was to use Instant Clearjel® instead of the cooked tapioca flour mixture that I generally use (tapioca thickens the mixture instead of eggs, and it has better mouth feel than cornstarch). This eliminates cooking the starch mixture, which means the whole thing takes less time and it doesn't take so long to chill the gelato mixture before freezing. Another option is xanthan gum or guar gum, and I have given the amounts in the recipe.
Instant Clearjel® isn't usually available on store shelves-- here in Canada a few years ago I had to get 11 lbs. of it from a bakery supply company (Snowcap)-- my husband worked at a bakery-- but perhaps a bakery would sell you a smaller amount (this amount will last me for life!). Gourmet Warehouse in Vancouver, BC used to have it, but no longer lists it. PS: if it doesn't say "instant" it won't work in this recipe.
In the US, you can mail-order it from
amazon.com
, barryfarm.com and .kingarthurflour.com
Enjoy!

Posted by

Bryanna Clark Grogan
at 1:58 PM