Bryanna Clark Grogan's Vegan Feast Kitchen/ 21st Century Table: The kitchen journal of a vegan food writer.. I'm on Facebook and Twitter (see links in sidebar at right).
Tuesday, September 22, 2009
VANCOUVER WEEKEND: GRANVILLE ISLAND, EXOTIC VEG EATING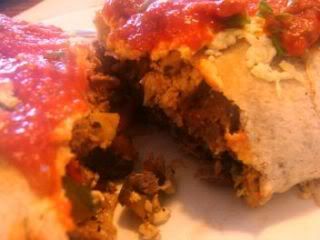 A breakfast burrito at The Naam with the new Daiya vegan cheese melted on top-- yum!
This is going to be a photo blog today, as I just got back from 3 days in Vancouver and am playing catch-up! Apart from visiting with friends and family, and enjoying the balmy weather, we spent time eating exotic foods and shopping for foods and kitchen implements I couldn't find on the Island (Vancouver island, that is).
I particularly wanted to taste the newest vegan cheese,
Daiya
, because I had heard it tasted good and melted beautifully. It is
not available in retail yet
, but will be soon, I understand. So far, though, you can only taste it in restaurants and, even though it is made in the Vancouver area, it is only available in one Vancouver, BC restaurant,
The Naam
. (See
where to enjoy Daiya cheese here
. Contact them to let them know you are waiting for it!) So, I made my companions (DH, my cousin Chris, my stepsons Laurence and Sean, and Laurie's girlfriend Meghan) go for Saturday brunch at the The Naam, a vegetarian restaurant. Now, the Naam has been around since the early 70's and the food is plentiful, good and pretty reasonable. The restaurant is famous for its slow service (a remnant of its hippy past), but nobody seems to mind.
Our waiter informed me that anything that had cheese in it could be made with Daiya. I chose the Breakfast Burrito (scrambled tofu with onions, mushrooms, and tomatoes mixed with vegan sausage in a whole wheat flour tortilla, topped with cheese and served with salsa).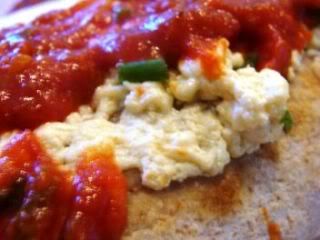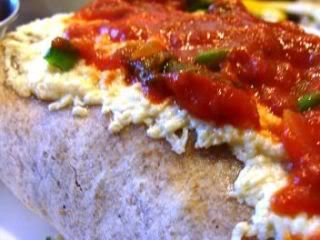 It was very hearty and delicious... and the Daiya cheese? It was melty, creamy and surprisingly tasty. Please let them know you are interested! It might speed things up!
We then spent some time in the Kitsilano area and made our usual foray to the
Parthenon Supermarket
, a great Greek and Middle Eastern grocery owned by a friend of ours who used to live on Denman Island, Kyriakos Katsanikakis. I always go there for gigante beans (giant lima beans) and cannellini or Great Northern beans. We were lucky to see Kyriakos this time!
For dinner on Saturday night we went to a South Indian vegetarian restaurant called
Saravanaa Bhavan
. It is part of a
worldwide chain of restaurants
originating in India. The decor is pretty basic, but the food is great, with good prices and friendly, helpful service. They have lots of dosas (
Indian crepes
) and other wonderful dishes. We concentrated on dosas and biryani. I would definitely go back again! (
Here's the Vancouver menu.
)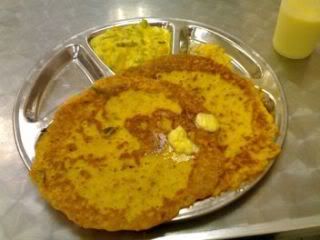 Adai Avial-- crepes made from mung beans-- DH had this one.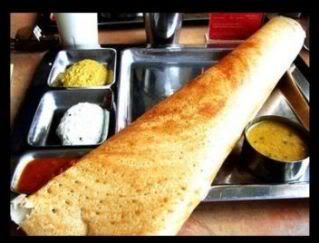 Rava (semolina) dosa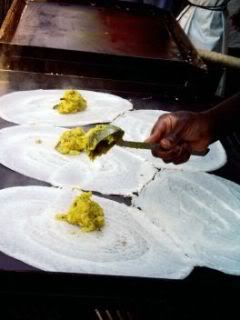 How they make the dosa in restaurants.
I had the semolina and rice dosa with masala potato filling and 3 chutneys-- delicious! The vegetable and mushroom biryanis were spicy and tasty. Nothing tasted greasy at all.
On Sunday morning we took my cousin's partner, Roxanne, to work at the new
Ten Thousand Villages
store she opened and manages on
Granville Island
, a major tourist attraction (especially for foodies!) in Vancouver. We did some shopping and looking and worked up an appetite (we ate lunch at home this time, bringing home some yummy sourdough peasant bread).
The new Granville Island Ten Thousand Villages store: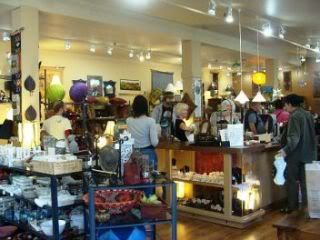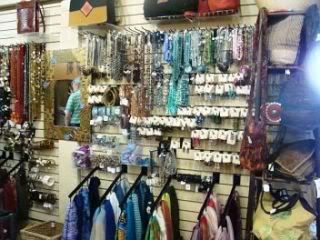 More Granville island shots: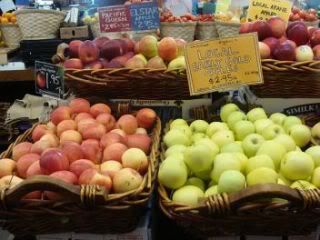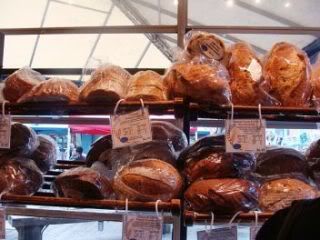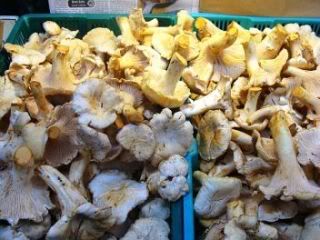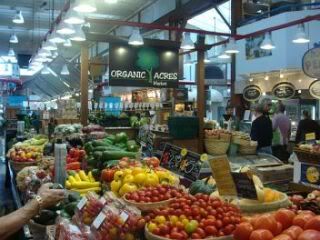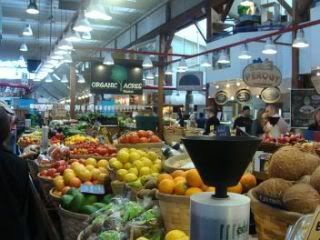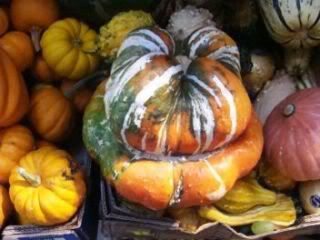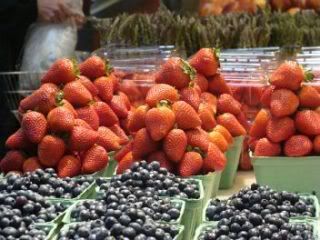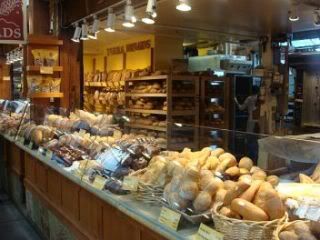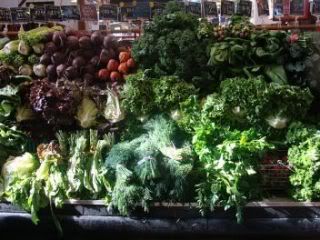 Sunday night we picked up Roxanne and met my daughter Justine, her partner George and son L., our friends Brenda and John, my stepson Laurie and his girlfriend Meghan At the
Pondok Indonesia Restaurant
on Broadway. The service was pretty slow and uneven, but the food was very good! DH and I shared a Vegetarian Rice Table, or rijsttafel (often misspelled rijstaffel), a Dutch word that literally translates to "rice table", and is an elaborate meal adapted by the Dutch from the Indonesian feast called nasi padang: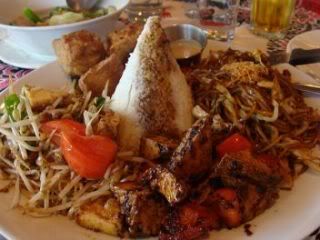 It consisted of sticky rice, stir-fried bean sprouts, stir-fried tofu with tomatoes, "Hawker-style" noodles (Bami Goreng) with cabbage, and deep-fried tofu with peanut sauce and vegetables.
Roxanne ordered a young coconut-- you drink the coconut "water" and then scoop out the pudding-like flesh of the unripe coconut--very refreshing!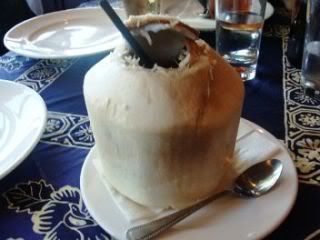 My grandson wanted nothing more than a bowl of edamame!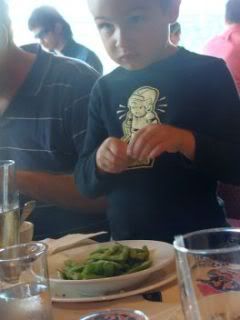 Dessert for some of the group was deep-fried bananas with vanilla ice cream-- a dish I make vegan and low-fat at home by rolling the banana with a little brown sugar in phyllo pastry and baking until crispy, and then serving with nondairy vanilla "ice cream"-- the perfect combination of crispy and soft, hot and cold!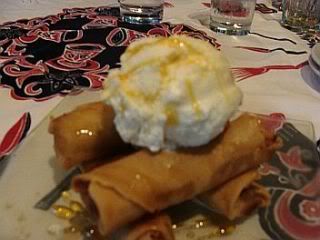 Glad to be home, but it was a tasty trip!
Cheers!

Posted by

Bryanna Clark Grogan
at 3:37 PM