Bryanna Clark Grogan's Vegan Feast Kitchen/ 21st Century Table: The kitchen journal of a vegan food writer.. I'm on Facebook and Twitter (see links in sidebar at right).
Saturday, April 14, 2007
COCONUT RAVA DOSA FOR BREAKFAST

The Chefs at the 2007 Vegetarian Awakening Conference in Grand Rapids, MI. Back Row, L to R: Derek Sarno, Chad Sarno, Tal Ronnen, Kevin Dunn, Sualua Tupolo. Front Row, L to R: Ian Brandt, Cathi DiCocco, Eric Tucker, Fran Costigan, and myself.
I wanted something simple but different for breakfast this morning.
I love dosa--Indian crepes-- so I made an "instant" version (as opposed to a fermented batter, which is traditional) and we loved it! We had some with homemade plum chutney and some with a little Earth Balance. Other possibilities would be more traditional Indian chutneys, soy yogurt, soy creme cheese, grilled curried fruit, leftover veggies, scrambled tofu....
(For the recipe, wait for a new book coming out late in 2010!)
For cooking the dosa
, you don't need any special cookware. Use a flat griddle or very shallow skillet. For the using the least fat, use a nonstick version, or, if you prefer, use hard-anodized cookware or good old-fashioned seasoned cast iron. This traditional 10.5" American cast iron round pancake griddle (
available at Target
for under $15) would do just fine: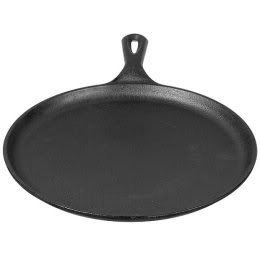 Here's a
Calphalon hard-anodized
square 11" griddle for about $20: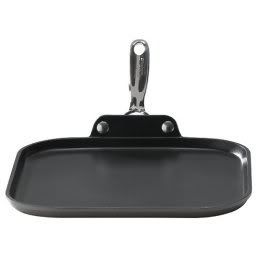 (Target and many other stores have an array of different griddles and flat skillets that would work for dosa-- these are only examples of inexpensive possibilities.)
If you cook lots of dosa, here's an electric dosa tawa, sold in the USA and Canada!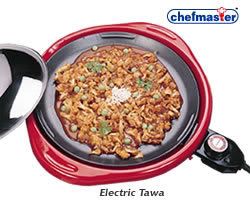 Enjoy!

Posted by

Bryanna Clark Grogan
at 2:16 PM