Bryanna Clark Grogan's Vegan Feast Kitchen/ 21st Century Table: The kitchen journal of a vegan food writer.. I'm on Facebook and Twitter (see links in sidebar at right).
Thursday, September 3, 2009
PEAR PIZZA WITH VEGAN "GOAT CHEESE", PECANS AND ARUGULA

I had a delicious pear pizza at a friend's house one time, and I've been wanting to make something similar ever since. Since I had some nice ripe pears on my counter, I decided to try my own version the other day. I used my own pizza dough
(see http://veganfeastkitchen.blogspot.ca/search?q=pizza for posts with various pizza dough recipes and techniques)
, and added a creamy vegan "goat cheese spread", arugula and pecans. It was excellent, if I do say so myself! I hope you'll give it a try, now that pears are in season.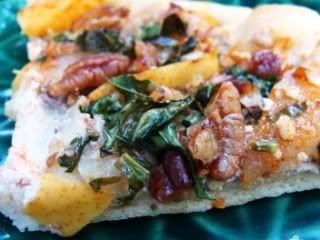 Printable Recipe
BRYANNA'S PEAR PIZZA WITH VEGAN "GOAT CHEESE", PECANS AND ARUGULA
Servings: 8
Yield: 4/ 9-10" pizzas
This is a deliciously savory way to enjoy pears!
1 recipe
Bryanna's Neapolitan Pizza Dough
(
or other
)
1 recipe Bryanna's Creamy Tofu/Cashew "Goat Cheese" Spread
OR Bryanna's Creamy Tofu/Tahini "Blue Cheese" Spread Variation
(see recipe below)
3 cups thinly-sliced baby arugula
3 large pears, ripe but firm
1 tablespoons extra-virgin olive oil
1/2 cup pecan halves, roughly chopped
smoked paprika
or Aleppo pepper
(
Aleppo Pepper substitute
: 4 parts sweet paprika
and 1 part cayenne or ancho chile powder
)
Earlier in the day,
follow the recipe for the pizza dough. Prepare and refrigerate the "Goat Cheese" Spread.
When the dough is almost ready to roll out and bake, heat your oven up to 500°F (heating your pizza stone 60 minutes OR cast iron skillet or griddle
for 30 minutes in the oven, if you have one). Chop the pecans and set aside. Wash, dry and slice the arugula and refrigerate in a plastic bag.
Wash, quarter and core the pears. Slice into 1/4"-thick slices. Toss in a bowl with the olive oil.
Roll out the pizza dough into 9 or 10" rounds as directed in the pizza dough recipe. If you are baking one at a time, top each one just before it goes into the oven.
Spread each pizza crust (leaving a rim around the edge) with 1/4 of the "Goat Cheese" Spread. Sprinkle the "cheese" with 1/4 of the sliced arugula. Top with 1/4 of the pear slices. Sprinkle the pears lightly with smoked paprika or Aleppo pepper and 2 tablespoons of the chopped pecans.
Bake each pizza for about 8 minutes, or until the dough is puffy around the edges and golden and crispy on the bottom. Serve immediately.
Nutrition Facts
Nutrition (per serving):
396.9 calories; 28% calories from fat; 13.5g total fat; 0.0mg cholesterol; 683.2mg sodium; 419.3mg potassium; 59.3g carbohydrates; 6.9g fiber; 9.6g sugar; 52.4g net carbs; 13.2g protein; 8.3 points.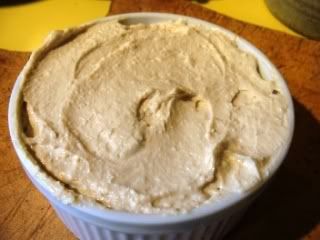 Printable Recipe

BRYANNA'S CREAMY TOFU/CASHEW "GOAT CHEESE" SPREAD with Tofu/Tahini "Blue Cheese" Variation
Yield: 1 1/2 cups
This makes a perfect appetizer for a party. It's rich tasting and attractive-- one of those things that guests won't be able to stop eating! So, perhaps you should double or triple the recipe!
I have given you a range of how much miso and /or lemon juice to use, depending on how strong-tasting you want the spread. There is also a tangy "blue cheese" variation. Serve it with celery sticks, crackers, pita or bagel crisps, melba toast, or crostini (toasted baguette rounds).
1 box (12.3 oz.) extra-firm SILKEN tofu
(squeezed dry as directed in the recipe)
5/8 cup (1/2 cup+ 2 tablespoons) raw cashews, ground fine in a food processor, mini-chopper or coffee/spice mill
1 to 2 tablespoons light miso
1 to 2 tablespoon lemon juice
1/2 tablespoon nutritional yeast flakes
1 clove garlic, crushed
1/4 teaspoon salt
OPTIONAL:
6 black olives, such as Kalamata, pitted and chopped
(or substitute 3 large sun-dried tomatoes in oil, rinsed and chopped)
2 tablespoons minced chives or green onions
"BLUE CHEESE" SPREAD VARIATION:
Omit the cashews and use 2 tablespoons tahini
instead
Omit the miso and use 3 cubes of white Chinese fermented bean curd instead (see Cooking Tips below for info and where to buy)


Use only 1 tablespoon of lemon juice
Place tofu in a clean cotton cloth or fine cheesecloth
, gather the ends up and twist and squeeze for a couple of minutes to extract most of the water.
Place everything EXCEPT the olives and chives, and the Coating ingredients, in a food processor and process for several minutes, or until the mixture is VERY smooth. (You may have to stop the machine and loosen the mixture with a spatula once or twice.) If using, pulse in the olives and chives briefly. Scrape into a covered container and refrigerate until it is firm, at least 3 hours.
Nutrition (per 1/4 cup): 124.1 calories; 55% calories from fat; 8.0g total fat; 0.0mg cholesterol; 277.1mg sodium; 210.5mg potassium; 6.7g carbohydrates; 0.9g fiber; 1.7g sugar; 5.8g net carbs; 7.8g protein; 3.0 points.
NUTRITION FACTS FOR "BLUE CHEESE" VARIATION: Nutrition (per 1/4 cup): 96.3 calories; 49% calories from fat; 5.6g total fat; 0.0mg cholesterol; 631.5mg sodium; 167.2mg potassium; 4.6g carbohydrates; 0.9g fiber; 0.8g sugar; 3.7g net carbs; 8.1g protein; 2.2 points.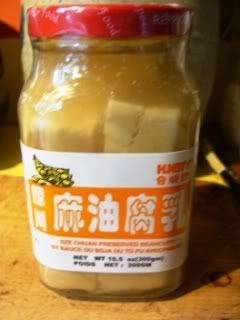 To make a vegan "bleu cheese", you need a Chinese product-- fermented bean curd (tofu). It is called doufu-ru, fu-yu, su-fu, and various other names, confusingly.
For vegan "blue cheese" recipes you need white or plain Chinese fermented or preserved bean curd.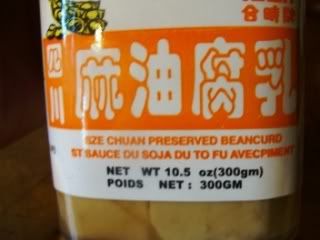 This is a very inexpensive Chinese condiment that has a kind of "blue cheese" flavor. (The cubes are very strong-tasting when eaten by themselves, which they aren't meant for-it's used as a condiment.) It comes in little jars (you can see white cubes of tofu in a clear liquid)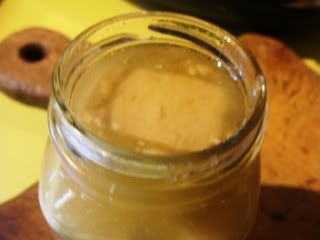 and you can get it in Asian grocery stores or the Asian section of large supermarkets. It keeps forever in the fridge, so you can get a few jars when you find it, if you like this dressing.
There are several varieties of this product and may be referred to by different names. If the liquid is reddish, it's got chile in it. Some white varieties have sesame oil in them, too. (amazon carries one with both chile and sesame oil
in it.) Check the label. Ideally, you want the kind with just soybeans, salt, water and wine, but I must confess that I have used both the sesame and the chile kind when I had nothing else! I rinsed them gently with running water in a mesh sieve before adding to the recipe. It actually worked fine!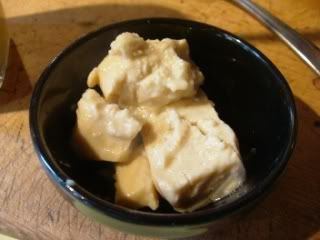 Here's a very informative essay about preserved beancurd (and it's names!) from Dom's Culture-Foods of Asia in-site:
and something about the history of this food:
Here is a page about buying Chinese foods online, if you don't have an Asian grocery store near you:
Enjoy!

Posted by

Bryanna Clark Grogan
at 3:13 PM