Bryanna Clark Grogan's Vegan Feast Kitchen/ 21st Century Table: The kitchen journal of a vegan food writer.. I'm on Facebook and Twitter (see links in sidebar at right).
Monday, August 24, 2009
SUMMER MEALS AND A DISH OF GREEK-STYLE WHITE BEANS WITH PEPPERS AND ONIONS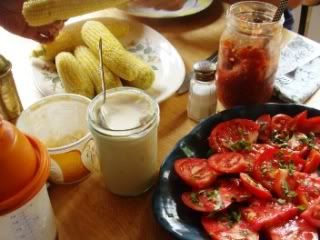 A summer lunch-- Denman Island corn and homegrown tomatoes (and basil!) with homemade salsa (for the corn) and homemade vegan low-fat mayonnaise (for the tomatoes).
The above is a frequent lunch these days, as we eat corn on the cob and fresh sliced tomatoes virtually ONLY in season, when we can eat corn within a few hours of picking, and our own fresh tomatoes. They are soooooo good in season that nothing else is ever as good, so why bother? I tell you, that last tomato sandwich of the early Fall is so sad!
We have had alot of company (and alot of fun!), but not much time to cook anything fancy or to blog!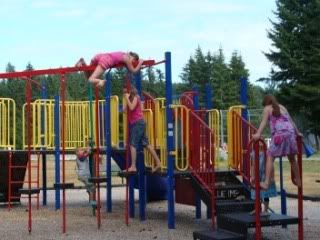 Some of my grandchildren at play on the Denman playground.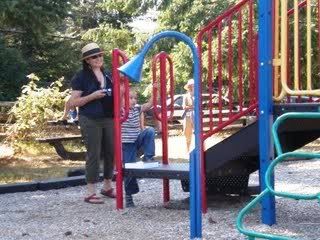 Me supervising my youngest grandchild, visiting from Vancouver
I'm also dancing regularly again, which is great exercise and more fun! (I have lost 20 lbs. so far, BTW!) This also takes up some of my time, but I decided that I need to take more time to do both exercise and something for myself, and bellydancing meets both criteria!

We managed to squeeze in a dinner party with friends last Thursday night, but I failed to take pictures of everything. We had some yummy hummous and pita and grilled eggplant from one guest, Sarah, and a delicious salad from another guest, Pam. It was also a spectacularly beautiful salad, with a vibrantly colorful cooked Blackberry Vinaigrette: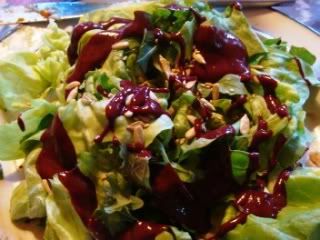 This was
the recipe she used
. Pam said that she used agave nectar instead of sugar and didn't have any tarragon. It was delicious and, as you can see from the photo, spectacular! Of course, she didn't use the cheese in the recipe, and she used butter lettuce and a mixture of toasted seeds instead of pistachios for the salad itself.

I served a Greek spinach rice pilaf;
Turkish-style red lentil pattie
s
;
Breast of Tofu
with lemon wedges; vegan Key Lime Bars
; grilled zucchini and pattypan squash with olive oil, lemon juice and basil; and the following bean dish, which sounds so simple you wonder how it can be that good, but it is, and was eaten enthusiastically by all.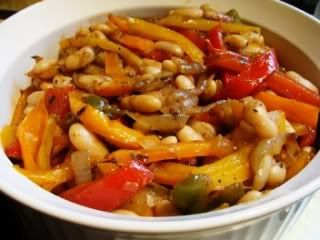 Printable Recipe

BRYANNA'S GREEK-STYLE WHITE BEANS WITH PEPPERS AND ONIONS IN OLIVE OIL
Servings: 6
I wanted to make a summer bean dish for a dinner party, and one guest is allergic to tomatoes. I had some canned white kidney beans and lots of peppers and onions, so I made the traditional Greek Lenten dish of peppers and onions braised in olive oil (with not quite so much olive oil as usual!), called Pipironata, and added the beans to it. It's good hot, or at room temperature. (I doubled this recipe and we had leftovers for a couple of lunches.)

2 lbs. bell peppers (preferably a mix of different colors)
2 tablespoons olive oil
2 large onions, thinly sliced
2 large cloves garlic, minced
1/4 cup red wine vinegar
salt and freshly-ground black pepper
OPTIONAL: chopped fresh basil
1/ 19 oz. can Great Northern beans, rinsed and drained
OR about 2 cups home-cooked
(If you use other beans, be sure to see the Important Update at
this post.
)

Wash and drain the peppers and pat them dry. Cut away the stems, cut them in half lengthwise and remove the seeds. Cut the peppers into thin strips (about 1/8" wide).

Heat the olive oil in a large cast iron, anodized aluminium, or nonstick skillet. When hot, add the onions and cook over medium-high heat, stirring often, until they wilt and begin to brown a bit. Add the garlic and peppers and toss well. Cover and cook over medium heat until the peppers are quite soft, about 20-30 minutes. There should be enough liquid from the vegetables to keep the mixture from sticking, as long as the heat is not too high. The vegetables are braising in the oil and their own juices and there should be some "sauce" in the pan when they are done.
Stir in the vinegar and season to taste with salt and pepper (add the basil , if using). Stir in the rinsed, drained beans.

Scoop the dish into a serving bowl and serve right away, or allow to come to room temperature before serving. if you refrigerate it, let it come to room temperature before serving, or reheat it.

Nutrition Facts
Nutrition (per serving): 389.0 calories; 12% calories from fat; 5.6g total fat; 0.0mg cholesterol; 20.5mg sodium; 1948.8mg potassium; 66.2g carbohydrates; 16.8g fiber; 5.4g sugar; 49.4g net carbs; 22.7g protein; 7.4 points.

Enjoy!


Posted by

Bryanna Clark Grogan
at 10:24 AM


Labels: beans, bell peppers, blackberries, blackberry vinaigrette, corn, Greek, olive oil, onions, salad, salad dressing, summer, tomatoes, white beans