Bryanna Clark Grogan's Vegan Feast Kitchen/ 21st Century Table: The kitchen journal of a vegan food writer.. I'm on Facebook and Twitter (see links in sidebar at right).
Monday, September 29, 2014

I'm going to start out by apologizing for being TWO WEEKS between blog posts! I have been working on a few ongoing cooking experiments/projects, but, for the most part, we have been eating pretty simple meals with our own or local produce that is in such abundance. For a few days, when my husband had some sort of flu, he wasn't eating at all, so I wasn't doing much cooking at all. In between, I was tackling my pantry, which was badly in need of a good clean-out and re-organization. It felt so good to get that done!
The above "tile" of photos represents four of the quick and simple meals that I made during this week-- meals that we enjoyed so much that we deemed them worth repeating! Roasted veggies (corn, tomatoes, green beans, etc.) were definitely a theme. Roasting brings out the sweetness of any vegetable, it seems. We had a good crop of tomatoes this year, so I have been slow-roasting small batches of them. (They can be kept refrigerated for several days or frozen for longer periods.) They are so sweet and juicy that they almost make an instant sauce. I have often broiler-roasted (broiled the veggies in the oven under the oven's broiler coils, which is my favorite method) corn kernels, but, for the first time, I broiler-roasted fresh green beans, which was so quick and very delicious-- so I used them in two of these dishes, as you can see.
I'm going to give you only 2 actual recipes (for the soup and the salad)-- the pasta dishes are just descriptions, because I was improvising and there are not long lists of ingredients. I hope you'll have fun playing around with these ideas.
#1
Spaghetti with Roasted Green Beans, Garlic and Chanterelle Mushrooms, & Slow-Roasted Tomatoes
What I did:
I had some slow-roasted tomatoes in the refrigerator already (see this post for directions). I cooked 8 oz. of ordinary spaghetti, but you could use any long pasta. Cook in salted water, drain, and set aside.
To broiler-roast the other veggies, I spread a couple of handfuls of small, fresh green beans (a sub could be thin stalks of asparagus, snapped in half), a couple of large cloves of garlic, sliced, and 2 large chanterelle mushrooms (or use any type of mushroom you have around), sliced, on a small rimmed baking sheet and tossed them with a tablespoon or so of olive oil and a little salt. I broiled them in my oven's broiler (on High) about 6 inches below the heat source, watching carefully, until the green beans softened and started to char a bit. Stir the veggies around and spread out again. Broil for a few minutes more, until done to your taste.
In a large nonstick skillet over medium high heat mix together the cooked, drained spaghetti, the broiler-roasted veggies and about 1 1/2 to 2 cups slow-roasted tomatoes and juice, broken up a bit (remove any tough skins). Add some fresh chopped basil, if you like. Stir the mixture around in the pan to heat well and add some plain vegan creamer (I used So Delicious Coconut Original Creamer) just to moisten. Add salt and freshly-ground black pepper to taste and serve immediately with your favorite vegan parmesan substitute (I like Go Veggie! by Galaxy).
********************************************************************************
#2
Creamy Pasta with Slow-Roasted Tomatoes & Herbs
What I did:
There were a few recipes online for dishes like this, but I simplified! I cooked 8 oz. of dried gemelli pasta, but you could use any short pasta. Cook in salted water and drain.
I had a fresh batch of slow-roasted tomatoes, so I measured out about 1 1/2 cups of that, with juice, and broken up a bit (remove any tough skins). I mixed the hot, cooked gemelli (back in the cooking pot) with the hot roasted tomatoes, a little chopped garlic sautéed briefly in a little olive oil, some chopped fresh thyme and basil, salt and freshly-ground pepper to taste, and some plain vegan creamer (I used So Delicious Coconut Original Creamer) to make a creamy sauce. Stir over medium-high heat until hot. If the pasta absorbs all the creamer, add a little more. Serve immediately with your favorite vegan parmesan substitute (I like Go Veggie! by Galaxy).
********************************************************************************
#3
I've been wanting to try whole grain sorghum for some time and finally found a bag of Bob's Red Mill brand at my natural foods store. Here is some interesting information about this nutritious ancient grain from Africa-- the fifth most important cereal crop in the world (who knew?)! I was intrigued by its possibilities partly because it can be used as a nutritious stand-in for pearl couscous.

Since it was a hot day, and I had more green beans and slow-roasted tomatoes , I decided to make a salad-- with a bit of a Southwest flair. Now, the sorghum does take a little planning ahead because, unless you want to cook the sorghum for upwards of an hour, soak it in lots of water overnight! (Don't follow the directions on the BRM package!) This also saves energy because you don't have to cook it for so long.

Printable Recipe

BRYANNA'S
WHOLE GRAIN SORGHUM SALAD WITH JALAPENO-STUFFED GREEN OLIVES, AVOCADO AND ROASTED CORN, GREEN BEANS & TOMATOES
8 ounces thin fresh green beans
1 1/2 cups fresh or frozen sweet corn kernels
1 ripe avocado, peeled, pitted and cut into small chunks and tossed with a bit of lemon juice
1 teaspoon dried tarragon, crumbled (or 1 tablespoon fresh, chopped)
2 tablespoons red wine vinegar
1 large clove garlic, crushed
Drain the soaked sorghum and discard the soaking water. In a heavy medium saucepan with a lid, combine the soaked sorghum, the first 1/2 teaspoon of the salt, and the 2 cups fresh water. Bring the water to a boil. Cover the pan and reduce the heat. Simmer for 40 to 45 minutes, or until the grains are tender. Drain well in a strainer or colander. Set aside to cool while you prepare the rest of the salad.
Spread out the green beans

and corn kernels on a small rimmed baking sheet and toss them with 1 tablespoon olive oil and a little salt. Place them about 6 inches below the heat source of your oven's broiler, with the broiler set on High and watch carefully until the green beans soften and start to char a bit. Stir the veggies around and spread out again. Broil for a few minutes more, until done to your taste.


Make the Dressing by blending or whisking the ingredients together. Mix the cooled sorghum with the broiler-roasted green beans and corn, the slow-roasted tomatoes, sliced olives and avocado chunks. Add the dressing and toss gently. Serve at room temperature.
********************************************************************************
#4
Printable Recipe
BRYANNA'S VEGANIZED (AND SIMPLIFIED) SPRING CHIK'N AND SNAP PEA SOUP
This is my vegan and much faster version of a recipe from Sunset magazine, April 2014. Might be my new favorite vegan "chik'n noodle soup"!
2 cups reconstituted Soy Curls, or vegan "chikn strips", or thin slices of your favorite vegan "chicken-style" cutlet
4 large green onions, thinly sliced
1 cup carrots, cut into matchsticks
4 ounces dried long flat egg-free pasta, such as tagliatelle, fettuccine or linguine, broken in half
2 cups sugar snap peas, cut diagonally in half
2 tablespoons chopped fresh tarragon OR 2 tsp. dried tarragon leaves, crumbled
Salt and freshly-ground black pepper to taste
In a large pot, mix the broth, vegan chicken sub of your choice, green onions and carrots. Bring to a boil and turn down to a simmer. Cook for 4 or 5 minutes, covered. Add the pasta and simmer for 6 to 8 minutes more. Stir in the vegan creamer, snap peas, parsley and tarragon. Cover and remove from heat. Let sit for a few minutes, just until the snap peas are dark green, but still have some crunch.


Enjoy!
Posted by

Bryanna Clark Grogan
at 4:46 PM
0 comments


Labels: broiler-roasted vegetables, chanterelle mushrooms, corn, green beans, pasta, roasted corn, roasted vegetables, slow-roasted tomatoes, snap peas, Sorghum Salad, soup, spaghetti, tomatoes, vegan chicken noodle soup
Monday, September 15, 2014

The tomatoes are coming in fast and furiously, from our garden and from the gardens of friends. We have big ones and little ones,
red ones
and
yellow ones
. We're eating them on salads, in sandwiches and many other dishes, but it's hard to keep up. Yesterday, I slow-roasted a small tray of tomatoes of various sizes and varieties and knew I could do something with them for dinner that night.
If you've never slow-roasted tomatoes,
cut them in half horizontally if round, lengthwise if the long paste type. Cover your rimmed baking sheet with foil and then with
baking parchment
. Lay the tomato halves cut-side-up and
sprinkle with olive oil and a little salt and unbleached sugar.
Bake at 250-300 degrees F for about 3 hours. The paste tomatoes get a bit chewy, and the ripe eating tomatoes get a bit more juicy-- I had to cook the juicy ones for another 45 minutes or so at 350 degrees F. Use right away on pasta or crusty bread or in a grain salad, or refrigerate.
For our dinner,
I coated
2 of my homemade "chikn" cutlets
(recipe in my book
World Vegan Feast
) with whole wheat flour, dipped them in a mixture of
nondairy milk with vegan sour cream
whisked in to thicken it, and then coated them all over with
panko (crisp Japanese breadcrumbs)
mixed with
Go Veggie Soy Parmesan
.
(You could use any vegan cutlet you like, homemade or commercial; you can use soy, hemp or nut milk curdled with a little lemon juice for the wet mixture, if you like; and you could use GF bread or cereal crumbs instead of panko, and any vegan parmesan sub you like.)
You could pan-fry these in a little olive oil, or brown them in a 400 degree F oven, turning once, but I browned them under my oven's broiler, about 6 inches below the heat source, just spraying with a little oil from a
pump-sprayer
.
For the tomato topping, I drizzled about half of the roasted tomatoes with about 1/2 tablespoon balsamic vinegar and mixed in some chopped fresh basil. I heated the tomatoes gently in the microwave and spooned them over the hot crispy cutlets, serving immediately.
Simple, but DELICIOUS!
Enjoy!
Posted by

Bryanna Clark Grogan
at 9:19 PM
0 comments


Thursday, August 22, 2013

We had a very yellow-hued dinner tonight. There's a very short corn season here on Denman Island, so we eat it fresh-picked as often as we can while it lasts. So, delicious sweet, ripe corn-on-the-cob was our "main course". Our second course consisted of a couple of slices of fresh homemade crusty bread with olive tapenade, and the following light summer soup.
We have one tomato plant in the garden which produces LOTS of quite small yellow cherry tomatoes. They have a delicious tartness which I thought would be good in a soup, so this is what I came up with. It's a bit reminiscent of gazpacho, but needed no added acidity, due to the natural tartness of the tomatoes. I added the yellow pepper to add more body.
It's a mild-flavored, delicate soup, but very satisfying (in fact, we felt extremely well-filled after our vegetable-based meal-- or "full-top" as the say in Quebec, according to my husband). I hope you will try it!
BRYANNA'S CHILLED YELLOW TOMATO SOUP
1 large yellow bell pepper, trimmed, seeded and chopped coarsely
4 cups small yellow cherry tomatoes, stemmed (If tomatoes are larger, halve them, or cut in large dice.)
1 tablespoon chopped fresh thyme leaves or 1 tablespoon dried thyme leaves
salt and freshly-ground black pepper to taste
chopped red tomatoes and fresh thyme leaves
(Other ideas: a dribble of good olive oil, homemade croutons, sweet or hot smoked paprika)
Mix the softened vegetables in a blender with the broth, tomatoes and thyme. Blend until the mixture is smooth. Taste for salt and pepper.
Chill the soup thoroughly before serving with garnish of your choice.
Posted by

Bryanna Clark Grogan
at 8:08 PM
0 comments


Wednesday, June 13, 2012
Posted by

Bryanna Clark Grogan
at 8:12 PM
2 comments


Labels: almond, almond cream whipped topping, basil, chocolate, corn, edamame, frozen basil paste, hazelnuts, Kahlua, kale, mint, oil substitute, plum butter, rapini, salad, spinach, tiramisu, tomatoes, Vegan dinner group
Monday, July 11, 2011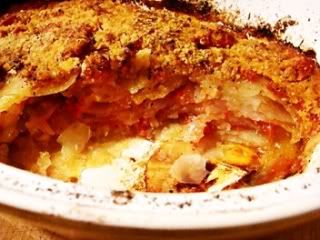 Patate en Tagame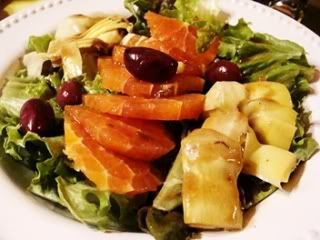 The side salad-- fresh lettuce, marinated artichoke hearts, kalamata olives and pink grapefruit slices. Yum!
Want something really delicious for dinner? Good enough for company? But not complicated? Have I got a dish for you!
I have to confess that I haven't been terribly creative in the food department lately-- I think it's like a "hangover" from writing
the book
. So, I've been cooking things from my own recipe files and cookbooks, and we've been enjoying some old favorites that I haven't made for a long time.
I love potatoes, and this casserole was, surprisingly perhaps, one of my absolute favorites from my book
"Nonna's Italian Kitchen"
.
Truly, the sum is greater than its parts where this casserole is concerned!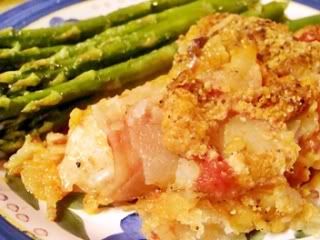 Printable Recipe
BRYANNA'S PATATE IN TEGAME (ITALIAN BAKED SLICED POTATOES WITH TOMATOES AND GARLIC)
Serves 4
This delicious casserole can be served at any meal, including brunch, and makes a wonderful potluck offering. You can use almost any kind of potato, and either fresh or canned tomatoes.
TIP: The easiest and fastest way to slice the potatoes is with a manual mandoline slicer-- here are a few good ones: 1.)
, 2.)
, 3.)
, 4.)
.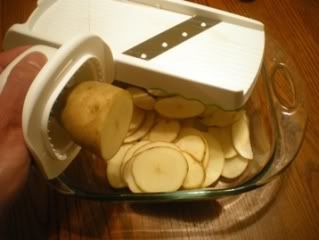 1 1/2 lbs.Yukon Gold potatoes, scrubbed and very thinly sliced
4 cloves garlic, thinly sliced
3/4 lb. fresh ripe plum tomatoes, thinly sliced
OR a 14 oz. can plum tomatoes or diced tomatoes, drained
2 tablespoons good extra-virgin olive oil
1/4 cup
vegan parmesan
substitute (or my
homemade okara parmesan
)
salt and freshly-ground black pepper
Oil a 10" glass or ceramic baking dish or pie plate with olive oil. If you are using the canned tomatoes, break them up with your hands.
Preheat the oven to 350ºF.
Place one layer of potatoes (about 1/3 of them) in the dish. Salt and pepper them; add 1/3 of the tomatoes, half of the garlic, and sprinkle on 1 tablespoon of the vegan parmesan. Drizzle with 1/2 tablespoon olive oil. Repeat the layering, then add the last layer of potatoes, salt and pepper, tomatoes, and sprinkle the top with 2 tablespoon of vegan parmesan and drizzle with 1 tablespoon of olive oil. Cover the dish and bake for about 1 hour. Uncover the dish and bake 15 minutes more, or until the potatoes are tender and the top is golden. Serve hot.
Nutrition Facts per serving
(I'll post the complete ones tomorrow): 260 calories; 5 g protein; 38 g carbohydrate; 9 g fat.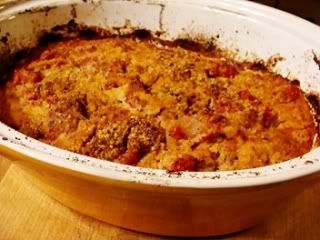 Enjoy!

Posted by

Bryanna Clark Grogan
at 7:13 PM
3 comments


Tuesday, November 30, 2010


Last Vegan MoFo Post!
UPDATE: OMG! I'm so bogged down with this manuscript that I don't know whether I'm coming or going! When I re-posted it, I thought it had not made it into the book, but it is in the book (World Vegan Feast)! So I have to take down the recipe! But look for it when the book comes out! I'm so sorry about that! What a klutz I am these days!
It's so yummy and easy-- we had it for dinner last night and lunch today! It is a hearty casserole that is a little out-of the-ordinary, but not so strange that kids would not like it!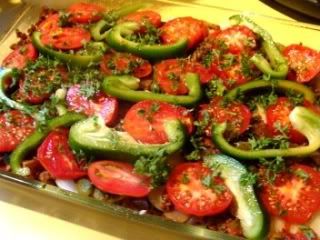 Made with fresh tomatoes in summer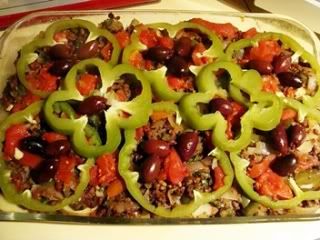 Made with canned Italian tomatoes in winter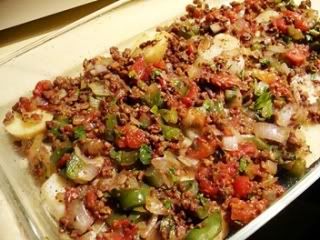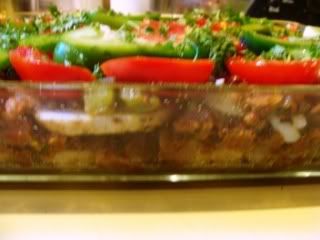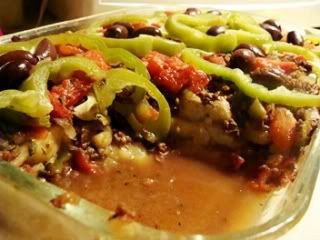 Posted by

Bryanna Clark Grogan
at 5:15 PM
4 comments


Sunday, August 29, 2010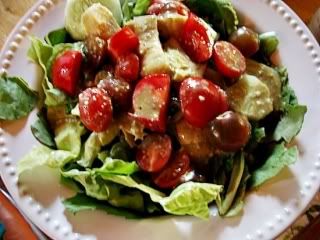 Our dinner salad last night-- heavy on the home-grown tomatoes!
Friday evening I came home from work (my "day job"-- managing a small branch of our island library system) and checked our little garden for anything that needed picking. Tomato bonanza! (And some basil, as you can see.) We love the "Black Cherry" tomatoes
that you can see nestled among the red ones!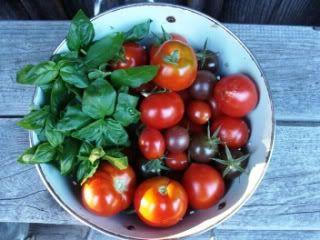 I found an interesting-looking tiny purple frog sitting under a basil plant! (Or is it some kind of little toad? I don't know much about amphibians, I'm afraid!) We have other tiny frogs that we see often on the deck, but they are bright green. These pics don't do it justice (it was evening when I took these):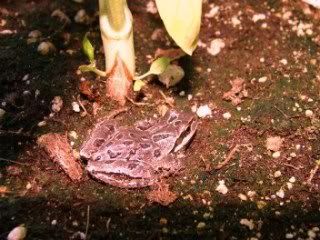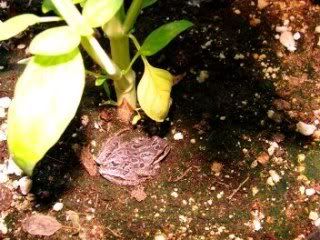 Anyone know what this is?
I also picked a little lettuce and mesclun for my solo dinner salad. (DH was off in Vancouver to see his youngest son's new Celtic band play!)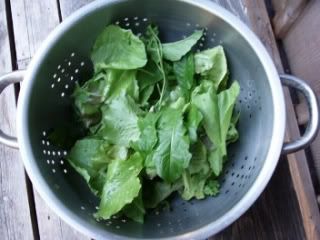 For lunch yesterday, DH back home, we had vegan BLT sandwiches on Brian's white bread (an occasional treat!), toasted . The "bacon" part was provided by a generous sprinkling of my Homemade Smoky Veggie Bacon Salt-- recipe on my blog here. The low-fat (and very tasty!) vegan mayo recipe is here . (There's also a Hemp Milk Vegan Mayonnaise.) Yum!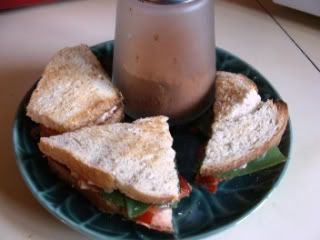 Last night we simply had salad and Denman Island corn (picked that day) for dinner: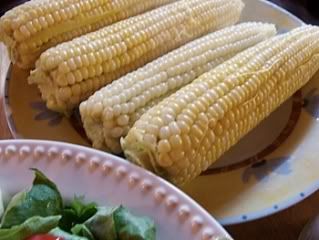 I'm keeping things pretty simple these days, due to The Book! BTW, if you're looking for tasty low-fat vegan salad dressing recipes, here are some posted on my blog:
Creamy Orange Vinaigrette

Creamy Pear-Based Vinaigrette (Tarragon Version)


Oil-Free Creamy Bean-Based "Caesar" Dressing

Low-Fat (or No-Fat) Creamy Pear-Based Vinaigrette

Happy Salad Days!

Posted by

Bryanna Clark Grogan
at 8:55 AM
4 comments