Bryanna Clark Grogan's Vegan Feast Kitchen/ 21st Century Table: The kitchen journal of a vegan food writer.. I'm on Facebook and Twitter (see links in sidebar at right).
Thursday, August 13, 2009
TWO VEGAN FEASTS IN ONE WEEK!

I've got company coming any minute, but I wanted to blog something, so I'm going to tantalize you with photos of two dinners we had last week, and I'll post a recipe or two from them on Monday!
Our good friends Mike and Fireweed had their third wedding anniversary last week and I invited them over, with another vegan friend, Holly, for an impromptu celebratory dinner. I made a kind of Middle Eastern fusion meal, mostly cold or room-temperature dishes:
L-
Beets and Greens with Vegan Yogurt Dressing
, Middle- A spicy squash and cauliflower salad (Update in Aug 2011-- I don't know where that recipe came from-- maybe here?); and R-scrambled tofu with vegetables in the style of Shakshuka, a North African egg and tomato dish that has traveled to Middle Eastern countries in various forms-- this one is more in the Iraqi style with a scramble and vegetables).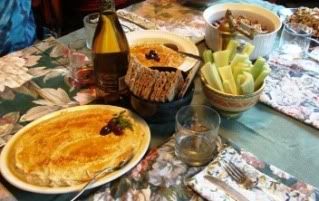 R- my
New, Improved No-Oil Hummous
; and, behind the rye crisp and celery,
Mutabbal
(Smokey Palestinian-style Eggplant Dip or Spread-- recipe in my new cookbook World Vegan Feast
)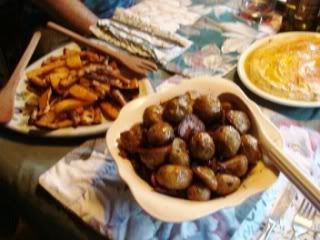 R- Sweet Potato Oven "Fries" with Moroccan Spices and, in front, Roasted Potato Salad with Sun-Dried Tomatoes (
recipe in my new cookbook World Vegan Feast
)
For dessert we had homemade popsicles!
******************************************************************
Last Sunday night we had one of our communal vegan dinners with some vegan friends, hosted by Mike and Fireweed this time (we alternate). The theme was locally grown and what a gorgeous meal!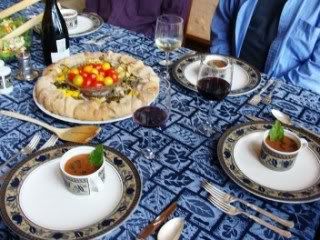 The table set with gazpacho and slices of 2 savory tarts that I made.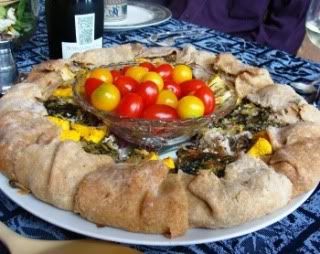 Close-up of the tarts-- they were sliced and arranged around a bowl of homegrown cherry tomatoes-- one was a savory rustic Italian greens tart (
recipe in my new cookbook World Vegan Feast )
, and the other was a Greek-style pie made with our home-grown yellow patty-pan squash (See recipe here).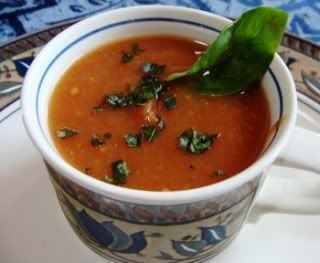 Close-up of Fireweed's gazpacho.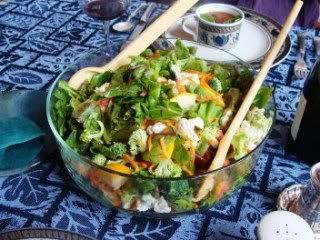 Ellen's green salad-- chock-full of goodies like pumpkin seeds, broccoli, cauliflower, etc.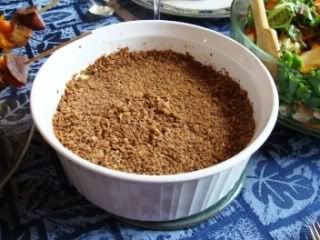 Pelka's

delicious

green bean and shiitake mushroom casserole!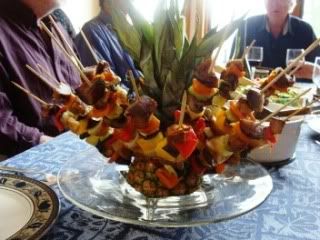 Fireweed's veggie kebabs in a pineapple! And the dessert-- here are some shots of Fireweed's

yummy

homemade blueberry pie (made with organic berries that she and Mike picked locally!

):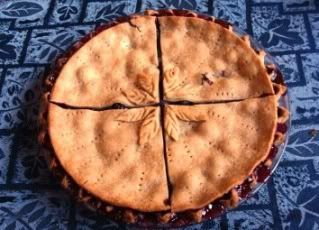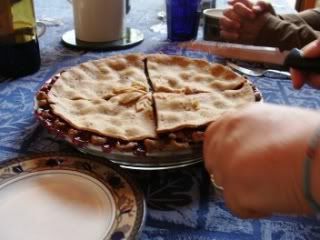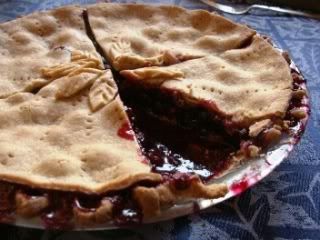 It's sure good to have great vegan friends who are also such good cooks!

(PS: We missed you, Sarah and Gordon!)
Cheers til next time!

Posted by

Bryanna Clark Grogan
at 11:53 AM