Bryanna Clark Grogan's Vegan Feast Kitchen/ 21st Century Table: The kitchen journal of a vegan food writer.. I'm on Facebook and Twitter (see links in sidebar at right).
Wednesday, July 15, 2009
NO MILK? A QUICK FIX IF YOU RUN OUT OF SOY (OR OTHER NONDAIRY) MILK , PLUS A LITTLE RANT ON RESTAURANT TOFU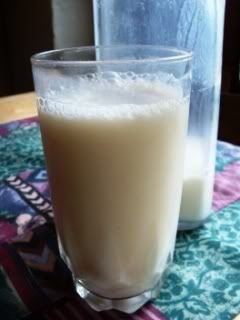 A glass of fresh, cold homemade tofu milk!
We're just back from an overnight stay in Nanaimo, BC with some old friends-- very relaxing. Who knew that Nanaimo (known mainly for it's malls and where you go to get the ferry to Vancouver here on Vancouver island, and, everywhere else, as the birthplace of Diana Krall) has such pretty views?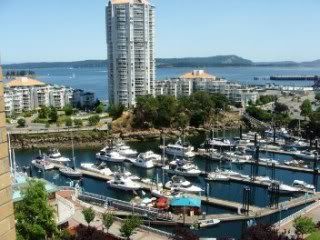 Above is a view of Nanaimo harbour and marina from our 8th-floor hotel window. It looks like a postcard shot, doesn't it?
But Nanaimo is actually home to many things we treasure, such as the best Value Village I know of (where I get at least 90% of my clothes), some great walks, the best music store in BC (Fascinating Rhythm, where Elvis Costello is sometimes spotted while visiting his wife's hometown), some of the best blues music in BC, and some great restaurants. We had lunch in one of them, Aladdin's Cafe, on the Victoria Crescent-- an unpreposessing Lebanese family restaurant with a super vegan plate. (You can stuff yourself on authentic Lebanese tabouleh, stuffed grapeleaves, baba ganoush, hummus, spicy carrots, felafel, and homemade wholewheat pita for under $12!)

The Rant:

I wish we'd eaten at Aladdin's Cafe for dinner, too! We went to a well-known mainstream restaurant (in deference to our hosts) and there was a vegan item on their menu that looked promising-- a "Risotto Stack" with lots of vegetables and "grilled tofu". It was nicely presented and the risotto wasn't bad, but there wasn't much of it. The veggies were colorful, but absolutely plain, steamed. You would think that for $18 a plate they could have taken the time to season them with a little olive oil and herbs, or something! And the tofu, all 4 tiny wedges of it, was deep-fried and TOTALLY tasteless! Non-vegetarian restaurants (unless they are Asian) so often serve tofu in a way that lets me know that the chef has never tasted the dish! Have they never heard of marinating? Apparently, many chefs are under the impression that vegans are ascetics who don't care for the excitement of seasoned food! Grrrr! That'll teach me-- next time I'm in a non-vegetarian, non-Asian restaurant, I'll stick with the pasta! Have you had any similar experiences?
Anyway, on to the recipe-- I ran out of soymilk before we left for Nanaimo, and I didn't want to make a batch before we left, so I made some Tofu Milk from my first cookbook, "The Almost No-fat Cookbook". I hadn't made it in years and was quite chuffed (as they say in the UK
) by how easy it was to make and how nice and creamy it tasted, so I thought I'd share. (I keep some boxes of silken tofu in my pantry at all times!)
(Next weekend we head for
Salt Spring Island
to visit DH's family, including some from Quebec City.)
Printable Recipe
BRYANNA'S TOFU MILK
Servings: 8
Yield: 2 quarts
This is a great recipe to have around if you run out of your favorite non-dairy milk. Not the best for hot beverages, but great for cereal, smoothies, shakes, and just plain drinking, as well as for cooking and baking.
I developed this recipe when the Mori-Nu boxes of silken tofu weighed 10.5 oz. Now they weigh 12.3 oz.!
I haven't figured out an easy way to increase this without making a huge amount, so just slice off 1/6th of the box on one end and save that tofu for a smoothie or something, and use the larger part in the tofu milk!
And, BTW, this milk is much lower in nutrients than soymilk, so, like rice milk, it is not meant to be a nutritional substitute for soymilk or dairy milk!
(1 cup Rice Dream Original contains 120 calories, 2 g fat, 11 g sugars, and only 1 g protein, so the tofu milk is superior in protein and lower in sugars and fat-- see the nutrition facts for the tofu milk below the recipe.)
10.5 oz
extra-firm silken tofu
(See directions for measuring this amount of tofu without weighing in the text above.)
3 cups cold water
1 cup more cold water
2-3 tablespoons granulated
organic unbleached sugar
or alternative
1/2 to 1 1/2 teaspoons pure vanilla extract
(omit if it's for cooking savory items)
(or use 1/2 teaspoon pure almond extract instead)
3/4 teaspoon salt
enough cold water to make 2 quarts total
If you have a large blender, such as a Vita-Mix,
you can just add all of the ingredients to the blender and whiz like mad!
If you have a smaller blender container, or a less powerful blender
,
follow these instructions:
Blend the tofu and the first 3 cups of water until very smooth. Add the next 1 cup of water, the sugar, vanilla (if using), and salt and blend again.
Pour this into a
2-quart container
and add cold water to make 2 quarts. Stir well, pour into sterilized
1-quart bottles
, cap tightly and refrigerate.
Shaek before pouring, as this tends to separate on standing. This milk will keep about a week in the refrigerator.
Nutrition Facts
Nutrition (per 1-cup serving)
: 32.7 calories; 19% calories from fat; 0.7g total fat; 0.0mg cholesterol; 202.1mg sodium; 57.4mg potassium; 3.9g carbohydrates; 0.0g fiber; 3.5g sugar; 3.9g net carbs; 2.8g protein; 0.7 points.
Enjoy!

Posted by

Bryanna Clark Grogan
at 3:38 PM