Bryanna Clark Grogan's Vegan Feast Kitchen/ 21st Century Table: The kitchen journal of a vegan food writer.. I'm on Facebook and Twitter (see links in sidebar at right).
Thursday, April 2, 2009
MUSIC, FOOD AND FAMILY IN VANCOUVER!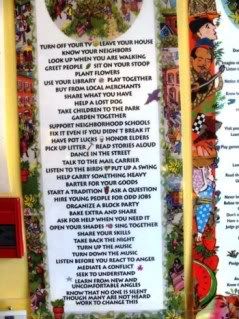 A poster with some good ideas, for sale at 10,000 Villages (fair trade store) on Denman St. in Vancouver (my cousin's partner is the manager)
I am just catching up after 4 days away from home in Vancouver. I'm always very glad to get back to Denman Is., but we had lots of fun in Vancouver. Our main reason for going was to see family, and we stayed with
my cousin Chris
and his partner Roxanne at their lovely house in the East End of Vancouver, near
"The Drive"
(Commercial Drive), which is a lively, funky neighborhood (I lived there many years ago!) with lots of ethnic eating.
We visited with my youngest daughter, Justine, and her son and partner; with my stepson, Laurie, and his girlfriend; with my sister, Karin, and another cousin, Rose; and my cousin's daughter and little granddaughter. We also visited with an old friend of DH who lives in Port Moody, and his wife, who is a sweetheart. DH and John grew up together in Quebec City and have only recently discovered that they live not too far from each other and still have much in common!
We also visited the
10,000 Villages
store that Roxanne manages on Denman St. (she also opened the very successful one on Commercial Drive). So many beautiful things, all fair trade! (Roxanne got an award last year for being a "Fair Trade Pioneer" in Vancouver!) here are some photos from the store: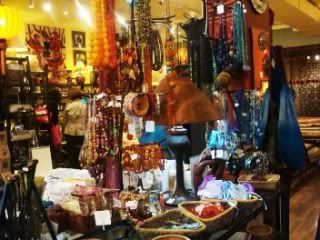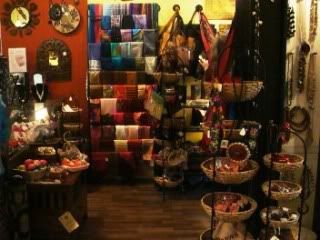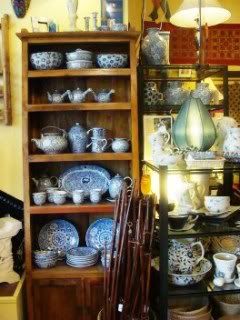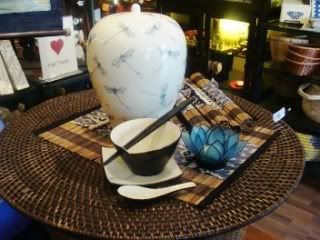 The other important reason for this visit was to attend a concert at Capilano University. The artist was
Habib Koité
, one of our favorite African artists, who was born in Senegal, but is actually from Mali.
"Habib comes from a noble line of Khassonké griots, traditional troubadors who provide wit, wisdom and musical entertainment at social gatherings and special events. Habib grew up surrounded by seventeen brothers and sisters, and developed his unique guitar style accompanying his griot mother."
He has a great band, Bamada. Google his name for lots of videos online!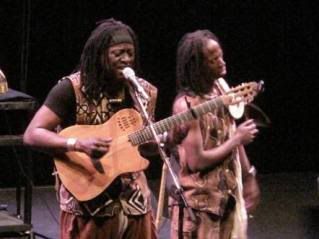 (Photo by Brian Grogan)
It was a small theatre, so we had a great view, and the audience was very responsive and enthusiastic. Several dancers came on stage at times, and this one was our favorite. I heard that she was an African dance teacher. Look at her go!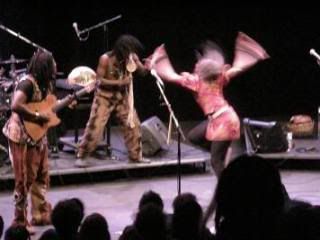 (Photo by Brian Grogan)
What fun!
And, of course, the 3rd pleasurable activity was eating! Vancouver is a
great place
to eat if you like ethnic foods, and it's very vegetarian-friendly. This time we didn't know where we would be half the time, so we didn't plan anything fancy, and just ate at inexpensive neighborhood places. I meant to take pictures of everything, but, alas, I got distracted at times!
Friday afternoon, Chris picked us up at the ferry in Horseshoe Bay and we went for our first Vancouver meal of the trip, lunch at
Rangoli
, the bistro attached to the upscale Indian-fusion restaurant
Vij's
(which has been written up in
Gourme
t magazine). The owner, Vikram Vij, is quite a Vancouver legend.
Rangoli's prices are quite a bit lower than Vij's, but the food and the diners receive the same care and attention. The General Manager, Akiko Masutani, happens to be the daughter of some very good friends of ours. She is only 23 and runs the bistro-- smart girl! She greeted us with open arms and made sure that we got lots of attention!
Shun me if you want, but I didn't eat strictly vegan at this meal! I wanted to taste their legendary food and figure out how to make it vegan at home! It was definitely the best meal we had on this trip! I am still tasting the flavors and will get on with vegan experimenting soon. Even the little salads were exquisite. We had: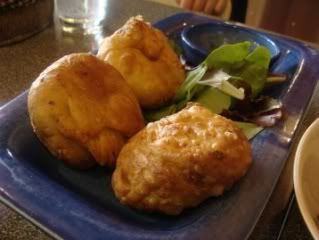 \
Lentil and Chickpea Kachori with cilantro-jalapeno chutney (a stuffed pastry
)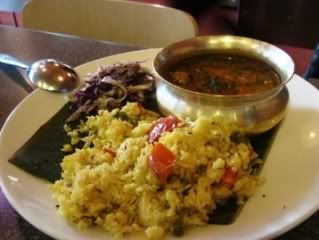 Black Chickpea, Peas and Onion Cakes in Spicy Coconut Curry with vegetable rice pilaf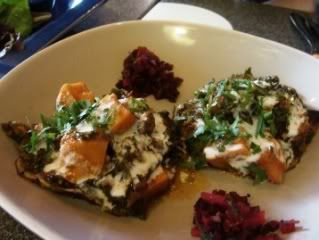 Kale and Yam Curry on Semolina Crepe spiced with coriander, ginger and mustard seeds
And the best of all: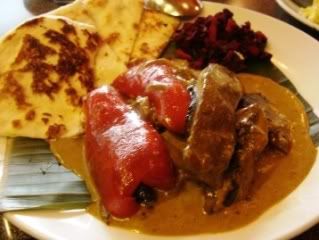 Portobello Mushroom and Red Bell Pepper Curry with beet salad & naan
Akiko also ordered us Savoury Chaat wheat crisps with potatoes, sprouts, chutney & yogurt, which was very good (cold) and unusual. (The picture didn't turn out.) I just have to do a vegan re-creation of that! Crunchy, spicy, cold, creamy, sour, savory...mmmmm
On Friday night we met my cousin Chris and Roxanne, and my daughter Justine and her son at
Hon's Wun-Tun House
on Robson St.. It's a big, noisy, crowded Hong-Kong-style Chinese diner, I guess you'd call it. Nothing stylish or romantic about it! There are 5 Hon's in the Vancouver area, but the Robson St. venue has a separate vegetarian kitchen! You can see the two kitchens from the dining room. They have a great veg wonton soup (better than the
Bo Kong
, I think, though that is a really good Chinese Buddhist vegetarian restaurant, which we didn't get to this time). DH and I had that, a spicy gluten "chicken" dish with peppers and peanuts, which was great, and a stir-fry of mixed "mock meats" and veggies in a sweet potato "nest" (fried), which wasn't that great. I totally forgot to take pictures, being busy admiring my young grandson!
On Saturday Roxanne had to work, so Chris and DH and I met with DH's old friend John and his wife Brenda and went to lunch at the funky
Foundation Lounge
, which my publisher always visits when he goes to Vancouver. I thought it would be vegan, but it is vegetarian with vegan choices. It's pretty bare-bones decor, and I hear that at night it can get pretty loud with grunge music and lots of young folks. I didn't think the food was great, but it was good, cheap, and plenty of it!
Chris and I shared the Yam (actually sweet potato) dip with a variety of crunchies. Very yummy!: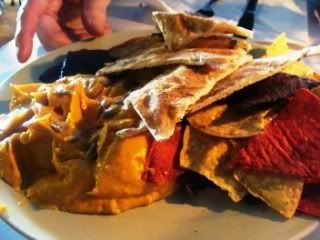 Chris and DH both had the "BLT". You can leave off the cheese if you like, because it has avocado in it. It has lots of mayo, so, if you're vegan, ask if they have a vegan option

.
: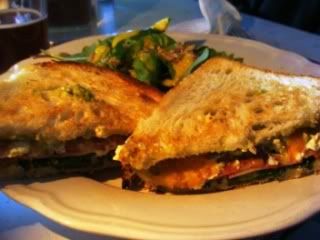 Brenda had the "Serial Salad", which had lots of grains and fruit in a creamy dressing:
I had the "Molten Tofu" with lots of greens. It was tasty and VERY filling!: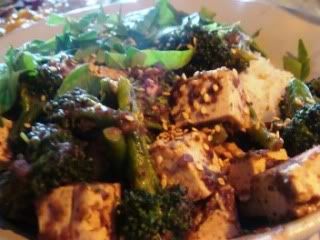 Saturday night we were in a hurry to get to the concert, so we ate at one of our favorite little restaurants, the
Legendary Noodl
e on Denman St., near Roxanne's store. I have written about this before, so check out
this blog post
. I always like their food, which is fresh and fast, and they are famous for their "House Tea":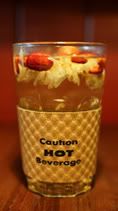 DH and I shared the veggie gyoza/potstickers (they call them "pan-fried dumplings"), which are excellent, and are served like French fries in a paper-lined basket

: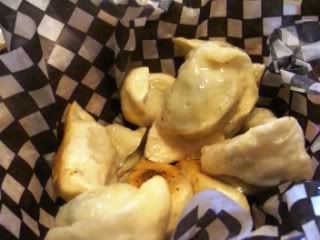 We also shared the "Hit Me w/ Dao Xiao Mian, Tofu Vegetarian" dish ("Finely Sliced Noodle from a Flour Dough, Stir Fried Green, Red Pepper, Celery, Bean Sprouts, Dark Bean Soy Sauce")-- ask for no egg in it if you are vegan: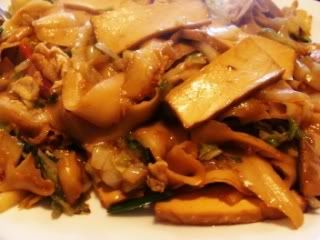 We all indulged in the Fried Pea Shoots w/ Garlic-- so simple and so divine!:
Roxanne had her favorite, which I'm going to try next time, the noodles with Lemon Garlic Green Onion Sauce: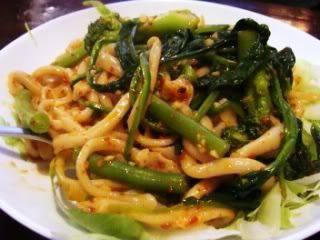 On Sunday we had a gang of family over, so we just went down to the Drive to a Middle Eastern grocery store and set out a buffet of flatbreads and buns, dips and spreads, olives, vegetarian dolmades (stuffed grape leaves), vegetable relishes and salads, and a bowl of strawberries.
For dinner, after the crowd had thinned a little, we went down to the
local Thai takeout place
and brought home vegetarian pad thai, garlic broccoli, and "Swimming Rama"-- tofu on spinach with peanut sauce. Forgot the photos again on Sunday!
I also forgot the camera in the car when we had our last meal with Chris before we left for home, a sort of brunch at another bare-bones, funky family vegetarian place on the drive, the Cafe Du Soleil (not to be confused with another funky family vegetarian place on the drive that's also good for brunch, Cafe Deux Soleils!). Chris and DH (who eats eggs sometimes) got the vegetarian Eggs Benny (Chris is not vegetarian, but he said it was one of the best he'd had), and I got the Lentil Rolls with a salad and Miso-Ginger dressing. It was a bit stodgy, but it tasted good and was filling and very inexpensive. The server was very pleasant, too.
So now we're back home, glad to be eating our own food again, but savoring the memories of a great concert, good visits with family and friends, and some pretty interesting meals.
Before we left, we checked out some other restaurants on the drive that we'd like to try next time-- an Algerian one that has a vegetarian couscous; a new Ethiopian place (always good veggie fare in Ethiopian restaurants!); an Asian-caribbean-fusion place called
Clove
, which Chris says is excellent, and the menu looked promising; and a vegetarian Mexican place called
Bandidas Tacqueria
, which has plenty of vegan options. Stay tuned!
Enjoy!

Posted by

Bryanna Clark Grogan
at 12:26 PM