Bryanna Clark Grogan's Vegan Feast Kitchen/ 21st Century Table: The kitchen journal of a vegan food writer.. I'm on Facebook and Twitter (see links in sidebar at right).
Monday, April 13, 2009
EASTER DINNER; A VEGAN DINNER PARTY; MY FAVORITE SPINACH SALAD!

It 's just a social whirl around here, I tell you! Just kidding! But we have had some good feasts lately, in between some yummy Weight Watcher's Core Plan dinners. (DH and I are on the Core Plan-- together this time, which makes it alot easier for me! But, more about that in another post.)
We attended a vegan potluck dinner party with a birthday them last week with four other couples. It turned out to be a pretty much Italian affair, just by accident. The food and wine was delicious, the company was great, and my friend Fireweed made a grand chocolate cake for her DH Mike's birthday!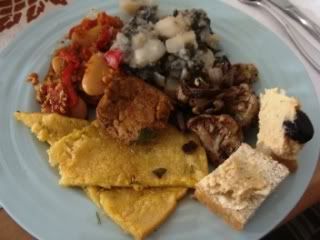 My plate:(from the top, clockwise) a sort of Italian colcannon, with kale; a yummy cauliflower roasted dish; hummous with wholegrain focaccia; farinata-- Farinata, an Italian savory "chickpea pancake" (I brought this); a savory tofu cake (in the middle); and Giant Lima Beans (Gigantes) Italian-style (another one of my dishes). There was also a lovely salad with lots of different vegetables and nuts-- you can see it in the photo above this one.
Here's Mike's birthday cake: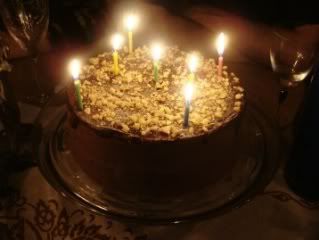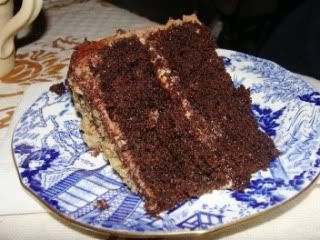 Mmmmmmmm-mm!
We had two Easter dinners this year
.
Saturday was Family Day,
and my oldest daughter and her daughter were there, with a friend. My middle daughter came with her DH and 3 girls; my foster son Daiv came up from Victoria, and my son put in a quick appearance (they were hosting a giant birthday party at his house!). My stepson Sean and his girlfriend were also with us for a while. We had my McDougall
hummous
with crudites for starters, and then roasted potatoes,
Italian Rice salad with asparagus
, my seitan "ham" with "ham gravy", and a broccoli salad that my daughter brought-- a pretty modest feast for us. (My grandaughter's friend, however, was impressed!) My oldest daughter brought our
traditional Italian Easter bread
ring.
(I forgot to take pictures-- I have a tendency to get distracted with grandchildren around!! in a good way!)
On Sunday
we hosted two friends, who gladly helped us finish up the second "ham", the rest of the "ham gravy" and the Italian Rice salad, some crisp freshly-roasted (Denman Island-grown) potatoes, and a spinach salad with thinly-sliced artichoke hearts, sundried tomatoes and mushrooms, in a creamy, lemony agave-spiked dressing (see recipe below).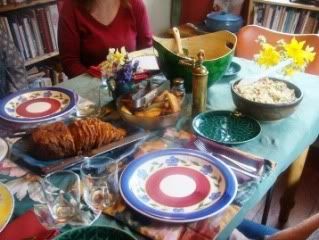 For dessert on both evenings we had my S'More Brownies,
which I developed for my Vegan Feast Newsletter.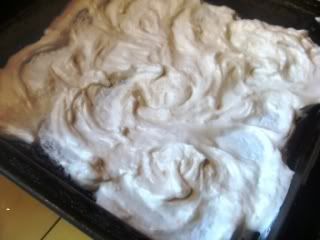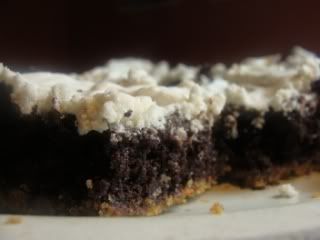 Printable Recipe
BRYANNA'S FAVORITE SPINACH SALAD
Servings: 6
A luscious veggie combination with a creamy, tangy-sweet dressing. It is practically a meal in itself!
TO MAKE THIS RECIPE SOY-FREE,
omit the tofu and use 1/3 cup more nondairy milk and 1/3 cup raw cashew pieces. Blend until VERY smooth.
CREAMY LEMON-AGAVE DRESSING
6 oz. (1/2 a 12.3 oz. box)
extra-firm SILKEN tofu
1/4 cup non-dairy milk
1/4 cup fresh lemon juice or
organic bottled
3 Tbs
agave nectar
1/2 tsp salt
1/4 tsp
onion powder
1 small clove garlic, crushed
THE SALAD
12 oz organic baby spinach leaves, from a bag or box already cleaned and dried
14 oz jar marinated artichoke hearts, drained and sliced thinly
8 oz fresh crimini mushrooms, sliced thinly
24 large pieces sundried tomatoes in oil, well-drained and thinly-sliced
To Make the dressing:
Blend the Dressing ingredients in a blender until smooth. Place in a covered jar in the refrigerator until serving time.
Just before serving, distribute the spinach between 6 salad plates and top evenly with the sliced mushrooms, artichoke hearts and sundried tomatoes. Drizzle each salad with about 4 Tbs. of the dressing and serve.
Nutrition Facts
Nutrition (per serving)
: 109.2 calories; 9% calories from fat; 1.2g total fat; 0.0mg cholesterol; 457.3mg sodium; 1065.8mg potassium; 21.2g carbohydrates; 6.2g fiber; 8.5g sugar; 15.1g net carbs; 8.4g protein; 1.5 points.
Enjoy!

Posted by

Bryanna Clark Grogan
at 3:00 PM