Bryanna Clark Grogan's Vegan Feast Kitchen/ 21st Century Table: The kitchen journal of a vegan food writer.. I'm on Facebook and Twitter (see links in sidebar at right).
Tuesday, October 30, 2007
LEGENDARY NOODLE HOUSE IN VANCOUVER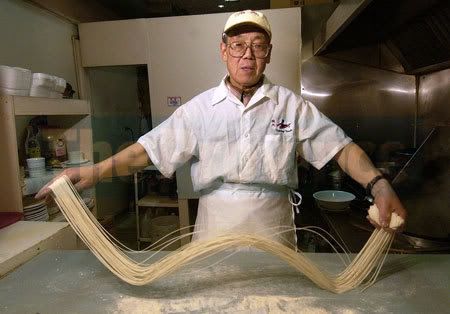 Noodle Making at the Legendary Noodle (photo by Nick Procaylo, The Vancouver Province)
When we got back from Whitehorse, we stopped off in Vancouver for a couple of days to visit relatives. We were dying for some Asian food (the Chinese restaurants in Whitehorse are not vegetarian-friendly, unfortunately), so we had lunch one day at the
Legendary Noodle
on Denman St. (
Here's a map
.)
It's a small, snug place (I read it described as a "hole in the wall"!), but nicely decorated. We sat where we could watch the noodle maker. He had the dough already made and covered on his countertop. When an order came in he would cut off a chunk of the dough and start stretching and folding, stretching and folding, until, about 30 seconds later, miraculously (or so it seemed) there would be thin noodles! They would be plunged into boiling water for another 30 seconds and then mixed by the chef with whatever vegetables, sauces, etc. make the dish. Talk about fast food!
NOTE: THE FOLLOWING VIDEOS ARE JUST ONES I FOUND ON YOUTUBE-- THEY ARE NOT FROM LEGENDARY NOODLE! BUT THE TECHNIQUES ARE THE SAME. BCG
Here's a short video showing the technique for making the dough:Here's a short video in which you can see how the noodles are formed:
The prices are amazingly cheap, the portions generous, and the menu has quite a few vegetarian options. We started with a cold peanut-noodle salad with spinach, and some vegetarian steamed dumplings, chock full of greens and green onions with some smokey sesame oil.
So delicious and fresh that I forgot to take a picture before we ate them all! Sorry!
(They just list the pork dumplings for the big plateful on the menu, but we just asked them to substitute the vegetarian ones-- no problem.)
For the entree, My husband had
noodles with peanut sauce, nicely spicey: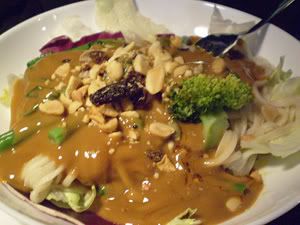 I had a stir-fry with lots of vegetables and thin slices of tofu (vegans, ask them to skip the scrambled egg). It was so tasty in a subtle, smokey way: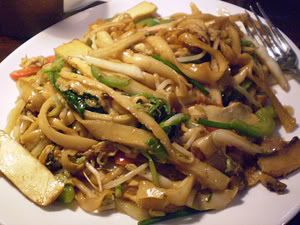 If you eat there (and they have a restaurant on Main St. and one in Richmond, too) try
the Legendary Noodle house tea!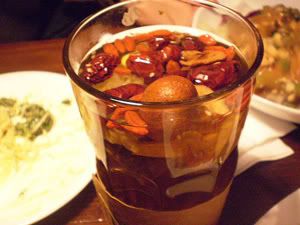 It comes in a big glass and it's green tea with an assortment of exotic dried fruits (goji berry, longan, etc.) and chrysanthemum flowers. It's fruity and fragrant and delicious!
Enjoy!

Posted by

Bryanna Clark Grogan
at 1:56 PM