Bryanna Clark Grogan's Vegan Feast Kitchen/ 21st Century Table: The kitchen journal of a vegan food writer.. I'm on Facebook and Twitter (see links in sidebar at right).
Thursday, October 25, 2007
VEGAN IN WHITEHORSE?

UPDATE: We
went back in 2011
and it was even better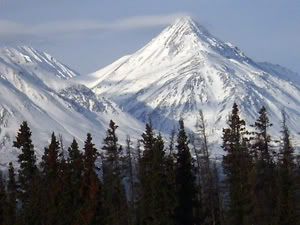 Spectacular mountains outside of Whitehorse, Yukon
DH and I just returned from Whitehorse, Yukon last weekend and I am finally getting caught up enough to blog! What a beautiful area! We were supposed to go in September, when it was a little warmer, but my mother had to move, so we had to postpone the trip. However, the weather was mostly sunny and there was only a tiny bit of snow some of the time.
We were invited by the owner of the
Alpine Bakery
in Whitehorse, Suat Tuzlak, to stay with his family and do a bit of consulting on vegan food in the bakery. I also presented a class in the bakery after-hours, cooking a vegan Italian 5-course menu, attended the inagaural meeting of the new vegetarian society, and spoke about vegetarian/vegan diet at three area high schools. Who knew that there would be so much interest in vegetarianism so far north!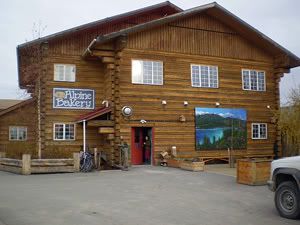 The back door of the Alpine bakery.
And it's not only vegetarianism, but organics, fair trade, community action, social responsibility, and good old fashioned kindness! They live their vision.
Here is Suat's philosophy for the bakery, and their whole life (from their website):
"Our Vision
In the modern world of globalization, this old adage takes on new meaning. Food and food production are affecting and changing our world in subtle and profound ways. Our food choices are no longer geared towards physical health. Instead, deciding what we put on our tables and in our mouths has become a political, environmental, social and spiritual choice.
Alpine Bakery's vision goes beyond daily bread to working more mindfully towards making positive changes in the world. Its mission is to offer wholesome organic food products, promote healthy and sustainable alternative lifestyle choices and foster social and environmental activism to its customers and community.
To fulfill its mission, Alpine Bakery:
is an environmentally conscious company
– producing and selling environmentally friendly, ethical and healthy products including organic produce in support of sustainable agricultural practices and industry. It also maintains environmentally sound business practices and a "green" store in support of environmental initiatives and sources minimally packaged and recycled products.
is a socially responsible corporate citizen
– demonstrating respect for its customers, employees, and the community it serves by providing an open and holistic atmosphere in its bakery along with purchasing locally produced and fairly traded goods, donating goods or labour to community organizations and actively participating in community initiatives;
is a community activist
– promoting and supporting activism by educating and encouraging customers and citizens to participate in social and environmental awareness raising campaigns and opening its building to non-profit and alternative community organizations.
Alpine Bakery – exercising its power of choice."
Suat supports local growers and craftspeople. He has attended "slow food" conferences and supports organics. The bakery is full of literature on all of these areas, including globalization and social issues, which is available for customers to read, or to borrow.
The bakery is a real meeting place (and Suat makes the upstairs available for community meetings, film presentations, and yoga classes). People come in for organic coffee or tea (non-dairy milk available!), or fresh juices, and something from the bakery case, or a generous bowl of hot soup with fresh bread, or pizza (vegan available), sandwiches or sushi (very reasonable prices, too). Everything is vegetarian, most of it vegan. Earth Balance is available instead of butter, if you wish. Invariably, one gets into a conversation with someone-- we met so many great people! (DH got to speak alot of French-- there is a large Francophone community in Whitehorse.)
The bread in the bakery is AMAZING!!
So many varieties (some are baked every day, and others on certain days of the week)-- many wheat-free. Many are brick oven breads and naturally leavened, or sourdough, breads (my favorites!).
Here are some photos from the bakery: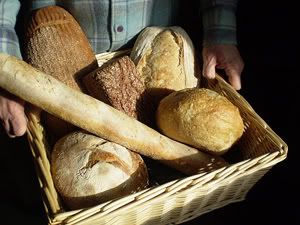 A display basket with some of the breads for a catering job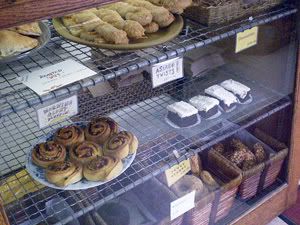 The bakery case with not-too-sweet cinnamon buns and a delicious chocolate-cranberry cake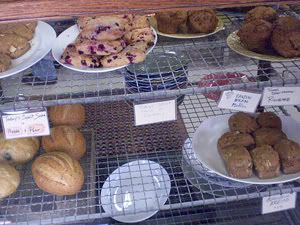 The bakery case, with cranberry scones, spelt muffins, and mini banana breads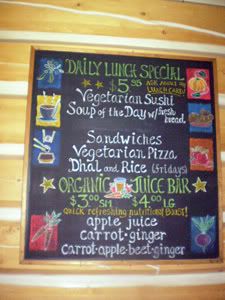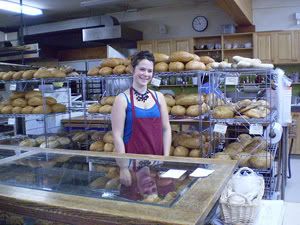 Genevieve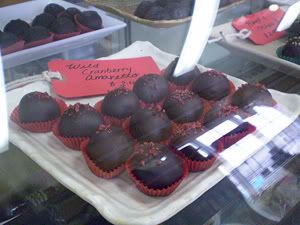 Antonio's handmade organic, fair-trade chocolate truffles, using local berries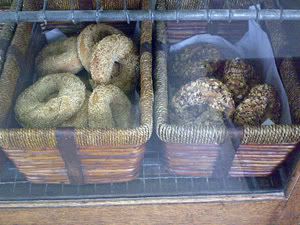 Fabulous bagels-- the real thing!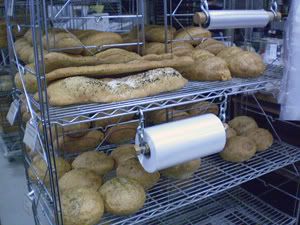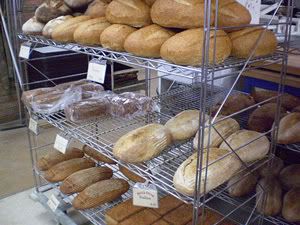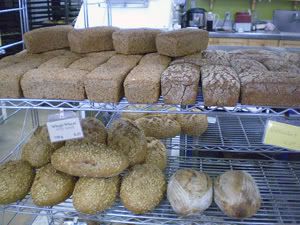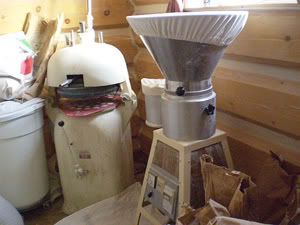 They grind some of their own flours
The brick oven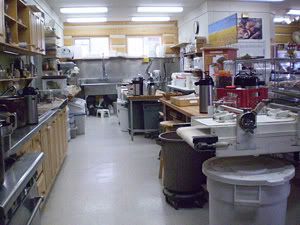 The spacious kitchen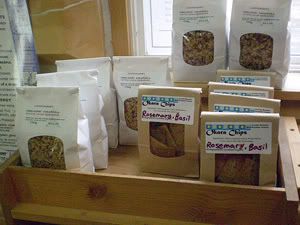 Homemade granola and okara biscuits (okara from their homemade tofu) (they also make soy jerky)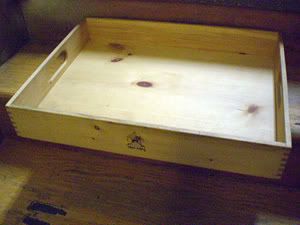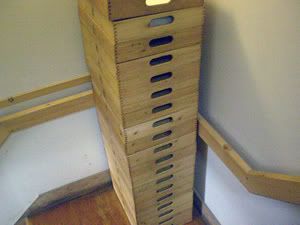 The handmade, locally-made wooden trays used for transporting foods for catering, etc.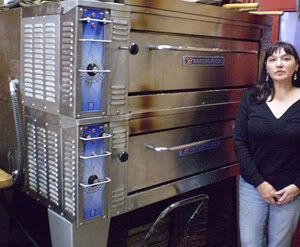 One of the propane ovens
As for Whitehorse itself, there are many interesting art galleries, museums, shops, an excellent library, and, of course, the spectacular scenery.
The Yukon River flows behind the town (you can't see it in the picture below), with the mountains behind: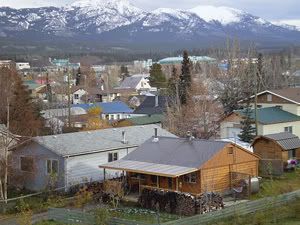 In this picture, you can see some of the large escarpment behind the city: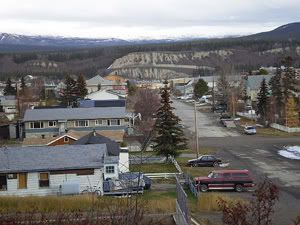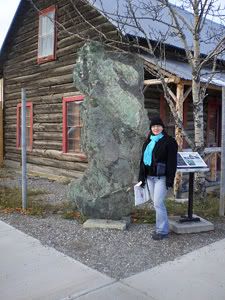 I stand beside a large copper "nugget" outside of one of the old original houses.
Some of the beautiful murals all over the city, depicting First Nations history, as well as Klondike history: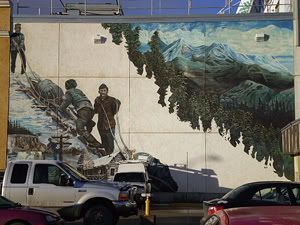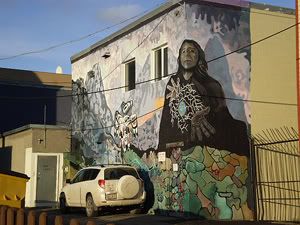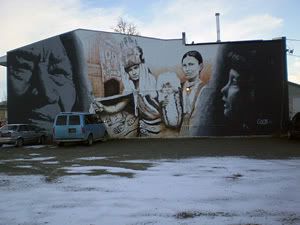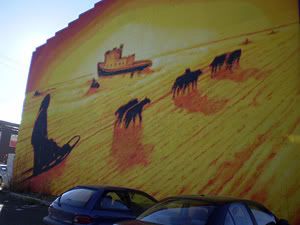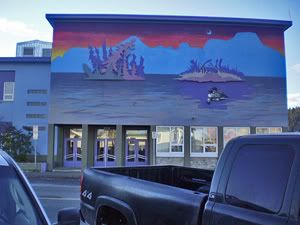 This was Yukon College, an alternative high school where I spoke to some of the students about vegetarian diet.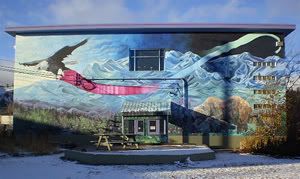 We managed to take two jaunts out of town, one to the south, where we visited a Tibetan lama (well, he was American, but follows Tibetan Buddhism) preparing for a 1000-day retreat in a cabin beside a beautiful lake in the woods. On the way there we stopped at the famous Emerald Lake (not the same lake mentioned above):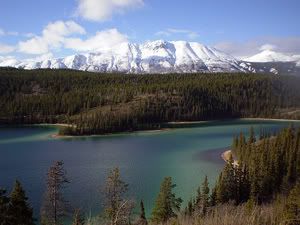 Emerald Lake
We also went on a 2 hour drive North, towards Haines, Alaska and saw beautiful mountains and glaciers (see the first picture).
The downtown has some old building, which give a "Wild West" feel: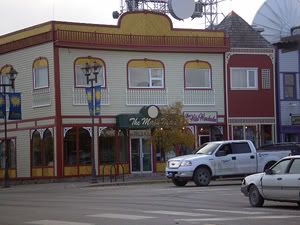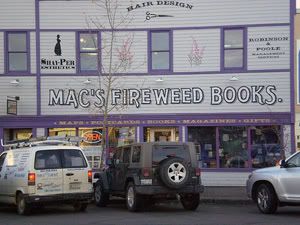 This was great bookstore--
they carried lots of vegetarian and vegan book s( even one of mine!), and the biggest selection of magazines I've seen in a long time, including some very progressive ones.
In fact, we found the community very progressive environmentally. They have a farmers' market that is "plastic bag free", and the city is being inovative about their wast. In Porter Creek, the suburb where we were staying, there is a pilot program:
"With support from the 2007 Canada Winter Games and the Federation of Canadian Municipalities, the City is testing out carts for residential waste. While 56% of the population with curbside waste collection report that they compost, that leaves many people who do not separate their waste.
Some residents cite the cost, the availability and the quality of compostable bags as barriers to composting. In addition, our Public Works employees report injuries from lifting these heavy bags.
To address these issues, we are asking approximately 500 households in Porter Creek (almost half the neighbourhood) to participate in a pilot curbside cart program. From June 2007 to May 2008, participants will use a green ventilated cart for compostables and a black cart for garbage. We hope this will make waste separation easy!"
You can read about their
solid waste program here
.
Of course, this is a great place to go for outdoor recreation-- cross country skiiing, canoeing, kayaking, etc. You can explore some of that
here
. There are many young people who come to Whitehorse to work and play. There are events going on every day, and lots of musicians, even
bellydancers
! They also have a state-of-the-art Recreation center, with pools, rinks, indoor tracks, weight rooms, etc., built for last year's Canada Games. We took advantage of the pool and hot tub a few times!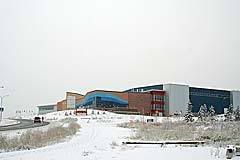 Well, I'm running out of steam here-- I'll probably have more to say about Whitehorse in future! I hope we'll go back in the summer-- there's lots we didn't get a chance to see and do. (There is a fine airport-- there are direct flights from Frankfurt, Germany!) And, we didn't get to see any wildlife, excepts squirrels and naughty but beautiful magpies!

We also didn't see the Northern Lights this time. Many Japanese tourists travel there just to see the spectacular natural light show in the sky.
It was a great experience, and I was so gratified by the interest in a plant-based diet, by everyone's friendliness, and by Suat and Chalia's generosity and kindness.
Here's a Yukon recipe for you:





YUKON HIGHBUSH CRANBERRY JELLY
Highbush cranberries are a fruit of the honeysuckle, and completely different fruit than the lowbush or commercial cranberry. Highbush cranberries grow on a shrub with pointed leaves whereas cranberries grow on a vine with oval leaves. Highbush cranberries have a single seed, which needs to be removed. If you have ever smelled something reminiscent of stinky socks on a stroll through the bush, you are likely very close to a good patch of highbush cranberries. The seeded pulp of the highbush cranberry can be used interchangeably with the pulp of the regular cranberry in any recipe.
4 cups highbush cranberries
6 cups water
Additional water (as needed)
7 cups sugar
1/2 tsp. margarine
1 pouch liquid pectin (Certo)
Bring the berries and water to a boil and simmer for 10 minutes. Crush the berries or put through a food mill. Strain the juice in a cheesecloth-lined sieve. Add any additional water if need to bring the juice up to 5 cups.
Bring the juice and sugar up to a boil. Add the margarine, then the liquid pectin. Bring back to a boil, stirring constantly boil hard for 1 minute. Remove from heat. Skim foam from surface and pour into sterile pint jars and seal. Process in boiling water bath for 5 minutes.
Yield: 8 cups
Enjoy!

Posted by

Bryanna Clark Grogan
at 1:47 PM