Notes from the Vegan Feast Kitchen/ 21st Century Table: The kitchen journal of a vegan food writer.. I'm on Facebook and Twitter (see links in sidebar at right).
Sunday, March 22, 2009
MAKING YOUR OWN YUMMY WHOLE GRAIN DROP NOODLES: VEGAN SPAETZLE (OR GALUSKA)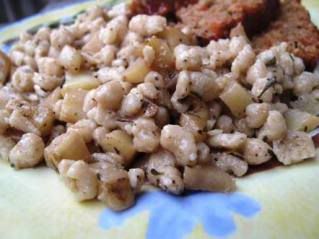 Wholegrain Spaetzle with Browned Parsnips (UPDATE: The recipe used to be at this post, but I had to take it down because it is now in my latest book, World Vegan Feast.)
I really love homemade pasta, but I have to confess I don't make it that often these days! However, there is a quick and easy type of "drop noodle" (or "drop dumpling") that anyone of Northern Germanic or Hungarian descent will know about, but many of the rest of us have more recently discovered. It's called
spaetzle
or
spätzle
or
spätzli
in German (pronounced shpet′slē), and
galuska
or
nokedli
in Hungarian. Similar drop noodles are called
knöpfle
or
knödel
in Southern Germany and Austria; and
knöpfli
in Switzerland. (Some of these words remind me of the Italian dumpling/pasta
gnocchi
.) The German word is literally translated from German as "little sparrow".
You just mix up a batter, let it rest a bit and then scrape the batter (which is like a thick pancake batter) through some sort of device with holes so that it drops into boiling water like little beads. It cooks in a very short time. You drain it and serve it like any pasta, really. Spaetzle are usually served with gravies or cheesey, creamy sauces, or cooked in browned butter, but modern chefs are experimenting with many innovative ways of serving it. It is mixed with cooked greens, for instance, or herbs are added to the batter, or it is served with tomato sauce. A favorite German treatment for spaetzle is
kaesesplaetzle
, which are spaetzle mixed with cream and grilled chopped bacon, then topped with cheese and more bacon, and baked for half an hour or so. I'll have to work on a vegan version of that! But, you see, it can easily be used instead of macaroni or other pasta in casseroles.
Spaetzle seems to be all the rage just now-- like many other cheap, peasant foods of the past. The original version is made with white flour and lots of eggs. I devised a vegan version for the final issue of my newsletter, the Vegan Feast. We liked it fine, but yesterday I wanted to make a whole grain version that wasn't heavy.
White whole wheat flour came to mind, because it is lighter in color and lighter in taste than the ordinary whole wheat flour made from red wheat. Generally speaking, it is best to use an all-purpose or a bread flour for these noodles, because you need gluten to give them some "bite" (especially with no egg to hold them together). However, I only had white whole wheat
PASTRY
flour in my cupboard. That didn't deter me, however, and there is an option in the recipe for using that type of flour, with a little addition. Chickpea flour (or soy flour) provides the protein and color of eggs, and more whole grain goodness.
When I first made this recipe, I didn't have a spaetzle maker, so I improvised. Now I have two different devices, and I also have a food mill and a potato ricer, which can be used to make spaetzle that are more like long noodles (
see pictures here
). Below, I'll post pictures and sources of various devices-- most are inexpensive.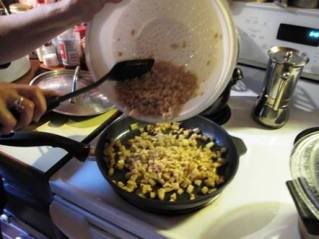 IF YOU HAVE NEVER MADE THESE BEFORE, SOME VISUALS ARE USEFUL! TAKE A LOOK (these are not vegan spaetzle, but it works the same:
Here's a
page with pictures
of making spaetzle in the "Spaetzle hex" (or "Wizard").
Here's a
youtube video
of making them with a sliding spaetzle maker.
My spaetzle were little short ones, but
this video
shows how you can make long ones with the
spaetzle press
(
this one
makes s-shaped noodles!)You can use a
potato ricer
instead.
This video
shows you how to make the batter (albeit, an egg batter), the resting process, and using a sliding spaetzle maker, then sauteing the spaetzle, which I didn't do, but it's an option! She also adds chopped herbs to her batter, which is a nice idea.
COOKING THE SPAETZLE (using a slide spaetzle maker-- I really like this one;
see sources below
):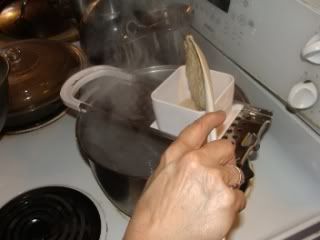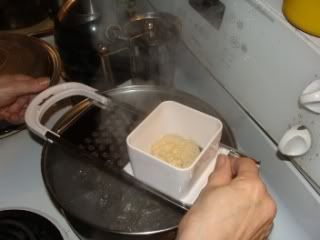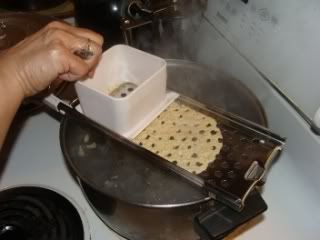 SPAETZLE MAKERS:
IMPROVISED VERSION:
I didn't have a spaetzle maker the first time I made them, so I used a plastic grater-thingy with round holes that came with my mandolin slicer. I pushed the batter through with the back of a soup spoon: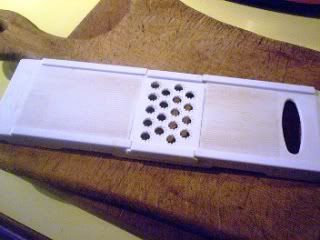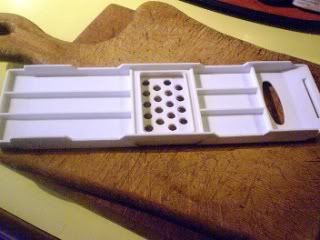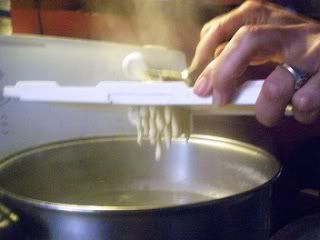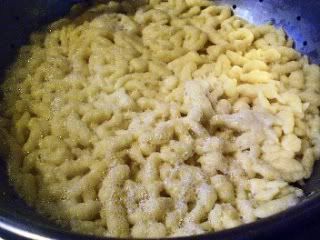 My first batch of vegan spaetzle, made with my improvised device-- this batch was made with unbleached white flour.
It worked fine, but if you want to do this often, check out these spaetzle makers!

(Who knew there would be so many?)
I now have one of these, Nana's spaetzle maker:

Canadian source
US Source
It fits over the pot and you scrape the batter through the holes with a bench scraper.
I also have a Norpro Stainless Steel Spaetzle Maker:

US Source
Canadian Source
Various Other Rotary and Sliding Spaetzle Makers

amazon.com
http://www.kitchenemporium.com/info/38lspaetzle.html
http://www.fantes.com/spaetzle.html
Canada:
amazon.ca
http://www.citychef.ca/xcart/customer/product.php?productid=18145
http://www.goldaskitchen.com/merchant.ihtml?id=24&pid=2548&step=4
Cucuna Pro
Spaetzle Wizard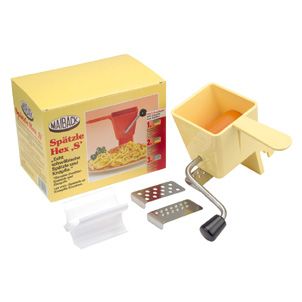 Spaetzle Pan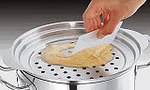 And, why did I not think of using this ?? (Next time!) A food mill, for heaven's sake!

Cheers!

Posted by

Bryanna Clark Grogan
at 12:29 PM


Labels: drop noodles, galuska, parsnips, spaetzle, spaetzle hex, spaetzle maker, spaetzle pan, spaetzle wizard, vegan galuska, vegan spaetzle, whole grain galuska, whole grain spaetzle