Bryanna Clark Grogan's Vegan Feast Kitchen/ 21st Century Table: The kitchen journal of a vegan food writer.. I'm on Facebook and Twitter (see links in sidebar at right).
Sunday, March 15, 2009
HEMP-OAT MILK IN THE SOYQUICK PREMIER 930P (AND A TASTY ACCIDENT!)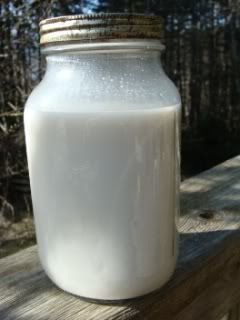 In my
post about making raw hemp milk
, I mentioned using the soymilk maker to make a hemp milk that wouldn't separate so easily. I tried several batches before I got it to my satisfaction-- the results are below-- and it, indeed, does not separate as easily as the raw version. But it does eventually separate after standing in the refrigerator for a day or so. However, you can shake it up and it's just fine.
I had a little accident with one batch that I made, but, never one to waste food, I salvaged something good out of it! You can see that tale below the milk recipe!
Printable Recipe
BRYANNA'S SOYQUICK HEMP AND OAT MILK
Yield: 5 1/2 cups
This is a nice mild nondairy milk. You need the filterless
SoyQuick Premier
Milk Maker 930P to make this milk.
5 1/2 cups water (up to the "minimum" mark in the SoyQuick container)
3/4 cup
shelled hemp seeds
(also called "
hemp nuts
")
3 tablespoons
rolled oats
(oatmeal)
1 1/2 to 2 tablespoons
organic sugar
or
agave nectar
IMPORTANT: IF YOU USE AGAVE NECTAR, DO NOT ADD UNTIL THE MILK COOLS OR IT WILL CURDLE!
(see what happens below!
)
1/2 teaspoon salt
Add water , hemp seeds, and oats to the Soy Quick container. Attach the rest of the machine, plug in and press the "Multigrain" setting.
When it beeps, remove the grinding mechanism, etc: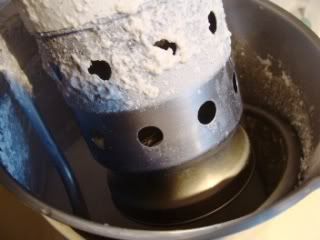 You'll see a residue or hemp seed and oats on the blade protector, etc.
and pour the milk through a cloth inside of a colander placed over a pot (sterilize all equipment with boiling water).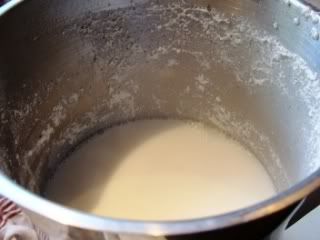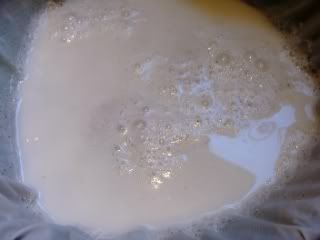 Let it drain and then pull up the sides of the cloth, twist and squeeze until all the milk is in the pot and you are left with a small residue on the inside of the cloth (discard that).
Stir in the sugar and salt, pour the milk into a scalded glass jug or canning jars, cap tightly, and refrigerate.
IF YOU USE AGAVE NECTAR FOR THE SWEETENER, DO NOT ADD IT TO THE HOT MILK, OR THE ACID IN THE AGAVE WILL CURDLE THE MILK! WAIT UNTIL THE MILK COOLS OFF.
(See what happens below!)
The hemp milk will probably separate after a day or so-- just shake it up before serving.
Nutrition Facts
Nutrition (per 1/2 cup):
70.1 calories; 46% calories from fat; 3.7g total fat; 0.0mg cholesterol; 91.5mg sodium; 4.9mg potassium; 5.2g carbohydrates; 0.5g fiber; 2.1g sugar; 4.7g net carbs; 4.2g protein; 1.6 points.
OKAY, SO WHAT ABOUT THAT "ACCIDENT"?
With one of my test batches, I unthinkingly added agave nectar to the fresh, hot hemp milk and poured it into jars. This is what happened: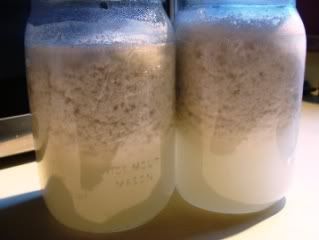 I instantly knew that that "citrusy" flavor I detect in agave nectar is acidity! Not one to waste food, I gently poured the contents of both jars (a little at a time) into the cloth lined tofu press that comes with the SoyQuick. However, the curds were very fragile, so I didn't want to press them. I gathered up the cloth after it had drained for a time in the sink, tied it with a rubber band and drained it on the end of the sink tap: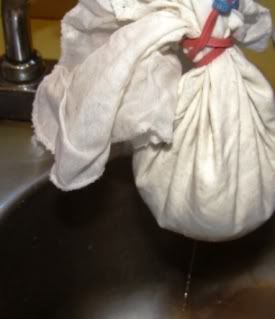 After it drained for several hours, I scraped it out of the cloth into a small bowl and was left with about 1/2 a cup of "hemp curd cheese":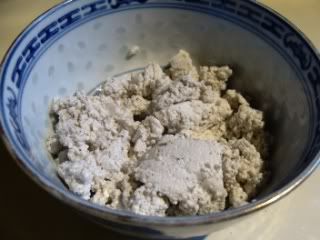 I seasoned the curds with a little salt, garlic, and herbs and used it as a tasty spread: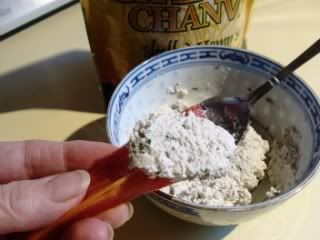 This would probably not be worth doing on purpose very often, as the yield is meager and it would be fairly expensive. But it was certainly good!
Enjoy!

Posted by

Bryanna Clark Grogan
at 5:20 PM