Bryanna Clark Grogan's Vegan Feast Kitchen/ 21st Century Table: The kitchen journal of a vegan food writer.. I'm on Facebook and Twitter (see links in sidebar at right).
Sunday, April 27, 2008
FOOLEEYA-- A YUMMY BEAN DIP; AND A NEW KITCHEN TOY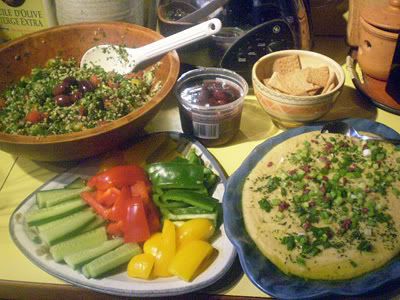 Dinner last night-- tabbouleh, olives, crackers, Syrian bean dip, and raw veggie dippers
You can find the recipe for this simple, but really delicious dip, made with inexpensive yellow split peas, at the end of this post!
Sorry I haven't blogged for a while-- many things keeping me from blogging!
Yes, I have a new kitchen toy! I wanted to get a better indoor grill than the one I've had for a few years (many improvements have been made in grills recently!), so I read reviews and came to the conclusion that a Canadian-made one called
the Breville Ikon Removable Plate Grill
was the one I wanted! It actually beat out the Cuisinart grill in several reviews! But, it can be pricey, so I searched around and got it for a great price-- about $55 less than at London Drugs!-- at a bridal gift online store in Montreal,
Caplan Duval
. There is free shipping within Canada, too! (Americans, check it out on the
Breville USA website
. There is a "retailer locater" on that page.)
BTW, don't confuse this with the Ikon Panini Grill, which does not have removable plates, and a flat plate!
Why did I want a new grill? I wanted one that had higher temperatures, more cooking space, and one that I could cook pancakes on so that I could eliminate an appliance from my over-crowded shelves! This grill is also very nice-looking! The plates are nonstick and dishwasher-safe.
So far, it has exceeded my expectations, cooking not only the ubiquitous veggie burgers and sausages, but kebabs, quesadillas, no-fat has browns, panini, vegetables, pancakes (Use the highest heat setting for pancakes), etc. It cooks very quickly, and you can adjust the heat. It has a drip tray for grease, and you can even tilt the grill a bit with the flick of a switch so that more fat drips out into the tray! You can also adjust the height of the top plate so that food delicate foods are not squished, or if you want the the top plate just hover ing over the food, rather than touching it.
As with all appliances I use often, I leave this out on a shelf near my stove, so that I get as much use out of it as possible. If I buy it, I use it! The other day I used it to quickly and effortlessly heat up tortillas to serve with chile. I'm sure I'll be find more and more ways to utilize this great appliance! (
And, no, I'm not selling it or getting anything for endorsements!)

Here are some pictures demonstrating things I have cooked on it, and the different positions for the top plate:
Pancakes: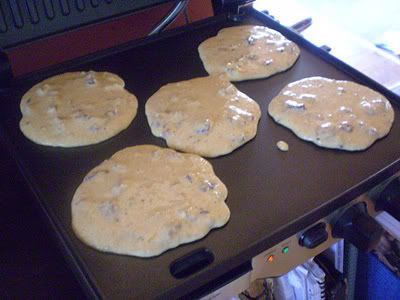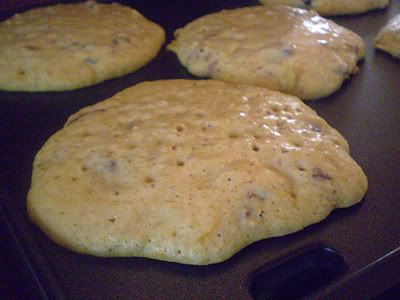 Panini: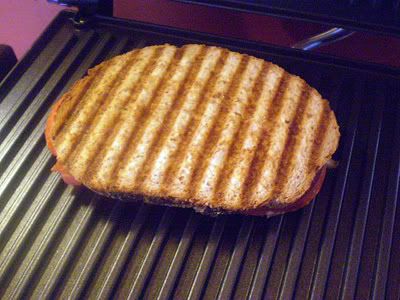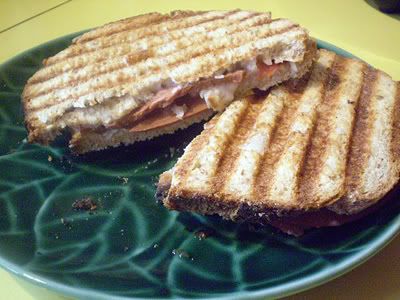 Hash Browns:
Breakfast Quesadilla: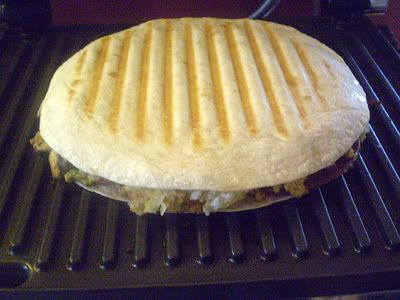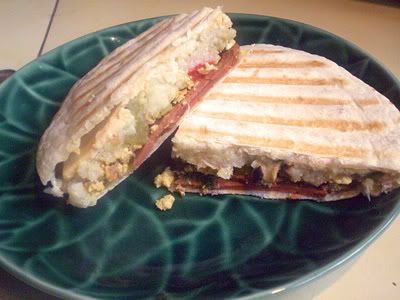 Features: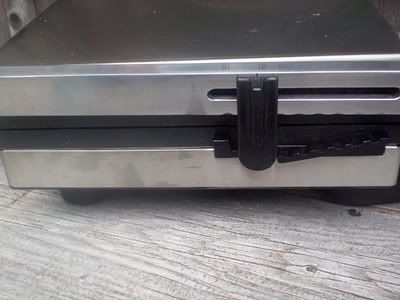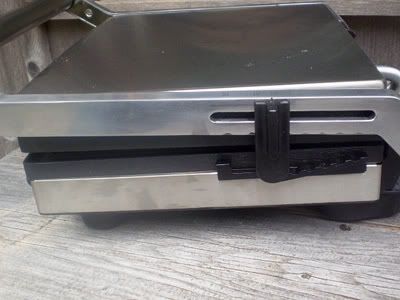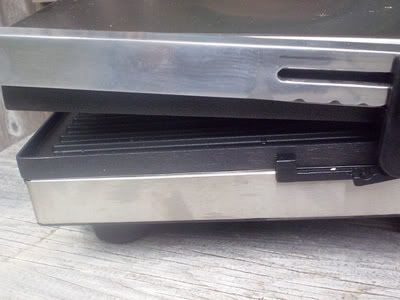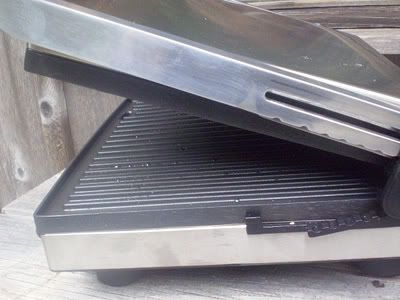 NOW, THAT RECIPE....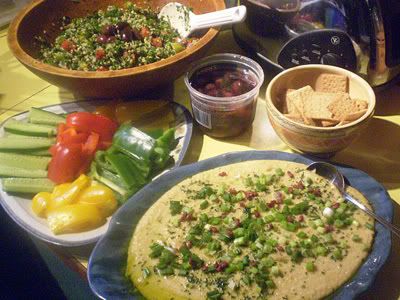 Printable Copy
BRYANNA'S SYRIAN-STYLE BEAN AND ONION DIP
This delicious dip (or spread) is my take on a Syrian dish called Fooleeya, which is made with dried fava (or broad) beans. I have a hard time finding dried fava beans in my area. However, I have noticed that cooked, pureed dried favas taste alot like cooked, pureed dried yellow split peas, so I use the split peas as a substitute, with good results. (They are cheaper, too!) The onions cooked with the peas lend a lovely sweetness to the puree. Serve with crackers, flatbread, or raw veggies. Serve at room temperature.
1 cup dried yellow split peas
3 cups water
3 medium onions, peeled and cut into wedges
1/4 cup good extra virgin olive oil (divided)
2 tablespoons fresh lemon juice
2 teaspoons salt
Garnish:
1/4 cup (more or less) chopped green onions
1/4 cup chopped parsley
freshly-ground black pepper to taste
Optional:
2 tablespoons pomegranate seeds (many markets now sell these fresh in packages in the produce section-- they can be frozen)
Place the split peas, water and onion wedges in a medium pot and bring to a boil. Turn down to medium-low, cover and cook for 30-60 minutes, or until the peas are softened and the water is almost absorbed.
Pour the mixture into a food processor and process until smooth (Take the pusher out of the funnel and cover the hole loosely with a folded clean tea towel, so that steam does not build up inside the processor.) Add 2 tablespoons of the olive oil, and the lemon juice, salt and pepper. Process briefly again.
Scoop the mixture onto a large , flat bowl, or plate with a bit of a depression in it (see picture). Smooth the mixture out. Drizzle with the remaining olive oil and use the back of a clean spoon to spread the olive oil around evenly. Allow to cool to room temperature, then sprinkle with the garnishes.
Serve with raw vegetable dippers, crackers or flatbread. Leftovers should be refrigerated in a covered container, but bring to room temperature before serving.
Servings: 8

Nutrition Facts
Nutrition (per serving):
165.5 calories; 37% calories from fat; 7.1g total fat; 0.0mg cholesterol; 478.6mg sodium; 331.4mg potassium; 20.2g carbohydrates; 7.1g fiber; 4.1g sugar; 13.1g net carbs; 6.6g protein; 3.1 points.
Enjoy!

Posted by

Bryanna Clark Grogan
at 1:37 PM