Bryanna Clark Grogan's Vegan Feast Kitchen/ 21st Century Table: The kitchen journal of a vegan food writer.. I'm on Facebook and Twitter (see links in sidebar at right).
Thursday, April 3, 2008
HOME FROM SEATTLE VEGFEST 2008!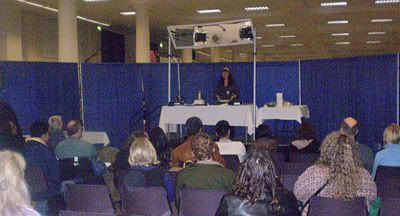 Starting one of my workshops at
Seattle Vegfest
last weekend.
I was honored to be invited to present two workshops last weekend at Seattle Vegfest. What a wonderful event! It's so nice to be with so many vegans and vegetarians, to see so many interested people, and to be able to taste so many new foods! The intrepid and
incredibly
hardworking organizers and volunteers worked so hard to pull off this great 2-day vegetarian event.
Vegetarians of Washington
signed up over 600 new members on Saturday alone! What a coup!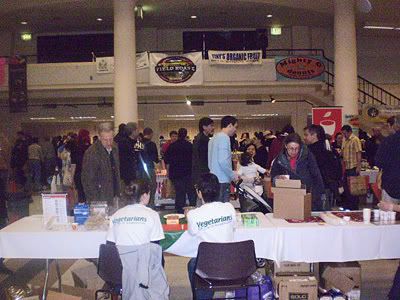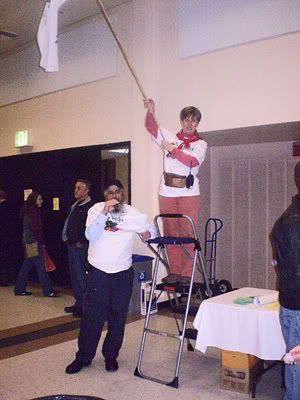 VegofWa's intrepid leaders, Stewart and Amanda!
I demonstrated two easy Italian dishes on Saturday morning-- Pasta alla Puttanesca, and Easy Tuscan Beans with Spicy Vegetarian Sausage
(see the recipes at the end of the post)
. On Sunday I demonstrated two easy pie recipes-- French Strawberry Pie and Chocolate Banana Creme Pie. Both demos were well received. There were
cooking demos
and
lectures
going all day, both days, all free with the $5 entrance fee-- quite a bargain when you consider all of the food samples you could scarf down throughout the day!
Vegfest was so busy that, at times, one could hardly walk down the aisles! But everyone was polite and helpful, and the mood was generally upbeat and exciting!
I didn't have alot of time to browse, but I did make it to most of the booths.
A couple of products particularly intrigued me: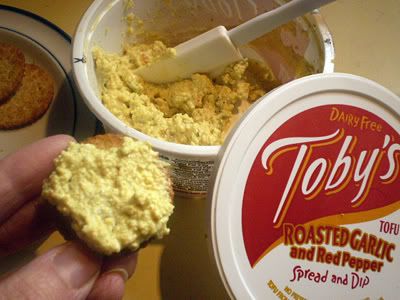 Toby's Tofu Paté, which is like a delicious deviled egg mixture, but vegan!
There are 5 different varieties. Unfortunately, they are not sold in Canada.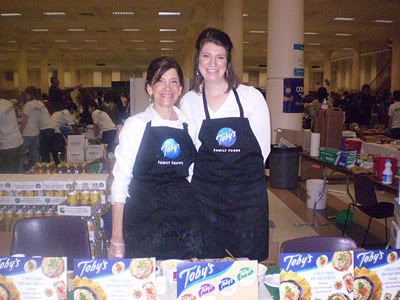 And the second product: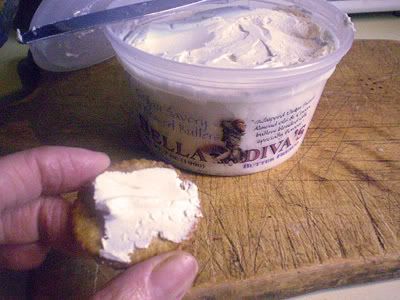 Bella Diva's Vegan Savory and Sweet Butters
are whipped almond oil and cocoa butter blended with specialty flavors. It doesn't really taste like butter, but it's very tasty and rich. For vegans who want a raw spread, or who prefer not to use margarine, even a good one like Earth Balance, or who just want something different, this is a delicious new product. It is certainly better for you than
coconut oil
! There is a plain version, and also Praline, Orange Almond, and Blackberry, sweetened with agave nectar. Check out
their page
for the ingredients, etc..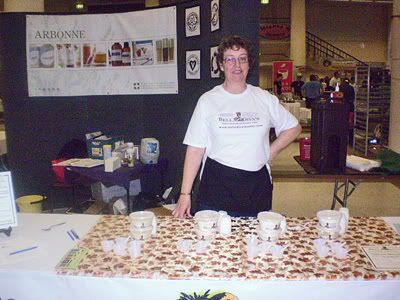 Bella Diva's CEO, Lisa Chambers
Here are some more pictures from Vegfest (and see more here, on Stuti's blog). I'll be blogging a little more about products, etc., in the near future.
VegFest Bookstore, run by The Book Publishing Co., my own publishers (that's Bob with the ponytail!)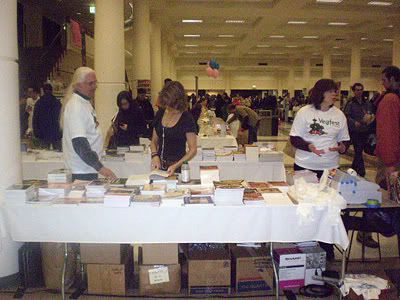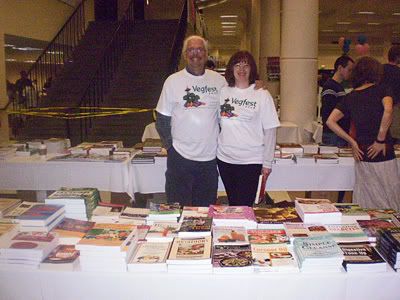 Doing one of my demos: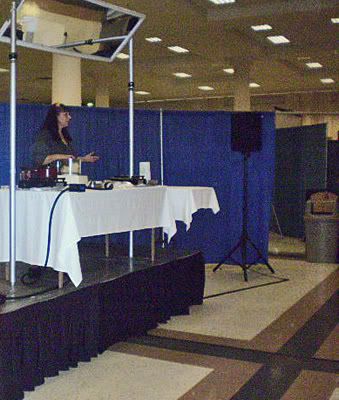 Chat Mingkwan, author of Buddha's Table: Thai Feasting Vegetarian Style, and Vietnamese Fusion, two great cookbooks. He's a teacher and cooking tour guide as well!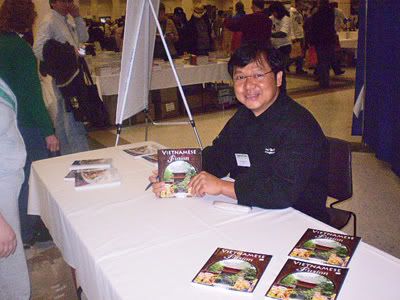 Manitoba Harvest Hemp products booth (the Hemp Bliss! people!)-- their organic hemp milk is creamy and delicious!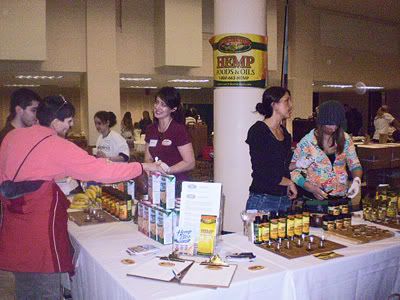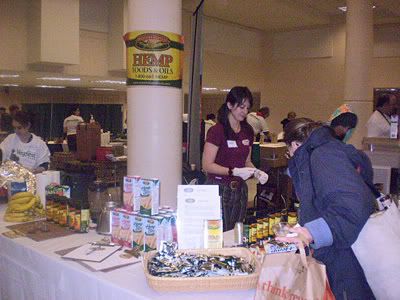 MORE VEGFEST SHOTS: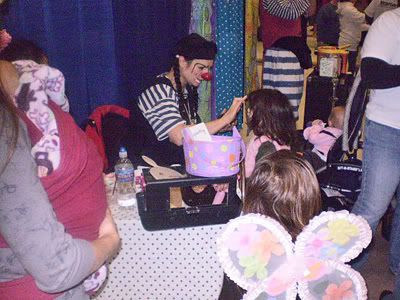 A Vegfest clown for the kids!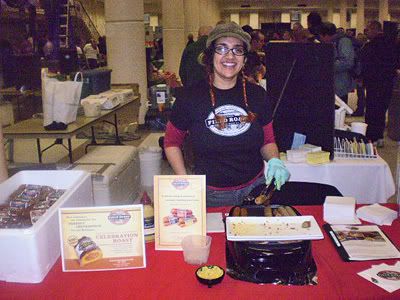 The Field Roast booth!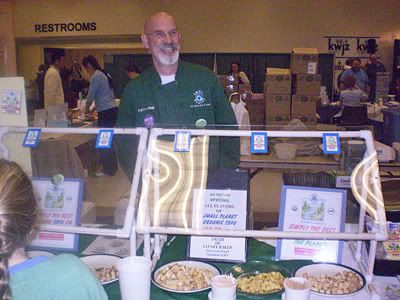 Small Planet Organic Tofu-- delicious marinated tofu!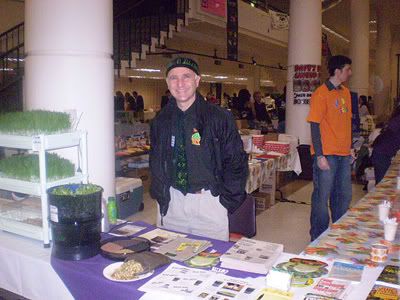 Steve Meyerowitz, the Sproutman!
My publisher, Bob Holzapfel, of
The Book Publishing Co.
, took his sister, me and DH, Steve, the Sproutman, Chat, and
Tofu
Cookery
author,
Louise Hagler
out for a lovely dinner at the upscale Seattle vegetarian restaurant,
Carmelita
, on Saturday night. The food was generally really good, but these are the dishes we really liked (sorry the photos aren't very good-- the lighting was pretty bad!):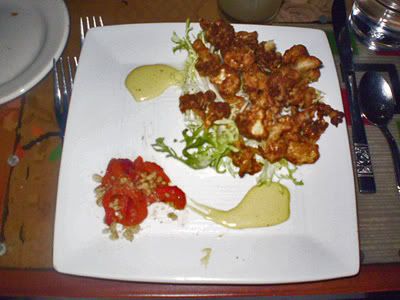 Roasted Cauliflower appetizer-- very crispy!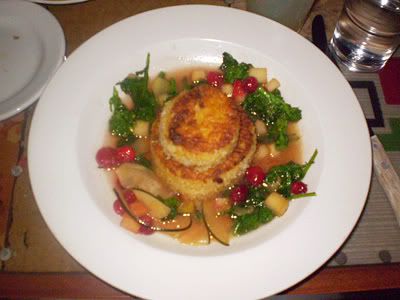 Pumpkin Risotto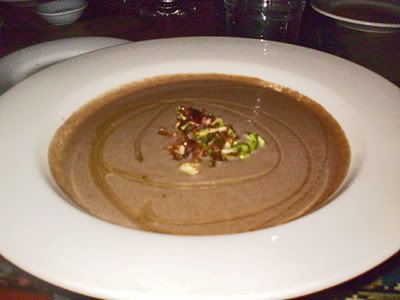 Smoked Mushroom Soup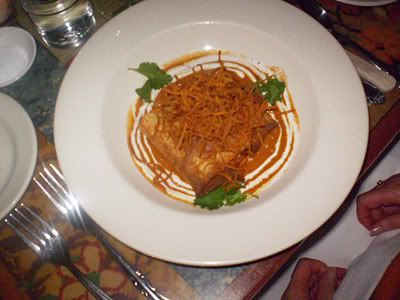 Stuffed Chickpea Crepe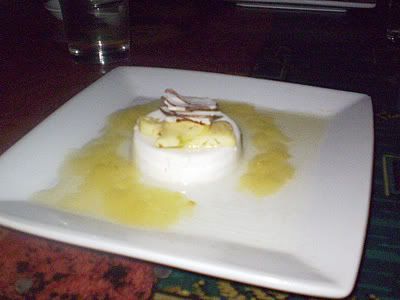 Coconut Panna Cotta with fresh pineapple
RECIPES FROM MY ITALIAN WORKSHOP, Saturday, March 29th at 10:40 AM:



BRYANNA'S VEGAN SPAGHETTI ALLA PUTTANESCA: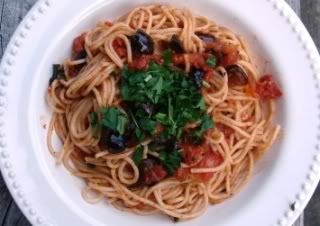 Recipe here, or Printable Recipe
AND: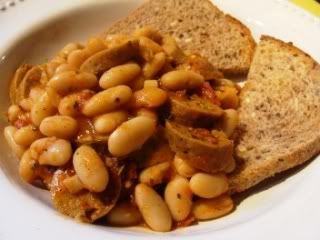 Printable Recipe

BRYANNA'S QUICK AND EASY TUSCAN-STYLE WHITE BEANS WITH SPICY VEGETARIAN SAUSAGE
Serves 4

This can be made with leftover homemade spaghetti sauce, or a good jarred sauce, canned or frozen cooked white beans, and commercial spicy vegetarian sausage. Nothing could be easier, but it's a very delicious and satisfying meal. Serve with, or on, crusty bread.

This is an easy adaptation of a recipe in
Nonna's Italian Kitchen
.

2 T. extra-virgin olive oil
(optional)
(

NOTE: If you don't want to use any oil, brown the "sausage" slices in a large nonstick skillet sprayed with oil from a pump sprayer, and add the garlic, raw and crushed, to the pot with the beans.)

2 cloves garlic, chopped
about 3 and 1/2 oz. spicy veggie sausage
(I used one Tofurkey Italian Veggie sausage or 1 Field Roast Italian Sausage), thinly sliced
3 c. cooked, drained
(or 2 cans, drained
) cannellini, or white kidney, or Great Northern beans
1 c. vegetarian broth
1 c. tasty homemade or vegetarian tomatoey spaghetti sauce
pinch dried red chile flakes
1 tsp. crumbled dry sage
(or 1 T. chopped fresh
)—do not use powdered sage
1 tsp. dried rosemary, crumbled
(or 1 T. fresh, chopped)

lots of freshly-ground black pepper
salt to taste

In a medium pot or deep skillet, heat the olive oil. Saute the garlic briefly, then add the "sausage"slices and brown briefly. Add the remaining ingredients and simmer for about 10 minutes, or until the flavors are mixed.

Serve with crusty bread, or, for a new twist on the "beans on toast" theme, serve it on the toast.


Nutrition Facts (with oil)
Nutrition (per serving):
325.1 calories; 29% calories from fat; 9.9g total fat; 0.0mg cholesterol; 163.3mg sodium; 529.9mg potassium; 33.3g carbohydrates; 9.5g fiber; 0.0g sugar; 23.8g net carbs; 20.7g protein; 6.5 points.


Nutrition Facts with no oil added:


Nutrition (per serving)
: 265.4 calories; 11% calories from fat; 3.2g total fat; 0.0mg cholesterol; 163.1mg sodium; 529.8mg potassium; 33.3g carbohydrates; 9.5g fiber; 0.0g sugar; 23.8g net carbs; 20.7g protein; 4.8 points.


Enjoy!

Posted by

Bryanna Clark Grogan
at 3:07 PM


Labels: beans, cannellini beans, miso, pasta, Portland Vegfest, puttanesca, Seattle Vegfest 2008, spaghetti, Tuscan beans, Vegetarians of Washington, veggie sausage, white beans, white kidney beans