Bryanna Clark Grogan's Vegan Feast Kitchen/ 21st Century Table: The kitchen journal of a vegan food writer.. I'm on Facebook and Twitter (see links in sidebar at right).
Tuesday, July 31, 2007
RANDOM HAPPENINGS AND MEALS ON DENMAN ISLAND; FAVORITE LOWFAT "BUTTER"

We, like many others on either coast, have had company all week-- visitors from land-locked Michigan (not counting the lakes!). They loved our area and we got to do some sight-seeing, which one rarely does in one's home region. Anyway, not much time for blogging, so
here's a bit of this and that, including a recipe: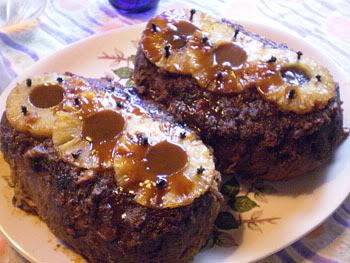 My Seitan "Ham".
I wanted my guests (Lydia is a vegan personal chef) to try my vegan seitan "ham", so I made some and served it in the traditional manner. (
Update:
I'm still planning a seitan cookbook and this recipe will be in it.)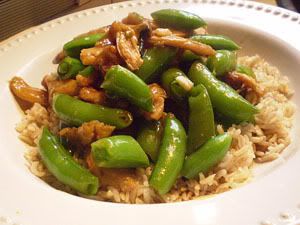 Snap peas from our garden, stir-fried with Soy Curls
(see here for info).
The recipe, which I made for a casual lunch for our guests one day, is adapted from the Tofu with Snow Peas recipe in my book "
Authentic Chinese Cuisine for the Contemporary Kitchen
".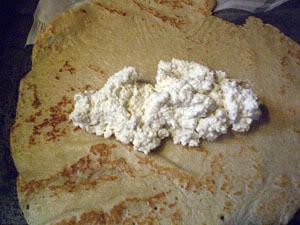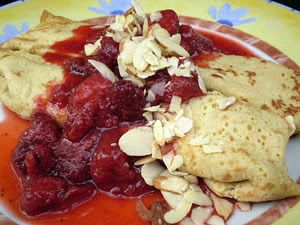 Strawberry Crepes or Blintzes.
Blintzes are crepes (my vegan Tofu Crepes from my book "
Soyfoods Cooking for a Positive Menopause
", in this case) filled with cottage cheese and are supposed to be folded into bundles and browned in a bit of butter, but I usually bake them instead. I make my own
Tofu Cottage Cheese
. For fancier filled crepes (like the bottom photo), I use my
Tofu Cashew Ricotta
from my book "
Nonna's Italian Kitchen
". You could also use a commercial tofu "cream cheese", such as Tofutti or Sheese brands (or my new
Okara/Cashew Ricotta
).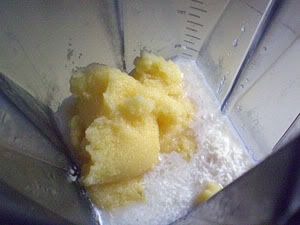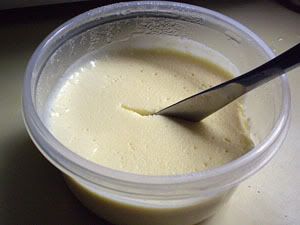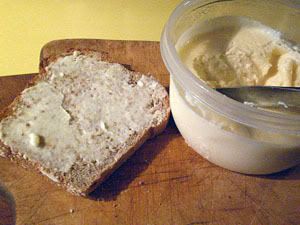 My low-fat "Corn Butter".
After the excesses of this last week, I'm trying to stay on Weight Watcher's Core Plan as much as possible, so I made some of my "Corn Butter", so I don't have to feel guilty when I "butter" a piece of DH's fresh-baked wholewheat bread!
I have fooled around with low-fat "fake butters" for years. This is my current favorite (Update, 2012: it still is!)-- tastes very good, melts and only 13.5 calories per tablespoon!
NOTE: Don't try to use this for baking or frying, etc., instead of butter or margarine, though-- it's only meant for spreading, topping potatoes, etc
.
UPDATE, 2011: To make this spread richer, but still fairly low-calorie, add 1/2 cup of your favorite vegan "buttery spread" (see the recipe for my
homemade vegan palm oil-free "Buttah"
) to the full recipe (or 1/4 cup to the half recipe at the end). Add it after you have blended it smooth and blend a little more. Then refrigerate as usual. This makes a spread with about 40 calories per tablespoon instead of about 100 for butter or margarine.
Printable Recipe
BRYANNA'S COCONUT-CORN BUTTERY SPREAD (ULTRA LOW-FAT, LOW-CALORIE) (WW Core Plan Compatible) Updated Dec. 8, 2008
Yield: about 2 cups
This spread is easy, inexpensive, and needs no exotic ingredients, such as kosher gelatin. It can be soy-free. I never think of coconut in conjunction with low fat, but grated dessicated coconut actually contains only about 150 calories per 1/2 cup (1/2 cup of coconut milk contains about 200 calories, and coconut cream about 100 calories a tablespoon!) and contains some fiber. Don't leave it out-- it adds some richness to the recipe.
This WHOLE recipe contains less than the amount of calories in 4 1/2 tablespoons of butter or margarine, and about the same amount of fat as 7 teaspoons of butter or margarine!
1/3 cup
corn flour
(see Cooking Tips below) or
yellow cornmeal
(*NOTE: Corn flour makes a smoother mixture than cornmeal, if you don't have a heavy-duty blender; more info below in Cooking Tips)
1/3 cup cold water
2/3 cup hot water
1/2 cup warm water
1/2 cup finely shredded
unsweetened dessicated coconut
1/3 cup nondairy milk
2 teaspoons
lemon juice
1 1/4 teaspoons salt
Mix in a microwavable bowl or a small saucepan, mix the cornmeal and 1/3 cup of the cold water. Stir in the hot water.
Cook in a
double-boiler
-type arrangement (with the saucepan inside of another pan of simmering water) for 10 minutes, OR MICROWAVE on high power in the bowl for 1 minute, whisk, microwave 1 minute more, whisk, and microwave 1 minute more.
Place this in a
blender
along with the warm water, coconut, lemon juice, and salt.
Blend for several minutes, until as smooth as possible (this is important). Be patient! It will have a bit of graininess from the coconut, but should not have much.
Place in a covered container in the refrigerator. It firms up nicely, but remains spreadable. It's good on veggies and potatoes, too, and you can add garlic and broil it on cut bread for garlic toast (maybe with a sprinkle of
soy parmesan
).
TO MAKE HALF THE RECIPE (1 cup):
For the mush, use:
2 3/4 T.
cornmeal
or
corn flour
(See *Note about cornmeal and corn flour in main recipe above; and more info below in Cooking Tips)
2 3/4 T. cold water
1/3 c. boiling water
If microwaving, cook in 45 second increments, instead of 1 minute ones.
To the mush add:
1/4 c. warm water
2 3/4 T. non-dairy milk
1/4 c.
unsweetened shredded coconut
5/8 tsp. salt
1 tsp. lemon juice
Nutrition Facts
Nutrition (per 2 tablespoons)
: 27.8 calories; 53% calories from fat; 1.7g total fat; 0.0mg cholesterol; 151.9mg sodium; 27.3mg potassium; 2.8g carbohydrates; 0.6g fiber; 0.2g sugar; 2.2g net carbs; 0.6g protein; 0.6 points.
Cooking Tips
CORN FLOUR
Corn flour is NOT the same as cornstarch (confusingly, what we call "cornstarch" in North America is referred to as "corn flour" in the UK)- it's very finely-ground yellow cornmeal. I can find it in the Asian or Indian section of my supermarkets, but also look for it in Indian (East Asian) markets and health food stores (
Bob's Red Mill
packages an organic variety).
*Note: If you can't find corn flour,
or if you prefer to use organic products, grind the finest
yellow cornmeal
you can find in a clean
coffee/spice mill
until it is powdery (this is important), or grind yellow cornmeal on the finest setting of your
electric grain mill
(I had to run it through mine twice).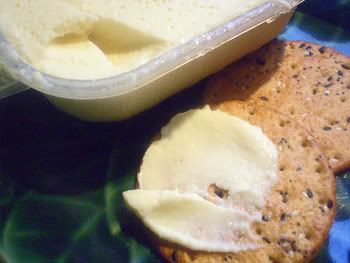 Enjoy!

Posted by

Bryanna Clark Grogan
at 12:16 PM