Bryanna Clark Grogan's Vegan Feast Kitchen/ 21st Century Table: The kitchen journal of a vegan food writer.. I'm on Facebook and Twitter (see links in sidebar at right).
Sunday, September 24, 2006
RED LENTIL/TOFU CURRY, FAMILY PHOTOS & WHAT WE'VE BEEN EATING THIS WEEK

The above picture is a portrait of my Peruvian (paternal) grandmother, Clotilde Roncagliolo de Urbina, painted in the 1950's by my mother, Eve Tonge Urbina. I have it hanging on my wall, but one of my Peruvian cousins recently asked for a copy of it, which is why I took a photo of it. My mother was a professional portrait artist and her father, Gilbert Tonge, was a well-known California artist and muralist.
Spice Island Vegan
, who has met my mother, wondered what my mother looked like when she was young (see
photo
of her now, at age 88), so I'm adding (Sept. 25) a photo I came across recently of the Urbinas when my family visited Peru in 1954. I believe this was taken at Christmas.
My parents are on far right of the picture, my father, Alejandro, standing, and my mother sitting in front of him (she's very obviously the non-Peruvian!). My grandmother is in the very center, holding a baby (I don't know who this was). I (age 6) am in the second row, third from the left, with barrettes in my hair; my sister Karin (age 7) is in the first row, far right.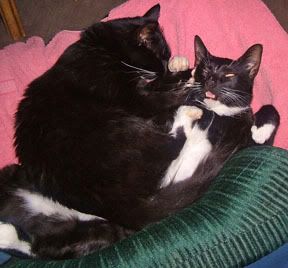 Our sister and brother kitties, Tina and Ringo.
Ringo looks oh-so-dignified, doesn't he?
Now for the food...I'm not going to tease you with more newsletter stuff, which is mostly what I have been cooking. Below are photos and descriptions of some of the more simple meals we've been having this week: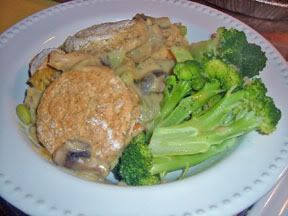 Chikn Pot Pie
This is a recipe from the Dec 04/Jan 05 Vegan Feast newsletter, but I used a biscuit topping-- actually, plain version of the scone dough I posted
here
. I used only 1 T. sugar, and no additions except a tsp. of dried basil.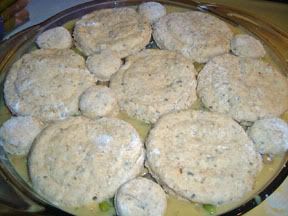 The filling consists of
SoyCurls
, which are tender TVP-like morsels made from the whole soybeans (and they really have the taste and texture of chicken), with a creamy gravy, green soybeans, sweet potato, etc.. The original recipe calls for fennel and leeks, but I didn't have any, so I used celery and onion. It was still good!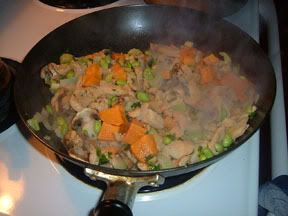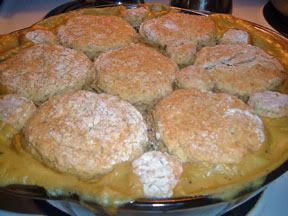 Actually, my husband goes nuts over it!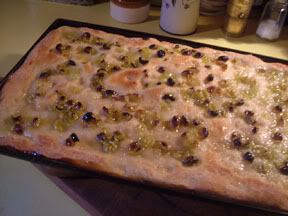 Grape Focaccia
This is a recipe from the Oct/Nov 04 Vegan Feast newsletter, but you don't really need a recipe. I happened to be making
pizza
that day, so I made extra dough just to make this with some organic grapes I was given. It's one of my favorite Autumn treats! Basically, use your favorite pizza or focaccia dough (if you use pizza dough, make it thicker than a pizza), let it rise for 1/2 an hour in the pan, then "dimple" the dough with your finger tips and place grapes on top (green or red, preferably seedless). I squish the grapes in my hands a bit to make them exude their juice. Then sprinkle with sugar-- it can be coarse if you like. Bake at 400 degrees F for about 25 minutes. Eat hot...yum!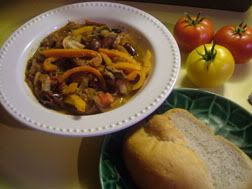 Italian Sausage Stew
This was a real spur-of-the-moment thing. I just sauteed a sliced onion, orange bell pepper, yellow bell pepper, a few mushrooms, lots of garlic, and two sliced Tofurkey Italian Veggie Sausages in a little olive oil with 4 medium garden-fresh tomatoes (two red and two yellow). I simmered it for about 10 minutes. I added about 1/2 cup of dry red wine, a handful of fresh basil, and salt and pepper. At the last minute I added some sliced sundried tomatoes and kalamata olives, but I think that was overkill. It was actually a bit too rich-tasting! The leftovers made a geat bruschetta topping, though!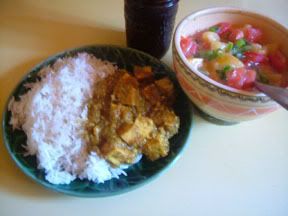 Red lentil and Tofu Curry with a sort of Indian-style "salsa".
This was a recipe I copied down from a June 1999 Gourmet magazine a long time ago and always meant to try. It was pretty quick to make, and I served it with basmati rice and a sort of Indian "salsa" made from red and yellow diced tomatoes from our garden, green onions, lemon juice, salt and pepper, and homemade plain soy yogurt (that was good!).
The curry was pretty dull, so I jazzed it up as I went along. It was tasty in the end, and certainly cheap!
Printable Recipe
RED LENTIL AND TOFU CURRY, BRYANNA'S VERSION
Serves 2 or 3 with rice
1 small onion, thinly sliced
4 cloves garlic, minced
1/2" piece of ginger, grated
1 T. olive oil
1/2 cup
split red lentils
3 cups water
1/2 tsp. salt
1 T. olive oil
1/2 lb. firm tofu, in 1/2" dice
1 tsp. tumeric
1/2 tsp. EACH curry powder, ground cumin, salt, mustard powder, paprika
1/4 tsp. EACH ground cloves and coriander
pinch cayenne (or to taste)
a small cinnamon stick
2 T. lemon juice
Saute the onion, garlic, and ginger in the first T. oil until the onion is softened. Add to the red lentils, wit the water and first 1/2 tsp. salt in a saucepan. Bring to a boil, then simmer, uncovered, for about 20 minutes, or until the red lentils have softened.
Meanwhile, heat the second T. of oil in a large
nonstick skillet
. Add the tofu and all of the spices (except the cinnamon stick). Sate until the tofu is coated with the spices.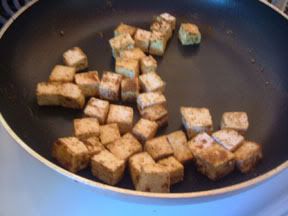 Stir the tofu into the lentil mixture and add the cinnamon stick. Simmer at medium heat, stirring often, until the mixture cooks down to a thick stew-like mixture, being careful not to let it scorch. remove the cinnamon stick and discard, and stir in the lemon juice before serving.
Enjoy!

Posted by

Bryanna Clark Grogan
at 4:41 PM