Bryanna Clark Grogan's Vegan Feast Kitchen/ 21st Century Table: The kitchen journal of a vegan food writer.. I'm on Facebook and Twitter (see links in sidebar at right).
Thursday, September 21, 2006
SNEAK PREVIEW; PUMPKIN-CREME CHEEZE-TUNNEL CAKE WITH CARAMEL SAUCE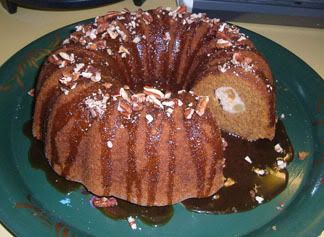 UPDATE: I added the recipe for this cake to my blog here
:
http://veganfeastkitchen.blogspot.ca/2011/10/pumpkin-tunnel-cake-w-lemon-ginger.html
This entry will be short and sweet (in more ways than one!). I had a glitch this morning with my camera software and just wasted 2 hours!
Anyway, yesterday I tested this cake for the upcoming
Vegan Feast Newsletter
, which contains Thanksgiving and Christmas recipes, so I can't divulge the recipe. I've been wanting to do a vegan "tunnel cake" for a long time, and this seemed a good opportunity.
It turned out really well! The pumpkin cake tastes richer than it really is, and it's moist and tender, not heavy. The "tunnel" is a ring of tangy lemon "creme cheeze" (homemade) with chunks of organic candied ginger. (I might make more of the filling next time for a bigger "tunnel".) I topped it off with a caramel sauce and toasted pecans. Divine!
I just used a regular
bundt pan
, BTW-- didn't need one of those special
tunnel cake pan sets
. (That would be great for ice cream cakes, though!)
I plan to work on more vegan "tunnel cakes" in the future!
Have a sweet day!

Posted by

Bryanna Clark Grogan
at 12:28 PM