Bryanna Clark Grogan's Vegan Feast Kitchen/ 21st Century Table: The kitchen journal of a vegan food writer.. I'm on Facebook and Twitter (see links in sidebar at right).
Thursday, June 22, 2006
HAVEN'T BEEN BLOGGING MUCH LATELY!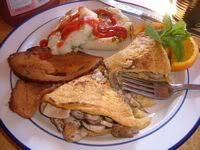 Vegan Omelet made with leftover Soy and Seitan Ham, mushrooms, and my Vegan "Gruyere" (UPDATE: recipes is in my new book coming out in Sept. 2011)
This has been the craziest week! It's almost over, thank goodness. Here are some pics and descriptions of recent quick meals, so quick, most of them, that I didn't even use a recipe: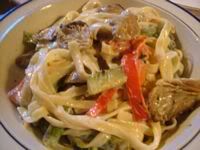 Pasta ala Primavera with wild oyster mushrooms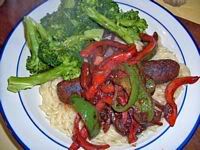 Tofurkey Italian Veggie Sausages with sautéed mushrooms, onions and peppers in red wine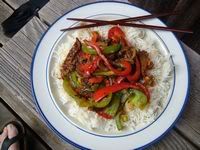 Chinese Pepper Steak made with leftover Seitan "Steaks" (UPDATE: the steak" "recipe will be in my new book coming out in Sept. 2011)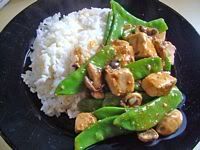 Stir-fried Tofu and Snow Peas
BRYANNA'S STIR-FRIED TOFU AND SNOW PEAS
Serves 2
A Cantonese favorite adapted from my book "
Authentic Chinese Cuisine for the Contemporary Kitchen
".
6-7 oz. firm or extra-firm regular (NOT silken)tofu, cut into 1/2" cubes
1 T. vegetarian "oyster sauce" (homemade
vegetarian "oyster" sauce
recipe)[commercially known as "
vegetarian stir-fry sauce
"])
2 tsp. soy sauce
2 tsp. dry sherry
2 tsp. cornstarch
dash white pepper
1 T. oil (Chinese cold-pressed peanut oil is a tasty choice--
Lion&Globe
brand is a good one)
Vegetables:
1/4 lb. fresh or frozen snow peas, trimmed and stringed
1/2 c. sliced celery
4 large mushrooms, sliced
1 clove garlic, minced
Cooking Sauce:
1/2 c. water
1 T. dry sherry
1 T. soy sauce
1 T. vegetarian stir-fry sauce (see above)
1 T. cornstarch
1 tsp.
roasted (Asian) sesame oil
1/4 tsp. sugar
Mix the tofu cubes with the first tablespoon of "oyster" sauce and the 2 tsp. each soy sauce, sherry, and cornstarch, and the pepper. Set aside while you prepare the vegetables.
Heat a large, heavy (nonstick, if possible) wok, stir-fry pan, or heavy skillet over high heat. When it's hot, add the oil. When the oil is hot, add the tofu and garlic and stir-fry until the tofu begins to brown. Add the mushrooms and celery, and the snow-peas. Stir-fry for about 2 minutes, adding drops of water if the mixture begins to stick. Add the Cooking sauce and stir until it bubbles and thickens. Stir in the nuts, if you are using them. Serve immediately.
And last, but not least, an impromptu recipe:
Canned (Companion brand) Chinese Vegetarian Roast "Duck" with pineapple and peppers,
in a sweet, hot sauce made with orange and red pepper jelly, orange juice, soy sauce, whiskey, (I think it was 1/2 cup of the jelly and 2 T. each of the soy sauce and whiskey and orange juice) ginger and garlic: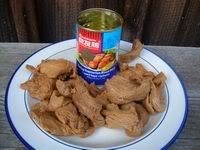 The "duck" right out of the can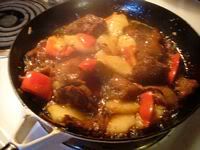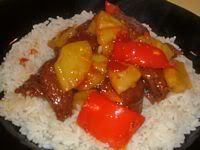 Happy quick cooking!

Posted by

Bryanna Clark Grogan
at 3:23 PM