Bryanna Clark Grogan's Vegan Feast Kitchen/ 21st Century Table: The kitchen journal of a vegan food writer.. I'm on Facebook and Twitter (see links in sidebar at right).
Tuesday, June 13, 2006
CHINESE SIZZLING TOFU AND MUSHROOM STEW WITH EDAMAMÉ

Sizzling Tofu and Mushroom Stew with Edamamé
Sorry I haven't blogged for days and days, and this is going to be short! I'm making a wedding cake for 250 people (make a couple of large layers every day that I'm home), and there is still this ongoing custody thing going on with my grandchildren that is very stressful and requires alot of time. The trip to Victoria to see
Howard and Willow Jeane Lyman
again and do some quick demos was a nice break.
Victoria
is a great little city, easy to walk in, and with some good
vegetarian dining
. We had a wonderful lunch at the Chinese Buddhist vegan restuarant,
The Lotus Pond
. We had a spicy TVP dish with peppers on a bed of greens, and an interestingly good chow mein with vegan "ham", corn, and a coconut sauce-- and some veggie potstickers, too!
The banquet at the
VIVA
25th Anniversary event was catered by
Green Cuisine
, and was delicious! There was a delicious Moroccan stew, biryani with nuts, a very tasty pasta salad with tofu, green salad, couscous salad, and an apple and rhubarb crumble with Mario's Gelato vegan Tofulati (a Vancouver company).
When we got home, I made this quick Chinese stew out of my vegan
Chinese cookbook
, only I substituted a cup of frozen, thawed green soybeans (edamamé) for the peas. This is real comfort food for me!
Printable Recipe
BRYANNA'S SIZZLING TOFU AND MUSHROOM STEW
Serves 3-4
© Bryanna Clark Grogan from my book
Authentic Chinese Cuisine for the Contemporary Kitchen
This is a very quick and easy Chinese hotpot dish, containing ingredients most of us have around all the time.
10 oz. extra-firm tofu, cut into 3/4" cubes
1 T. oil
Tofu Marinade:
1 T. soy sauce
1 T. minced ginger
1 T. dry sherry or Chinese rice wine
1/2 T. dark sesame oil
1 tsp. cornstarch
1/2 tsp. sugar
dash of white pepper
Vegetables:
1 T. oil
1 medium onion, thinly sliced
4 large fresh mushrooms, sliced
1/4 c. frozen petit pois (baby peas) (I used 1 cup of green soybeans or edamamé this time)
2 cloves garlic, minced
1 c. vegetarian broth
Thickener:
1 T. water
1 T. soy sauce
1 T. dry sherry or Chinese rice wine
1/2 T. cornstarch
Garnish: 1 green onion, chopped
Mix the tofu cubes with the Marinade ingredients and marinate at least 20 minutes, while you prepare the other ingredients and put some rice on to cook.
Heat a large wok, stir-fry pan or heavy frying pan over high heat. When it's hot, add the oil. When the oil is hot, add the tofu and marinade. Stir-fry until the marinade is absorbed and the cubes are glazed. Set aside.
In the same pan (or in a 1 qt. or more Chinese clay pot with wire), heat the second tablespoon of oil over high heat. (Use a heat diffuser under the clay pot.) When the oil is hot, add the garlic and onion and stir-fry until the onion wilts. Add the mushrooms, peas, tofu cubes, and broth. Bring to a boil and then simmer, covered, for about 3 minutes.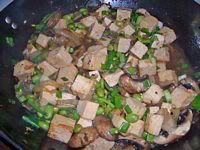 Stir in the Thickener. Stir until the broth has thickened. Sprinkle with green onions and serve hot.
Enjoy!

Posted by

Bryanna Clark Grogan
at 12:35 PM