Bryanna Clark Grogan's Vegan Feast Kitchen/ 21st Century Table: The kitchen journal of a vegan food writer.. I'm on Facebook and Twitter (see links in sidebar at right).
Monday, June 13, 2011
A PERUVIAN STEW MADE WITH YUBA: ITALO-PERUVIAN CAU-CAU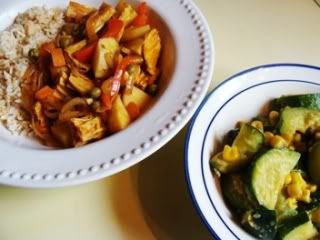 I know-- I'm giving you a second yuba stew very soon after the first one! (
Read about yuba at this post
, if you have no idea what I'm talking about!) I think you'll forgive me when you taste it! (And it's even better the second day!) I'm on a bit of a yuba kick right now and I had a package left, and a yen to mess with a Peruvian recipe I've been developing (and veganizing) for a few years. (My father was Peruvian, Peruvian cuisine is very unique and delicious, and I have a long list of Peruvian recipes to veganize!)
The original is a Peruvian stew, served with rice, called
Cau-Cau
, usually made from tripe (sometimes seafood). What is called the Creole version is simply tripe, sauteed onions, boiled potatoes, hot yellow peppers, turmeric, salt and pepper, and mint. The Italian-Peruvian version is a bit more elaborate and appealed to me more (plus, my Peruvian grandmother was of Italian descent). It contains some tomato, mushrooms, wine or Pisco (Peruvian grape brandy), and, typically Peruvian, fried potatoes added at the end of cooking! (Peruvians often combine potatoes and rice in one meal-- the potatoes are indigenous; the rice was brought by the Spanish and is now ubiquitous. With a Peruvian father, we had rice at almost every dinner when I was growing up.) I digress...
Why use yuba instead of the tripe
(I won't go into what it actually is-- you can look it up!)? I've never actually tasted tripe, despite growing up with Peruvians and Italians around and eating meat for most of my life (been a vegan for about 22 yrs now). Every country seems to have at least one tripe recipe that seems to be a cultural comfort food (such as the Mexican soup,
Menudo
). Tripe is described as chewy and mild or subtle in flavor-- and that is how I would describe yuba!
Typically, tripe stews and soups around the world are spicy and flavorful, so why not use yuba instead and enjoy some old-world cooking?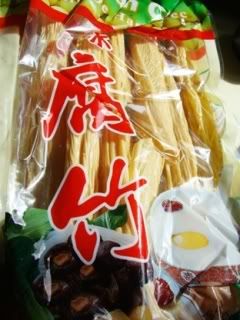 A package of yuba (bean-curd skin) sticks
I first thought of this when I was working on my
Chinese vegan cookbook
and veganized a traditional tripe recipe with a delicious sauce. Ever since, I have been on the lookout for traditional recipes to further utilize yuba, which is a favorite food of mine. I hope you will try and enjoy this one!
A thought:
In some cultures, a related product called chitterlings (or chitlins) is used in traditional "comfort foods". I have never tasted them either, but have read that they have a similar taste and texture to tripe, so maybe yuba could be used in some of those traditional recipes, too?
BRYANNA'S VEGAN ITALO-PERUVIAN CAU-CAU (A STEW)
Serves 6
Serve this spicy stew with steamed brown basmati rice. This dish is even better reheated the next day! NOTE: Often, fried potatoes are added to this stew, but I opted for cubes of raw potato cooked in the stew, similar to the Creole version (see text above).
(See the link in the ingredient list below for where to buy yuba sticks online, or try an Asian grocery store. Read the yuba info at the 2nd link below for how to ask for it in a Chinese market.)
juice of 1 lemon
2 T. olive oil
2 large onions, thinly sliced
3 large cloves of garlic, crushed
1 red bell pepper, seeded and thinly sliced
1 medium carrot, peeled and diced small
1 1/2 c. water
2 medium Yukon Gold potatoes, scrubbed and cut into 1/2" cubes
1 c. frozen peas
1/2 c. dry white wine (or dry white vermouth)
1/3 c. tomato paste (1/2 small can)
1-2 T. aji amarillo paste
(Peruvian hot yellow chile paste) or Sriracha sauce
1 large bay leaf
2 teaspoons vegan bouillon powder
or paste
, or enough cubes
for 2 cups broth
1/2 T. dried mint (or 2 T. chopped fresh)
1 tsp. salt
1/2 ounce dried porcini mushrooms
, soaked for 1/2 an hour in boiling water (use mushrooms and strained soaking water in stew)
OR use 1 tsp. dried porcini mushroom powder
1/2 tsp. ground cumin
1/2 tsp. dried oregano
1/4 tsp. tumeric
Soak the yuba in a large bowl of hot water for about 2 hours. Drain the yuba, squeeze gently to remove as much water as possible, and cut the yuba into 1" pieces. Mix them in a bowl with the lemon juice. Set aside.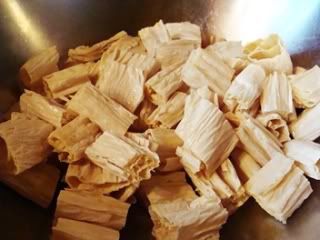 Heat the oil in a large pot. Add the onions and stir-fry over medium-high heat until the onions are softened and slightly browned. Add the garlic, carrot and bell pepper. Stir fry until the pepper softens a bit.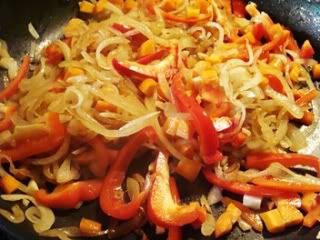 Add the remaining ingredients, including the yuba. Bring to a boil, then lower the heat. Cover and simmer for about 30 minutes.
Nutrition Facts
Nutrition (per serving):
311.9 calories; 35% calories from fat; 12.9g total fat; 0.0mg cholesterol; 541.6mg sodium; 662.2mg potassium; 28.8g carbohydrates; 4.9g fiber; 11.2g sugar; 23.8g net carbs; 21.6g protein; 6.5 points.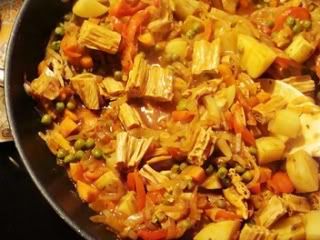 Enjoy!

Posted by

Bryanna Clark Grogan
at 5:03 PM