Bryanna Clark Grogan's Vegan Feast Kitchen/ 21st Century Table: The kitchen journal of a vegan food writer.. I'm on Facebook and Twitter (see links in sidebar at right).
Tuesday, October 3, 2006
PASTA AL POMODORO CRUDO (PASTA WITH RAW TOMATO SAUCE)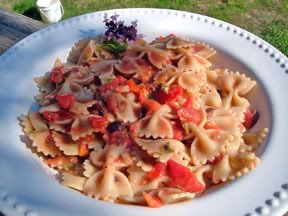 Can't let summer or early autumn go by without making this dish with some fresh tomatoes and basil! We has this for a quick lunch yesterday. I didn't have any plum tomatoes, so just used what I had, straight from the garden. As you can see, I used whole wheat
farfalle
, or bowtie pasta. (You need a pasta with some surfaces to catch the juices.)
BRYANNA'S PASTA AL POMODORO CRUDO (PASTA WITH RAW TOMATO SAUCE)
Serves 4-6
From my book "
Nonna's Italian Kitchen
".
This is one of the fastest and most delicious recipes in the book (sort of an Italian salsa cruda), but you must have good, ripe tomatoes (preferably Italian plum tomatoes) and fresh basil-- save this for late summer meals.
1 lb. rotelle, fusilli, rigati, farfalle, rigatone, or radiatore pasta
(regular or whole wheat)
6 cloves garlic, peeled
6 T. chopped fresh basil
2 lb. ripe tomatoes (preferably plum-type), chunked
2-4 T. extra-virgin olive oil
1-2 tsp. salt
1 tsp. freshly-ground black pepper
12 pitted black calamata olives
While the pasta cooks in a large pot of boiling, salted water, make the sauce. Place the garlic and basil in a food processor and pulse until chopped fine. Add the remaining ingredients and pulse quickly.
Drain the pasta and immediately toss with the uncooked sauce. Serve right away, with salad and maybe some crusty bread to mop up the juices. (Traditionally, this not eaten with any kind of cheese on it.)
Mmmmmmmmmmmmmmmmm...Enjoy!

Posted by

Bryanna Clark Grogan
at 12:33 PM