Bryanna Clark Grogan's Vegan Feast Kitchen/ 21st Century Table: The kitchen journal of a vegan food writer.. I'm on Facebook and Twitter (see links in sidebar at right).
Sunday, April 24, 2011
VEGAN EASTER DINNER PARTY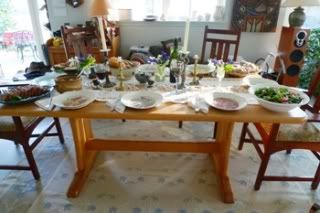 HAPPY EASTER!
As you probably know from reading this blog, our casual "vegan dinner group" of 5 vegan Denman Is. couples gets together every now and then to share good vegan food, wine, companionship and conversation. Last night we had a fabulous vegan Easter/Spring dinner. It had an Italian theme this time. (Unfortunately, on couple could not make it-- we missed you, Rudy and Ellen!)
Here are some pictures:
My contributions: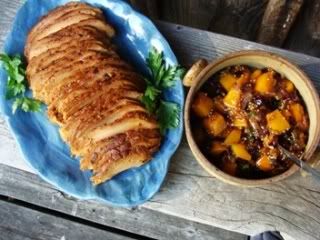 My seitan ham and Squash and Cranberry Mostarda
Squash and Cranberry Mostarda-- the only changes I made in the recipe were white wine vinegar instead of champagne vinegar, and kabocha squash instead of butternut. I wanted to make a mostarda to make my seitan "ham" fit better with the Italian theme. A mostarda is an Italian relish-- sweet and spicey-hot-- that is usually made with a variety of dried fruits. I only had dates, raisins and cranberries in the house. I went looking on the internet for something mostarda-like that I could make with what I had around, and found this great recipe, which was delicious with the "ham". It would be good with smoked tofu, too!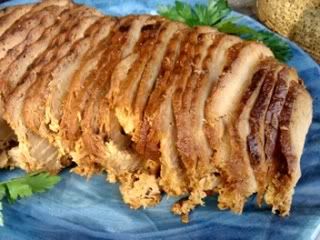 My seitan "ham"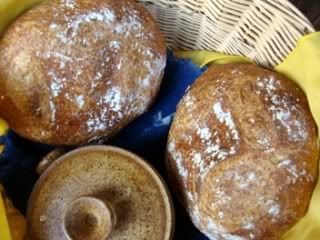 My crusty artisan no-knead bread baked in pots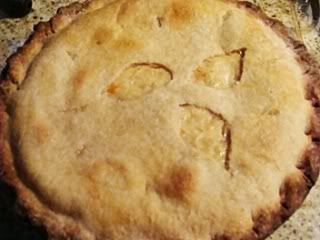 S
maller version of Pastiera Napolitana Vegan (Neapolitan Easter Grain & "Ricotta" Pie)-- see recipe and better pictures at this blog post. My pictures of the cut pie I made for last night did not turn out. here's a photo of a slice of the larger-sized pie I made last year: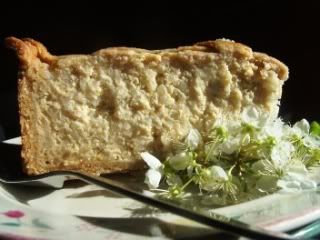 Last night we had some of Pelka's organic frozen strawberries with the pie.
VIEWS OF THE TABLE: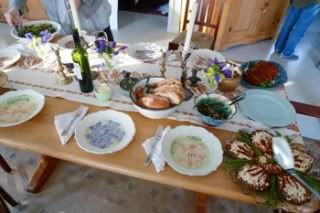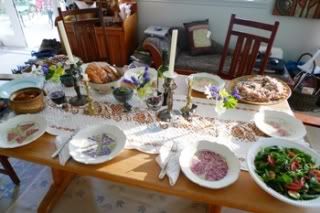 CLOSER VIEWS OF THE FOOD: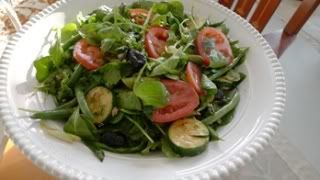 Sarah and Gord's wonderful spring greens salad with baby green beans, zucchini, arugla, and tomatoes in a lemon, garlic and olive oil dressing-- couldn't stop eating it!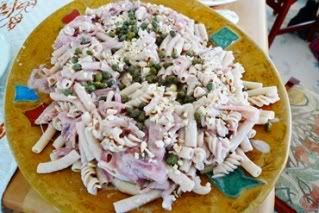 Pelka's Fennel and Mushroom Pasta in Cashew Cream sauce-- delish!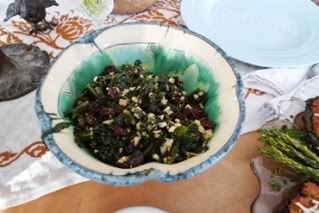 Pelka's terrific kale with pine nuts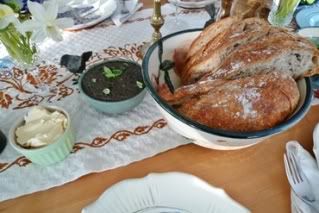 My bread with a bowl of Fireweed's delicious olive spread to slather on it!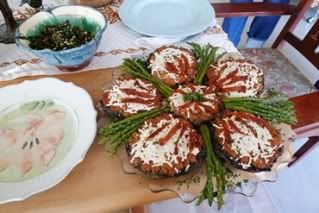 Fireweed's gorgeous and mouth-watering stuffed portobello mushrooms with asparagus.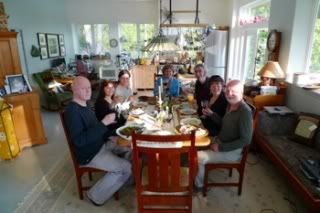 Everyone except DH, who took the picture, ready to toast and eat!
Thanks to Pelka and Rob for hosting us!
Have a wonderful holiday ushering in Spring!

Posted by

Bryanna Clark Grogan
at 1:19 PM