Bryanna Clark Grogan's Vegan Feast Kitchen/ 21st Century Table: The kitchen journal of a vegan food writer.. I'm on Facebook and Twitter (see links in sidebar at right).
Monday, April 4, 2011
A READER REQUEST: A "FAIL-PROOF" VEGAN OKARA WAFFLE (POSSIBLE SUBS FOR OKARA INCLUDED)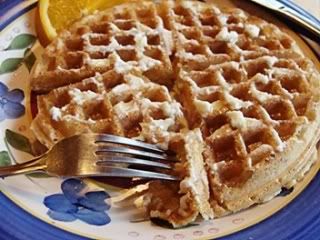 NOTE: Okara is the Japanese term for the pulp leftover from pressing cooked soybeans and water for soymilk or tofu.
If you don't make your own soymilk or tofu, but you live near a tofu shop, you might be able to purchase it fresh. Otherwise, subs might be: #1)
http://www.cooksinfo.com/okara says that a substitute for okara would be firm tofu, finely-crumbled. For this recipe I would probably moisten it with a little water because the okara I use is not dry. It looks like the photo below (after being refrigerated). #2) For soy-free, drained and rinsed cooked or canned chickpeas ground, but with some texture, might work-- you might have to moisten them a bit (see picture below). White beans would be too soft, I think. (Disclaimer- I haven't tried these subs!)
A FB friend requested yesterday: "Can you point me to a fail-proof recipe for some kind of waffle using fresh okara??? ty ~" As I have said before, I only create recipes on request if they really interest me! Another requirement is that I have the ingredients on hand, and I did happen to have some fresh okara in my fridge. I'm always up for improving on a vegan waffle (without adding a whole lot of oil!), making it healthier, or crispier, or using interesting ingredients. Examples?

Vegan Waffles Made with Seltzer Water!

,

vegan whole grain sourdough waffles

, and Orange-Pecan Cornmeal Waffles (made with beans!). Okara waffles sounded good to me. (Okara is the pulp left over from making soy milk or tofu.)
All of the above waffle recipes are good, BTW. I have several versions of the bean waffle recipe, and that is my favorite because it's easy, light and crisp, and totally made from whole grains! My first instinct was to start with that type of recipe, since it seems to be very accommodating. So I tried the simplest version, made with oatmeal (the recipe is in my book "
The Fiber for Life Cookbook"
). I substituted 1 cup okara for the 1/2 cup dry beans used in the original recipe. (These are soaked overnight.) The batter was quite thin and the waffles were tasty, but not very substantial, and not as crispy as the bean waffles. I tried them with more oats, and then more okara, but ended up ditching that experiment.
I had developed a recipe for a light, crisp vegan "buttermilk" waffle for my now-defunct Vegan Feast newsletter some years ago, and haven't published it anywhere else yet.
I worked on this recipe for many weeks. I was aiming at a more traditional recipe, veganized, which would include at least some whole grain flour and less fat than usual. One vegan recipe I saw contained cornstarch for crispness (and 6 tablespoons of oil for 5 four-inch waffles), but cornstarch isn't very nutritious, so I tried using some corn flour instead, which worked well. Then I looked at the labels of some pancake/waffle mixes and saw that they include corn flour and rice flour! So I added some brown rice flour, too. This worked very well, and the recipe turned out to be very versatile as far as using various whole grain flours. Anyway, I digress.
I decided to re-work this recipe to see if I could add fresh okara to it. This took some "finagling", as my mother used to say, due to the liquid content of the okara, but the final result was excellent! Now I have another way to use okara-- thank you, Angela!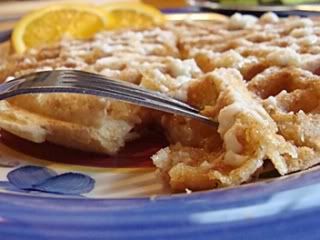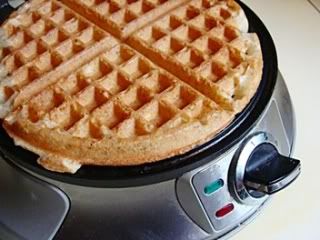 NOTE: I use a round Cuisinart Traditional
waffle iron (pictured above), NOT a Belgian waffle maker. Other waffles irons recommended by Cooks Illustrated magazine are: Chef's Choice WafflePro Express
; Cloer Double Waffle Maker
; Cuisinart 6-Slice Traditional Waffle Iron
.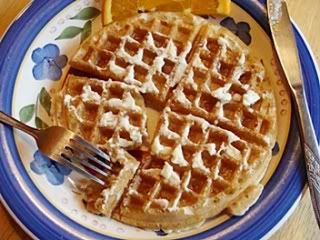 That's my Low-Fat "Corn Butter" Spread on top-- 27 calories for 2 tablespoons!
Printable Recipe
Posted by

Bryanna Clark Grogan
at 12:53 PM