Bryanna Clark Grogan's Vegan Feast Kitchen/ 21st Century Table: The kitchen journal of a vegan food writer.. I'm on Facebook and Twitter (see links in sidebar at right).
Tuesday, March 8, 2011
REVISITING MEATLESS LOAF #1-- EASY ONION MEATLESS LOAF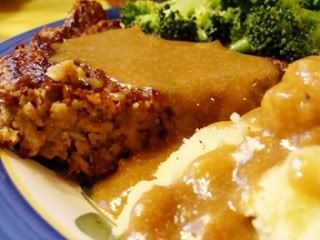 DH
i
s always happy when I make meatless loaf. Much as he loves any and all exotic food, spicy food, etc., I think he sometimes hankers for the simple foods of his youth, and meatloaf was a favorite. Over the years (before working on the Field Roast cookbook-- which, before you ask, is in hiatus, but not abandoned!), I have devised 4 meatless loaves that we like, plus adapted a couple of other recipes. (We don't like mushy meatless loaves; we like them to be at least reminiscent of the loaves of our childhood!)
Last night he wanted something like that for dinner, but I hadn't planned ahead (our company had just gone home and we were catching up on other things). So I pulled out all of my older meatless loaf recipes. I decided that I'm going to make one a week for the next month or so and see how we still feel about them! I made the following one because it was the simplest and easiest and I didn't have much time. It utilizes something I don't use often, but sometimes comes in handy for flavor-- vegan onion soup mix! And it utilizes textured soy protein granules.
(Sorry, this is not soy or gluten-free!)

NOTES ON TEXTURED VEGETABLE (SOY) PROTEIN:
Textured Vegetable (Soy) Protein (TVP® or TSP) is a low-fat, inexpensive dry product, used as a meat substitute. It is NOT the same thing as "hydrolized plant protein" or "soy isolate", and contains no MSG or other additives. It is made from soy flour, is cooked under pressure, then extruded to make different sizes and shapes.
Organic and solvent-free textured soy protein is available from:
1.) Bob's Red Mill Organic TSP, carries a granulated version only.
amazon.com
also carries it. So does
veganessentials.com
, which ships to Canada for a very reasonable price.
3.) The Mail-Order Catalog carries a granulated version and a chunk version.
**********************************************************************
I can't remember when I devised this particular, but it's definitely a busy cook's recipe (or a lazy cook's, maybe!) . I made it in a round tart pan because I wanted it to cook faster and cool faster. (Cooling firms it up and I did this in the refrigerator this time to speed it up. It didn't actually have to cool all the way before it become nicely firm, and I reheated it in the microwave.) I served it with steamed broccoli and baked potatoes with my no-fat vegan brown gravy.
Next week we'll see if we prefer a different recipe, but, for now, we were pretty satisfied, and it was certainly quick and easy!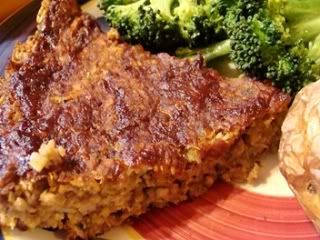 BRYANNA'S NEW VERSION LOW-FAT VEGAN ONION "MEATLOAF"
Makes 16 slices (9x5" loaf pan); 6-8 servings
This is quick, cheap and easy to make. Use low-sodium soy sauce because the soup mix is salty. Play around with the herbs, add spices, if you wish, etc. This recipe can be GF if you use a wheat-free soy sauce or tamari and GF oats.
NOTE: You can eat it right away, but meatless loaves are always better, taste-wise and texture-wise, if you chill them after cooking. Then you can slice it up and reheat in the microwave or in the oven (covered) or by steaming, or serve it cold (good in sandwiches). It's good with gravy or tomato sauce, etc..
A:
1 1/2 c. granulated textured vegetable/soy protein
(TVP® or TSP) (see text above for organic)
1/2 c. rolled oats (old-fashioned oatmeal-- can be GF)
2 T. lite (low-sodium) soy sauce
1 (40 g or 1. 405 oz.) packet vegan onion soup mix (Frontier
and Simply Organic
are two organic brands; Lipton's and some no-name brands are vegan)
B:
2T.- 1/2 c. minced parsley
herbs to taste-- I used about 1 tsp. EACH dried thyme and basil
1/2 c. ketchup(organic versions are available)
1/3 c. pure gluten flour (vital wheat gluten
)
(FOR GF VERSION: use a gluten-free plain baking flour mix containing vegetable gum such as xanthan or guar, homemade (here's one) or commercial, like Namaste Foods, Better Batter, Betty Crocker Gluten-Free Rice Blend, Authentic Foods, or Glutino.)
freshly-ground pepper to taste
OPTIONAL TOPPING: ketchup or barbecue sauce to spread on top
Preheat oven to 375 degrees F. Mix A ingredients together in a bowl and cool in the refrigerator or freezer (reason: if you add gluten flour to a hot mixture it will get stringy). Stir in B ingredients until well-mixed-- use your hands to get it really well-mixed.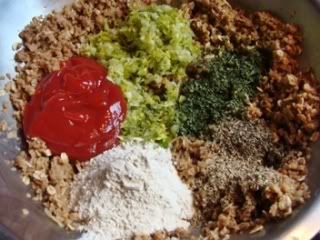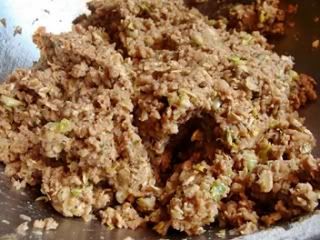 Pack the mixture into an oiled loaf pan (9x5"), or an 8" square baking pan or 9 or 10" tart pan.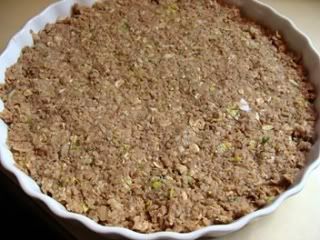 Spread optional ketchup or barbecue sauce on top of the loaf, if you wish.
Bake 1 hour for a loaf pan, 45 minutes for square or round pan. See NOTE above about serving.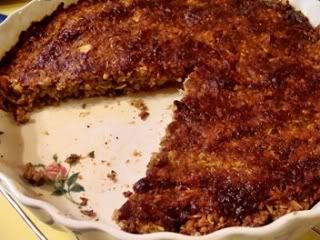 Enjoy!

Posted by

Bryanna Clark Grogan
at 12:05 PM