Bryanna Clark Grogan's Vegan Feast Kitchen/ 21st Century Table: The kitchen journal of a vegan food writer.. I'm on Facebook and Twitter (see links in sidebar at right).
Monday, March 21, 2011
A LIGHT SUPPER: VIETNAMESE GREEN JACK FRUIT SALAD AND "NEATBALL" PHO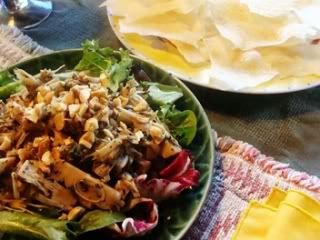 My friend Debbie's
Green Jackfruit Salad and rice paper crackers (an improvised alternative to Vietnamese sesame rice crackers!)
We invited our good friend Bev over for supper the other night. She's a busy person, so we don't get to socialize with her very often! I'm trying to eat lightly these days and I had some mung beans sprouts that I needed to use, so I thought I'd make a fragrant "Neatball" Pho
(read about Pho here; there's a recipe you can adapt for using vegan "meatballs"-- you could use commercial ones.).
I had lots of my homemade "Neatballs" (more about them below) in the freezer, so it seemed a good choice.
Of course, I forgot that we would need some fresh herbs, in short supply at the moment, and I couldn't go off the island that day! But, we managed, even if in a non-traditional way!
I used my recipe for vegetarian Pho that I posted on my blog here,
except that I substituted my "Neatballs" for the seitan "steak". Since I had no fresh herbs I sprinkled the noodles with dried mint, parsley and basil combines, and add strips of bell pepper for color, along with the thinly-sliced onion and green onions.
About those "Neatballs":
I can't give you the recipe here because they will be in another book I'm planning, but this invention is one I'm very proud of. They can be made ahead and frozen (I made a batch of 150 last week!). They seem a bit like hard cookies when you're finished but, when they are cooked for 20 minutes or so in a broth or sauce, they plump up beautifully and have a great texture! You can add different seasonings to ther "Neatball" mixture, or you can simmer the basic ones in a seasoned broth appropriate to the dish you are making. They are very versatile for quick meals because almost all cultures have yummy meatball recipes which can be veganized!
Production of "Neatballs":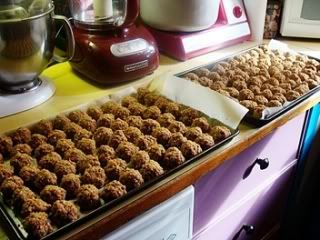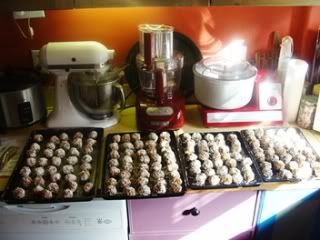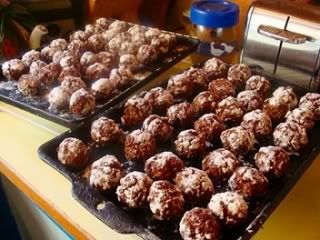 I simmered the "Neatballs" for the Pho in a broth of 4 cups vegetarian broth
with 2 tsp. Chinese 5-Spice Powder
.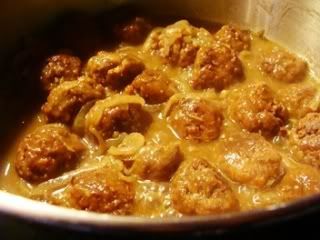 The result, ready to add to the Pho: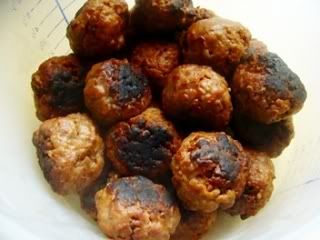 I'll get to the jackfruit salad below, but I just wanted to mention what we had for dessert. In keeping with the light theme, I layered fresh mango slices with pineapple tidbits and topped it with a nonbdairy creamer and toasted coconut flakes:
Now, the green jackfruit salad.
I had this in a Vietnamese restaurant in Anaheim years ago, and I have never forgotten it! So delicious!
The salad supposed to be served with Vietnamese sesame rice crackers
(Banh trang me)
as "scoopers':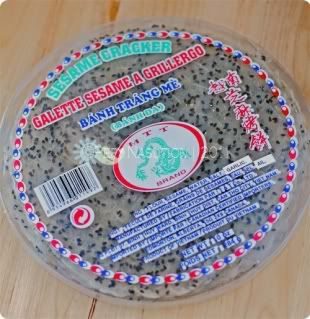 Before cooking (Debbie says you can get black sesame or white sesame)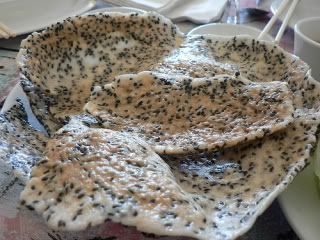 after cooking-- crunchy and light!
How they roast them in Vietnam: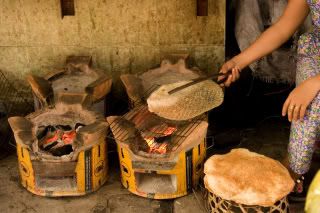 Debbie writes:
"
I was taught to microwave it for 1-2 minutes. So it is not fried and oily. It was good microwaved."
Of course, I didn't have any sesame rice crackers (I thought I had some papadam
, which Debbie often uses instead, but, alas, they had been used up!). I wracked my brain for an appropriate substitute and finally decided to try microwaving plain old rice papers (used for Vietnamese summer rolls). It worked!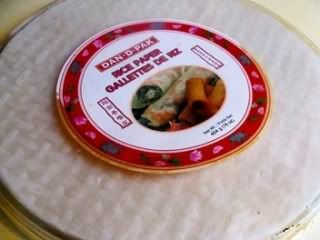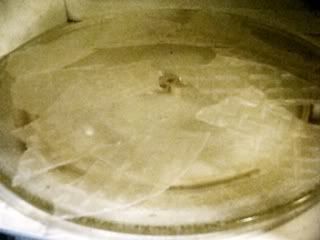 I broke each one up into smaller pieces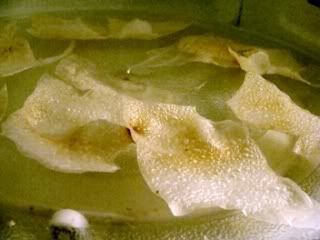 and microwaved them for 1 minute.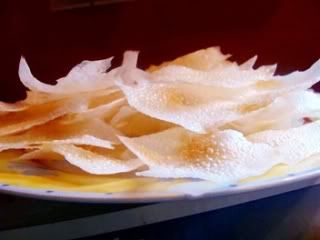 The result was very nice and made good "scoopers" for the salad!
Finally, here is my friend Debbie's recipe for the jackfruit salad. Of course, I was missing the fresh herbs for this as well (
what was I thinking that day?
), and had to use dried, so it wasn't as good as it should have been, but the 3 of us ate the whole thing anyway!
Note:
I can purchase cans of green jackfruit in brine in my supermarket's Asian section, or any Asian grocery. You could also order it from an online Asian store, or
amazon
. The texture of this unripe fruit is almost like tuna when prepared this way! (
Here's some info
about jackfruit.)
Here's what the can looks like (may be a different brand):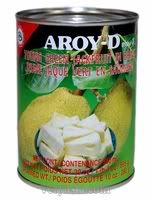 Despite the many substitutions, it was a delicious meal!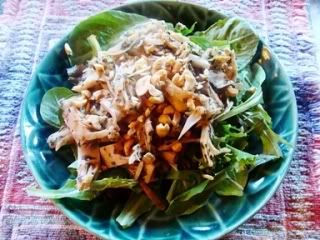 Printable Recipe
DEBBIE'S YOUNG JACKFRUIT SALAD, VIETNAMESE STYLE
This young jackfruit salad is served at a vegetarian Vietnamese restaurant near my house. I love it so much and was able to copy it at home. It is served with Vietnamese sesame chips that are available in Vietnamese markets. But I substitute them with Indian pappadums since the Indian market is closer to my house than the Vietnamese one.
Ingredients:
2 cans of young (or "green") jackfruit in brine (NOT in syrup! see note above) (each can is 8 oz drained weight, total = 1lb.), drained, rinsed in water, squeezed and cut into strips (with the grain)
3/4 cup chopped shallots or green onions
1 cup loosely packed chopped Thai/Vietnamese basil
2 1/2 Tbsp Vegetarian "Fish Sauce"
(see about this
here
) or vegan Nuoc Cham (see Bryanna's recipe below)
1 Tbsp (Debbie says she uses more than this now) fresh lime juice
1 tsp miso (brown rice or barley) mixed with 2 Tbsp warm water
Serve with:
1/2 cup chopped dry roasted peanuts,1/4 chopped cilantro or Thai/Vietnamese basil,
Vietnamese sesame chips or Indian Pappadum
, fresh lime wedges and
Vegetarian "fish sauce" (see about this here) or vegan nuoc cham, and Sri Racha
Vietnamese style hot sauce
Preparations:
Preheat wok. When the wok is hot, add oil, garlic, and onion. Stir fry until fragrant. Add young jackfruit strips, salt, sugar, black pepper, and vegetarian fish sauce or soy sauce. Mix and stir-fry in high heat for 10 minutes until spices are absorbed to the jackfruit. Add a little water to the wok to prevent sticking.

Add lime juice and Thai/Vietnamese basil. Mix well for 1 minute.

Finally, add the miso mixture. Mix well for 1 minute.

Turn off heat. Set aside jackfruit in a bowl and let it cool.

Serve the salad room temperature on a plate with chopped roasted peanut and chopped cilantro/basil sprinkled on top.

Dot it with Sri Racha hot sauce on top and all over the salad. Each person can use the sesame crackers/pappadum to scoop the salad, dot with fresh squeezed lime juice and more vegetarian fish sauce.
BRYANNA'S VEGAN NUOC CHAM
Mix together and store in a jar in the refrigerator:
1/4 cup soy sauce
1/4 cup water
1 Tbs. l
ime juice
1 Tbs.
rice vinegar
1 clove garlic, crushed
1 Tbs. sugar
1/2 tsp. chile flakes
Enjoy!

Posted by

Bryanna Clark Grogan
at 1:09 PM