Bryanna Clark Grogan's Vegan Feast Kitchen/ 21st Century Table: The kitchen journal of a vegan food writer.. I'm on Facebook and Twitter (see links in sidebar at right).
Tuesday, December 18, 2007
EXPERIMENTING WITH COCOA NIBS (AND A SOUP RECIPE)

I've been intrigued by cocoa nibs lately. They are in vogue right now, but many are at a loss as how to use them (me, too!). Loving almost all things chocolate, I bought some at my natural foods store and began researching. They are not sweetened, so they have a deep, slightly bitter flavor, and a crunchy texture.
In my research, I found an article about cocoa nibs by Alice Medrich on the Scharffen Berger Chocolate website
(I did have a link to this, but they seem to have removed the article and I can't find it online anymore)
, a cookbook writer of great renown in the chocolate world and beyond.
She wrote: "Cocoa nibs are the purest, most elemental form of chocolate available. Curious chocolate lovers and cooks should be excited. Nibs are tiny nuggets of roasted cocoa beans, not yet crushed or ground to homogeneity, not yet transformed into unsweetened chocolate or processed into smoother or more refined forms of sweetened chocolate. In short, nibs are cocoa beans on the brink of becoming chocolate and, as such, they are a unique and fascinating new ingredient."
She ends the article:
"Over the last several months, I have tried nibs in almost everything, from hors d'oeuvres to dessert.
Lesson No. 1 is: Do not expect nibs to act like chocolate chips; they are neither sweet, smooth nor soft.
With the idea of exploring the nut-like qualities of nibs, I started my experiments by baking all kinds of cookies. Butter cookies are an especially good medium. The nutty-but-chocolatey flavors in the nibs infuse the rich cookie gradually, getting more pronounced over a few days, during which time the flavor and texture of a butter cookie always improves anyway. The cookie is crunchy and the nibs are, delightfully, even crunchier; a happy union. I've found that nibs work best in cookies that bake for a relatively short time. Long baking, or twice baking as for biscotti, often results in excessive bitterness.
A few sweet and savory ideas
Here are some ideas for using cocoa nibs in your home.
Grind some nibs with coffee beans before making coffee
Sprinkle nibs, as you would toasted nuts, on a simple salad of field greens dressed with good olive oil and red wine vinegar
Add nibs to Bolognese sauce (vegan, of course! BCG)
Make your favorite chocolate chip cookie recipe but omit the chocolate chips. Add 2/3 cup of coarsely chopped nibs and 1 cup each currants (or raisins) and walnuts. Make the cookies small and dainty.
Sprinkle nibs on bread and butter; sprinkle with sugar if desired.
Sprinkle nibs over ice cream"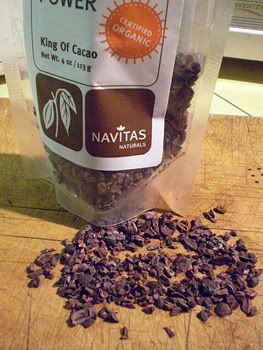 I wasn't too impressed with them in the chocolate chip cookie, but thought they might have possibilities in a savory dish. I think she's right in her assessment that they shine in a simple cookie, such as a "butter" cookie. I've always loved Mexican dishes containing chocolate, but there are some savory Italian dishes that could handle some chocolate, as well. I am working on some ideas!
In the meantime, I got Alice's book
Bittersweet
out of the library and found that she had some interesting savory dishes in it. The following soup intrigued me, and I happened to have roasted two large squash the day before, so I decided to veganize it. Despite some remarks by reviewers that this recipe sounded "weird" or "strange", we loved it! When you stir the cocoa creme into your portion of the soup, it adds such a depth of flavor!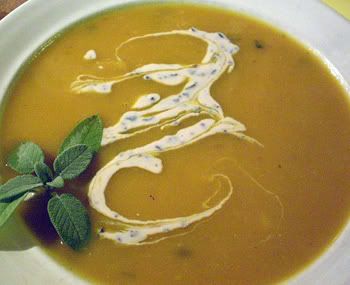 Printable Recipe
BRYANNA'S VEGAN VERSION OF ALICE MEDRICH'S ROASTED SQUASH SOUP WITH COCOA BEAN CREAM
Servings: 6 (Gluten-Free and can be Soy-Free)
"A perfectly delicious fall soup with the added delight of drizzled cream infused with crushed cocoa beans." The original recipe is from Alice Medrich's book "
Bittersweet: Recipes and Tales from a Life in Chocolate
" (Artisan, NY, 2003).

It IS perfectly delicious! I veganized this, used a slightly-different cooking method, and added a few minor touches of my own. It just seemed to need a little boost when I tasted it in the pot, which is why I added the agave and sherry.
1 3/4 lb oven-roasted , peeled butternut squash
1 medium yellow onion, chopped
2 Tbs olive oil
6 cups chicken-style vegetarian bouillon-- I like Better Than Bouillon Vegan No-Chicken Soup Base
(the original recipe called for only 4 cups, but I added 2 cups more because my soup was too thick)
1/4 cup dry sherry (my addition- BCG)
1 Tbs chopped fresh sage leaves (or 1 tsp dried-- but NOT powdered- BCG)
1 Tbs agave nectar (my addition- BCG)
1/2 tsp salt
freshly-ground white pepper
Vegan Cocoa Creme:
3 Tbs cocoa nibs
(crushed as directed in recipe below)
2 Tbs full-fat soymilk or nut milk
2 Tbs vegan coffee creamer
6 Tbs vegan sour creme, commercial or homemade (
my tofu sour creme
and my
cashew sour creme
)
In the original recipe:
2 1/2 to 3 lbs. butternut squash was called for, quartered, peeled and seeded and cut into chunks, then roasted with the onions (cut into 8ths), olive oil and salt at 450°F for 25 minutes or until tender.
In my version of the recipe:
I had already roasted quite a bit of squash the same way, minus the salt, so I used 1 3/4 lb. pre-roasted, peeled squash, and I sautéed the onion, chopped, in the olive oil right in the pot, and added the salt to the soup.
So, here's what I did:
In a large soup pot, heat the olive oil and saute the onions over medium-high heat until tender and a little browned. Add the squash, bouillon, sherry, agave, sage, and salt. Simmer briefly while you prepare the Creme.
Crush the cocoa nibs with a rolling pin between sheets of cooking parchment. Mix the cocoa nibs with the soy or nut milk in a small pitcher and microwave at half power for 1 minute, or bring to a simmer in a small saucepan, to infuse the milk with the cocoa flavor. Mix together the creamer and sour creme with a small whisk. Mix in the cocoa/milk mixture. Set aside.
Puree the soup in the pot with a hand immersion blender untl very smooth. Add the pepper and taste for salt.
Divide between 6 soup bowls. Drizzle the cocoa creme over each bowl and serve.
Nutrition Facts
Nutrition (per serving):
134.7 calories; 33% calories from fat; 5.2g total fat; 0.0mg cholesterol; 218.3mg sodium; 331.8mg potassium; 19.2g carbohydrates; 1.3g fiber; 4.3g sugar; 17.9g net carbs; 2.7g protein; 2.9 points.
Enjoy!

Posted by

Bryanna Clark Grogan
at 2:55 PM